Downton Abbey, ITV1 |

reviews, news & interviews
Downton Abbey, ITV1
Downton Abbey, ITV1
Julian Fellowes's Edwardian country house saga is rich in character and historic sweep
Monday, 27 September 2010
Family fortunes: The Earl, his wife, the Dowager and their staff at Downton Abbey
With the BBC still in the middle of shooting their revival of Upstairs, Downstairs, ITV1 have nipped in ahead of them with Julian Fellowes's spiffing new sundown-on-the-aristocracy drama. In a battle of the stage dames, the Beeb has bagged Eileen Atkins, whereas ITV has signed up Maggie Smith as Violet, Dowager Countess of Grantham. So far she has not been called upon to say, "A handbag?"
The extended opening sequence of this 90-minute scene-setter fixed the date as April 16, 1912, and the camera rambled around the sprawling pile of Downton Abbey as the carefully delineated echelons of the household arose to meet the new day. The cooks made breakfast, the maids swung open the shutters and lit the fire in the sitting room, and Mr Carson the butler (Jim Carter, pictured below) rolled up his sleves and polished the silver. Carson asked a passing footman, in that inimitably sonorous baritone, if the newspapers had arrived.
When they materialised minutes later, to be freshly ironed by the staff before being placed before Lord and Lady Grantham, the prints delivered shocking news. The unsinkable had been sunk by an iceberg in the North Atlantic, with many lives lost. As he read the details in The Times over breakfast, Robert, Earl of Grantham (an impeccably stoical Hugh Bonneville) hoped that his acquaintances, the Astors and Lady Rothes, had survived, and even spared a thought for the "poor devils" stuck below decks. Of more pressing moment to the Granthams, however, was a telegram bearing the news that James Crawley and his son Patrick were among the Titanic's dead. James had been the heir to the earldom and to Downton Abbey, and the Granthams had hoped that their eldest daughter Mary would marry Patrick Crawley and keep the succession within the close family.
The cast have another six episodes in which to figure out who inherits what and who marries whom while their elaborately stratified world slithers helplessly towards the epoch-terminating horrors of Ypres and the Somme. Almost equally menacing to the timeless idyll of the Edwardian aristocracy is the inexorable rise of the middle classes. It is from here that has arisen Downton's new, hitherto unknown and thoroughly unwelcome heir, Matthew Crawley (Dan Stevens), a Manchester solicitor. The Earl's shock on learning that Crawley has "a job" was one of the smaller jewels in episode one's tiara.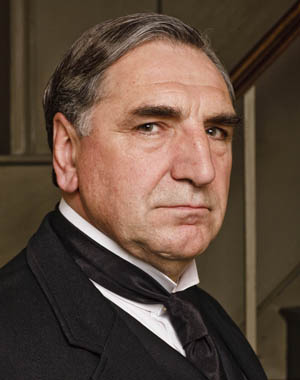 Despite some Mills & Boon-ish moments and a lush, sweeping soundtrack that resembled classical music struggling to recover from traumatic brain surgery, Downton Abbey feels ripe with potential, both for addictively gossipy tales of relationships and rivalries as well as for longer arcs of social change and historical unravelling. Already we have been confronted with the egregious spectacle of the gold-digging Duke of Crowborough (Charlie Cox) hoping to marry Mary for what he imagines will be her fortune, a ploy devised by Downton's footman Thomas (Rob James-Collier), the Duke's embittered gay lover. A more sympathetic relationship is the one between the Earl and John Bates (Brendan Coyle), the latter having served as the Earl's batman in the Boer War. Though Bates is handicapped by a wartime leg wound, much to the unsympathetic disgust of his co-workers, the Earl is determined to keep him employed as his valet.
Fellowes won an Oscar from his screenplay for Gosford Park, and this is very much the son of..., but he seems to have mastered the knack of the multi-tracked serial storytelling required by television. Thanks to an impecably toff-ist background, he also possesses an instinctive understanding of all this stuff about class, heritage and social status, though many viewers may have been bewildered (as I was) by talk of "the entail". I have now looked it up, and it means "restriction of inheritance to a limited class of descendants for at least several generations". In the post-Downton Abbey world which we feel inexorably approaching, fewer and fewer people will need to know that. Meanwhile, has ITV finally found itself an authentic follow-up to Brideshead Revisited?
Thanks to an impeccably toff-ist background, Julian Fellowes possesses an instinctive understanding of class, heritage and social status
Share this article
Subscribe to theartsdesk.com
Thank you for continuing to read our work on theartsdesk.com. For unlimited access to every article in its entirety, including our archive of more than 10,000 pieces, we're asking for £3.95 per month or £30 per year. We feel it's a very good deal, and hope you do too.
To take an annual subscription now simply click here.
And if you're looking for that extra gift for a friend or family member, why not treat them to a theartsdesk.com gift subscription?