Downton Abbey: A New Era review - will we ever see its like again? |

reviews, news & interviews
Downton Abbey: A New Era review - will we ever see its like again?
Downton Abbey: A New Era review - will we ever see its like again?
Julian Fellowes goes transcontinental with this valedictory visit to the Crawley family
The gang's all here - a collage of Crawleys
A dozen years have passed since Downton Abbey first landed on our TV screens, since when it has passed into folklore. Whether you thought it was escapist historical froth, a ludicrous anachronism full of class-system clichés or a documentary probing the British aristocracy, Downton has lodged itself in the national consciousness, probably forever.
However, perhaps even some of its most fervent fans thought that a belated second Downton movie was a bit of a stretch. The first one, from 2019, involved the arrival of King George V and Queen Mary at Downton, prompting panic attacks among family members who found they didn't have a stitch to wear. This time, however, Downton's creator Julian Fellowes (working with director Simon Curtis) has stretched the frame considerably to take in a pair of contrasting plots. At Downton Abbey, a film crew is gathering to shoot a moving picture, only to find itself left stranded by the galloping advance of technology. They've started out to make a silent movie, but the talkies are suddenly here and turning the industry inside out. The studio abruptly cancels the production. What is to be done? (Pictured below, Penelope Wilton as Isobel Crawley and Maggie Smith as the Dowager Countess)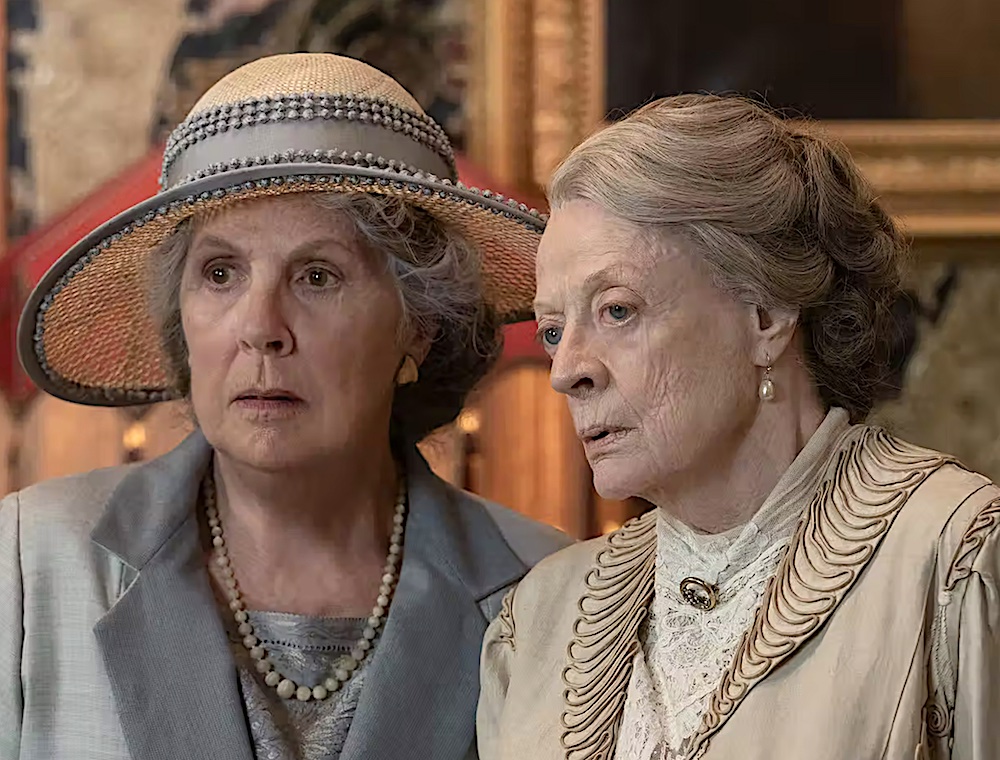 Meanwhile, most of the senior members of the Crawley dynasty have high-tailed it to the south of France aboard the Blue Train, to visit a splendid villa overlooking the Mediterranean which the Dowager Countess (Maggie Smith) has, somewhat to her surprise, inherited. It's been left to her by the Marquis de Montmirail, with whom many decades earlier (we gradually gather) the young Violet Crawley was… friendly.
The Dowager, in failing health, has sportingly decided that she'll give the villa to young "Sybbi", daughter of the late Sybil Crawley (formerly the wife of the Irish chauffeur Tom Branson, now firmly affixed to Tuppence Middleton's Lucy, who's expecting their child). The Dowager confesses to Tom that "you weren't quite what we had in mind for Sybil, but we got past it." Meanwhile, the Crawleys have to weather a storm of pent-up resentment from the Marquis's widow (an unlovable role for Nathalie Baye), who objects violently to the resplendent clifftop estate being handed over to the haughty English usurper. Then it occurs to everyone that the timetable of the Dowager's youthful dalliance is aligned with extraordinary exactitude to her pregnancy with Robert (Hugh Bonneville, looking unusually trim and sportif). The whole Crawley edifice might be under existential threat!
This is all entertaining stuff, but the most fun is had with the film shoot back at Crawley Mansions. The Crawleys can barely suppress their disgust at the vulgarity of films and acting ("I'd rather earn my living down a mine," shudders the Dowager), but the horror is ameliorated somewhat by the huge fee which the director Jack Barber (Hugh Dancy) offers for the use of Downton Abbey. There's a splendid turn by Dominic West as rogueish movie star Guy Dexter (he lets slip that his real name Quintin Sidebottom), but while Dexter finds himself able to make the transition to talking pictures, his blonde-bombshell co-star Myra Dalgleish (Laura Haddock) is stymied by her ear-splitting cor-blimey accent (she was brought up in Borough Market, London SE1). Lord Fellowes loves playing with the clichés of class warfare, but he's also a sentimental old fool, so balm is applied to Myrna's discomfiture in an ingenious variety of ways by various Crawleys and members of the Downton staff.
Lady Mary (Michelle Dockery) inevitably looms large in the story, though her husband Henry Talbot (Matthew Goode) is bafflingly absent from the proceedings altogether. This does give Mr Barber the opportunity to offer his services as romantic stand-in, and he has the privilege of escorting Mary to the Electric Palace in Thirsk to see the ground-breaking "talkie", The Terror.
All the other Downton stalwarts have been given their moment in the spotlight – take a bow Mr Carson and Mrs Hughes, Anna and Mr Bates, Mr Molesley and Miss Baxter, Mrs Patmore and Mr Mason (pictured above, Lesley Nicol as Mrs Patmore and Sophie McShera as Daisy). There's even a saucy little subplot for Thomas the butler (Robert James-Collier). All of this has stretched the running time to ungainly proportions, and exposes the crudeness of Fellowes' technique of patching together a narrative from short, disconnected scenes.
But the film has soul, and its valedictory mood is embodied in a long and heartfelt farewell to Maggie Smith's Dowager. The Dame has done it all in her storied and much-awarded career, but her role in Downton rocketed her into a different dimension.
The Crawleys can barely suppress their disgust at the vulgarity of films and acting
rating
Share this article