Kissin, LPO, Neeme Järvi, Royal Festival Hall |

reviews, news & interviews
Kissin, LPO, Neeme Järvi, Royal Festival Hall
Kissin, LPO, Neeme Järvi, Royal Festival Hall
Joyous Suk and the best New World ever out-charm a great pianist
Wednesday, 06 October 2010
"Well, Kissin's the star of the show,"  opined the fatuous gentleman who rolled in late to my row after the first piece on the programme. Possibly not, I wanted to snap back, in the light of that very fine pianist's current erratic form. But in any case this celebrity-hunter had just missed one of the great conductors working effortless miracles of charm on Josef Suk's Scherzo fantastique, the extended lollipop lilt of which could quickly pall in lesser hands.
In any case, effortlessness and charm are hardly Yevgeny Kissin's strong suits, and both are needed if Chopin's early Second Piano Concerto is to hold our imagination. Kissin's steely clarity and occasional impetuousness only fitfully paid off in the outer movements, especially when the London Philharmonic's one chance to make its mark in a well-sprung introduction set up expectations of a naïve good humour at odds with the pianist's rather more calculated pathos.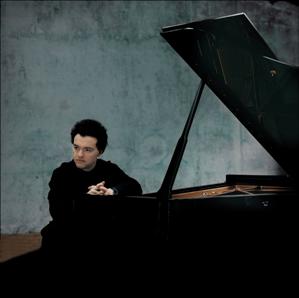 Where Kissin (pictured right) really came into his own was for the pearls-on-a-line ornamentations of the Larghetto's dreamy song, the dramatic octave recitatives that interrupt its flow and more Chopin in an encore fulfilling the intermittent promise of the concerto: the daunting B flat minor Scherzo. Kissin's well-tempered texturing of that truly great work did briefly strain excitingly at the leash two-thirds of the way through, but the coda seemed perfunctory again. Most of the audience went wild while I sat there a little bit glumly wondering, as I had at a disappointing Chopin half of a Verbier recital, whether the real Yevgeny Kissin would ever truly stand up.
The real Neeme Järvi, in his affable grand mastery, is never in doubt these days, even if the generous personality always goes hand in glove with a polished definition of phrases and rhythms. So accomplished was his switch from Suk's waltzing to the central promenade of the opening symphonic dance that it took a moment to work out that we'd just changed tempo, and the generous lyrical theme which rises on cellos would not have had the lift it did without Jarvi's generous shoulder-raising. There was more of that as he encouraged lower strings to project a jazzy cross-rhythm in the finale of a Dvořák New World I hardly recognised as the Ninth Symphony I used to sit through with intermittent embarrassment.
Here there simply wasn't a dull moment, not even when Dvořák, as in the Seventh Symphony with which I have equal problems not dispelled by Friday evening's BBC Symphony performance, tries to be a grand symphonist rather than a lovable warbler of Czech and American wood-notes. The tying-up of motifs on this occasion was, well, just sheer bouncy fun. On this flexible showing, I'd even go so far as to say that Järvi is the only conductor after much-missed Mackerras whom I'd gladly hear in a whole evening of Slavonic Dances. And after an incisive, springy first movement with an especially affectionate, nuanced song at its heart had ended to an initial awed silence even from this restless full house, the famous Largo was simply spellbinding in all its myriad colours.
Yes, the cor anglais solo was as lovely as it can be (Järvi made sure that Sue Bohling came forward to take a bow with him at the end). But so, more unusually, were the varied string sighs which support it, the atmospheric lament to which Järvi brought such atmosphere, and the teeming dance which temporarily brushes aside all that sorrow. I came to the concert resenting the fact that there wasn't the kind of extended Järvi speciality on the programme such as we had two seasons back with electrifying arguments for Kalinnikov's First Symphony and Taneyev's Fourth - or indeed such as those lucky enough to make it will get in his rarer Dvořák offerings on Saturday - but I left thinking that the New World is a towering masterpiece after all. And you can't do more for an old warhorse than that.
Neeme Järvi's next concert with the LPO, of Dvořák's Te Deum and Stabat Mater, is on Saturday 9 October
Find Yevgeny Kissin's Chopin recordings on Amazon
Explore topics
Share this article