Carlos |

reviews, news & interviews
Carlos
Carlos
Olivier Assayas's marathon attempt to unmask the notorious terrorist
Wednesday, 20 October 2010
Edgar Ramirez as super-terrorist Carlos: Did his revolutionary rhetoric disguise his bourgeois arrogance?
The full-length version of Olivier Assayas's saga of Ilich Ramirez Sanchez, alias Venezuelan super-terrorist Carlos, was originally a three-part series for French TV and runs to five-and-a-half hours. Even the "short" cinema cut runs to two-and-a-half hours. Yet the director still felt it necessary to preface his opus with the warning that since many of Carlos's activities remained "grey areas" shrouded in mystery and ambiguity, it would be best to regard the film as fiction.
Thus, you're never entirely certain what you've signed up to. The period detail, interpolated news footage recounting Carlos's exploits, and the relentless detailing of times, places and meetings with agents of various governments suggest documentary thoroughness and background research on an obsessive scale. The meandering and often confusing narrative makes it clear that the director will not sully his hands with manufactured Mission: Impossible-style action clichés. But to create such a huge tapestry in such minute detail and then warn viewers not to believe everything they see seems, at the very least, perverse.
Carlos develops a rock-star complex, using his outlaw-chic charisma to seduce women
However, there is still much to admire, most of all Edgar Ramirez's powerful performance in the title role. Recruited by the Popular Front for the Liberation of Palestine, he works his way up the ladder of international terrorism via shooting Marks & Spencer's chairman and prominent Zionist Joseph Sieff at his London home (though defective ammunition meant that Sieff survived) or casually lobbing bombs into banks. He wants to prove himself for the cause, he tells his PFLP handler Wadie Haddad (Ahmad Kaabour). But as his notoriety increases, he begins to exhibit fatal symptoms of un-revolutionary backsliding, which are detected by a female comrade: "Bourgeois arrogance hidden behind revolutionary rhetoric!" she diagnoses. "Just another selfish, two-bit petit-bourgeois."
She's right, it seems. Carlos develops a rock-star complex, using his outlaw-chic charisma to seduce women and growing too fond of posing for the cameras. Though undoubtedly fearless, as demonstrated in a point-blank shoot-out with French security agents in a Paris apartment, Carlos becomes beguiled by his own celebrity. This comes to a head during his 1975 assault on an OPEC summit meeting in Vienna, when his objective was to assassinate the oil ministers of Iran and Saudi Arabia. Cunningly played by the Algerian Government, Carlos finds his options boil down to fulfilling his mission and martyring himself in the process, or being bought off by the Saudis. He chooses the latter (his vanity couldn't tolerate the former) and from then on his revolutionary potency steadily seeps away.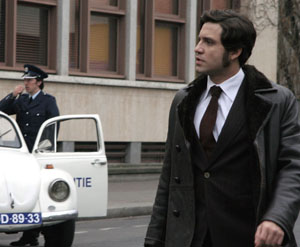 Beyond the individual personalities surrounding Carlos, including the screechingly fanatical Nada (Julia Hummer) whose objective is to perish in a bloodbath, or the troubled terrorist Angie (Christoph Bach) who baulks at the prospect of meaningless mass slaughter, the film's most telling accomplishment is its depiction of the cynical web of alliances and conspiracies that underpin international terrorism. As Carlos shifts from ideological zealot to terrorist for hire, he bounces giddily around Europe and the Middle East as he is sponsored by Libya, Syria or Hungary. We see him being briefed in Beirut, recruiting operatives in East Berlin, chilling out in Yemen and having to hole up in Khartoum.
Ultimately, this wears out the terrorists while simultaneously exhausting the viewer. Plots, counterplots and plots-within-plots become interchangeable, while the fact that everybody is speaking none-too-perfect English in a variety of accents becomes a significant impediment to working out what's going on. Certainly Carlos seemed to spend a lot more time either failing to carry out missions or skulking around in hiding than he ever did pulling off spectacular and murderous coups. Still, Carlos, now incarcerated in a French prison, can at least count on the support of Venezuelan president Hugo Chavez, who says Carlos was not a terrorist but a "revolutionary fighter". Both men fully understand the value of melodramatic grandstanding.
Watch the Carlos trailer
Carlos seemed to spend a lot more time failing to carry out missions than he ever did pulling off spectacular and murderous coups
Share this article
Subscribe to theartsdesk.com
Thank you for continuing to read our work on theartsdesk.com. For unlimited access to every article in its entirety, including our archive of more than 10,000 pieces, we're asking for £3.95 per month or £30 per year. We feel it's a very good deal, and hope you do too.
To take an annual subscription now simply click here.
And if you're looking for that extra gift for a friend or family member, why not treat them to a theartsdesk.com gift subscription?