Birdsong, BBC One |

reviews, news & interviews
Birdsong, BBC One
Birdsong, BBC One
TV solves the problems of Sebastian Faulks's novel where movies and theatre failed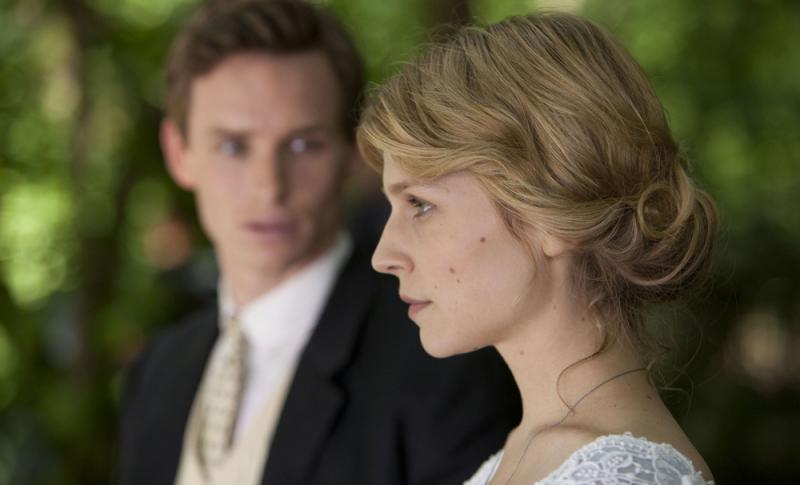 Goodbye to all that: Clémence Poésy and Eddie Redmayne as lovers Isabelle and Stephen
Abandoned attempts to bring Sebastian Faulks's World War One novel to the movie screen stretch from Soho to Sunset Boulevard. Most of these were prepared and discarded under the auspices of Working Title Films, so perhaps it's fitting that Birdsong has finally been made by the BBC and Working Title's new television division.
One can only speculate what a cinema version would have looked like, though at one stage the leading characters might have borne an uncanny resemblance to Hugh Grant and Elizabeth Hurley, but this telly-isation has worked a treat. Even two 90-minute episodes aren't enough to encompass the full scope and scale of the book, and fans of Faulks may be left nursing a few grievances about the bits that have gone missing. Most conspicuously, screenwriter Abi Morgan opted to excise the most contemporary layer of the narrative, in which the granddaughter of protagonist Stephen Wraysford delved back into his First World War experiences (Redmayne on the front lines, pictured below).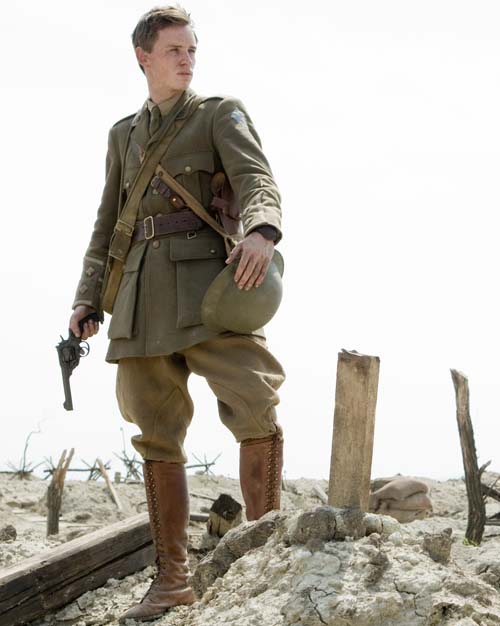 You could argue that Morgan's decision has deprived this Birdsong of a latter-day perspective on the horrors of 1914-18, but we seem to be making that reassessment already, possibly inspired by current debates about wars present and future. Downton Abbey and War Horse are further popular manifestations of what we might call Great War Awareness Syndrome.
All that aside, this TV incarnation has got the important things right. Eddie Redmayne makes as close a fit for Wraysford as you could wish, managing the transition from the wide-eyed, infatuated 20-year-old in the story's early scenes to a prematurely harrowed infantry lieutenant with heartbreaking conviction. As Isabelle Azaire, the unhappy young wife of her older industrialist-husband René (Laurent Lafitte), Harry Potter actress Clémence Poésy seems to be lit from within by a mix of sadness, soulfulness and combustible sexuality, which proves an overwhelming combination for our naive protagonist.
Perhaps most impressive is the way director Philip Martin has found the perfect measured pace to carry the piece's somewhat dream-like narrative. Birdsong begins in Amiens in 1910, with Stephen staying in the elegant Azaire household as he studies the new textile machines at M. Azaire's factory (there's a vague reference to him being sent by "London"). French provincial life is depicted as a sunlit idyll of pavement cafés, lush gardens and riverside picnics, often shot to resemble Monet-like tableaux. Stephen and Isabelle's simmering attraction advances to the slow ticking of clocks and the chirrup of birdsong on summer afternoons.
Nonetheless, there are harbingers of the coming apocalypse. The Azaire factory is besieged by striking workers, threatened with redundancy by the new machinery which is churning out huge orders for the French military. Isabelle has been secretly donating food to the strikers' starving families, a hint of the bitter realities beyond the burnished indolence of life chez Azaire. And Amiens is on the river Somme.
Stephen, once dispatched to the unfathomable purgatory of the trenches, inevitably finds escape in trance-like reveries of his exquisite but doomed love affair. We gather that he and Isabelle dramatically abandoned the Azaire home in a whirl of hooves and carriage wheels (images of this were intercut with Stephen's reawakening after his apparent death in action, triggering a 7.9 on the metaphor-ometer). Subsequently they have somehow been separated, and not just by the war, and Stephen's life hovers in parenthesis within the giant cataclysm which has engulfed Europe.
The war sequences have been handled with about the right amount of mud and gore without giving it the full Private Ryan, though bafflingly, the sound of birds singing even continues over scenes of the pulverised front line, where there are only shell-holes, barbed wire and blasted stumps of trees. Faulks's story is much concerned with the tunnels being dug under the German lines in order to blow them up, and leading tunneler Jack Firebrace (a resolutely proletarian Joseph Mawle, pictured above with Redmayne) is presented unambiguously as an archetype of such enduring human values as love, loyalty and decency. Echoes of Wilfred Owen's poem Strange Meeting are difficult to miss.
Birdsong is essentially an epic romance intensified by its backdrop of all-consuming disaster, a Titanic with a much bigger iceberg, but if you love the book this TV incarnation ought to hit the spot. I should add a special mention for Nicholas Hooper's simple but haunting music, which is guaranteed to jerk those tears from the hardest-hearted viewer.
EDDIE REDMAYNE'S FINEST MOMENTS
Fantastic Beasts and Where to Find Them. JK Rowling casts a new spell starring Redmayne as a wand-wielding zookeeper

My Week With Marilyn. Slim, prim but well-acted tale of the legendary star's misadventure in England

Perspectives: War Art with Eddie Redmayne. Oscar-winning actor proves that he did learn something as a Cambridge art history student

Red. Alfred Molina skilfully embodies 20th-century art giant Mark Rothko. Redmayne assists

Richard II. Redmayne plays the tormented king in Michael Grandage's swift, fluid farewell to the Donmar

The Danish Girl. Beautiful but sanitised adaptation of a heartbreaking story

The Theory of Everything. Redmayne's Oscar-winning turn as Stephen Hawking, the scientist struck down with motor neurone disease
PLUS ONE TURKEY
The Pillars of the Earth. Ken Follett's Middle Ages: English history shot in Hungary and funded by Americans
French provincial life is depicted as a sunlit idyll of pavement cafés, lush gardens and riverside picnics, often shot to resemble Monet-like tableaux
Explore topics
Share this article
Subscribe to theartsdesk.com
Thank you for continuing to read our work on theartsdesk.com. For unlimited access to every article in its entirety, including our archive of more than 10,000 pieces, we're asking for £3.95 per month or £30 per year. We feel it's a very good deal, and hope you do too.
To take an annual subscription now simply click here.
And if you're looking for that extra gift for a friend or family member, why not treat them to a theartsdesk.com gift subscription?