Q&A Special: Dave Brubeck, a Life in Music |

reviews, news & interviews
Q&A Special: Dave Brubeck, a Life in Music
Q&A Special: Dave Brubeck, a Life in Music
To mark the passing of one of jazz's all-time greats, we revisit theartsdesk's Brubeck interview from 2010
Thursday, 06 December 2012
Dave Brubeck at the Newport Jazz Festival
Two years ago, I spoke to Dave Brubeck just before his 90th birthday. The occasion was being commemorated by a film executive-produced by Clint Eastwood, Dave Brubeck - In His Own Sweet Way, which was aired on BBC Four as one of several broadcast tributes to Brubeck's unflagging creativity over more than six decades.
Brubeck himself, a trouper to his toes, was about to celebrate Thanksgiving with a string of performances at the Blue Note jazz club in New York, despite having had a pacemaker fitted a few weeks earlier. Although his tenth decade loomed, his recollections were sharp, his opinions robust and his musical ambitions undimmed.
Brubeck was the son of a northern California cattle rancher and a piano teacher who studied under Myra Hess in England, and his life has encompassed virtually the entire history of jazz. He started to become a significant contributor to the developing shape of modern jazz in the late Forties, after studying fugue and orchestration at Mill College, California with French composer Darius Milhaud. Following this, he formed an ensemble in 1946 with some fellow music students, which made a number of experimental recordings as the Dave Brubeck Octet.
Brubeck formed his first quartet in 1951, though it wasn't until the mid-Fifties that the classic Dave Brubeck Quartet comprising alto saxophonist Paul Desmond, bassist Eugene Wright and drummer Joe Morello alongside the leader took shape. This line-up lasted until 1967, and recorded many of the works which have cemented Brubeck into the fabric of jazz history. The 1959 album Time Out, including the indestructible "Take Five" and the challenging "Blue Rondo à la Turk" with its 9/8 time signature, is the kind of record they ought to award automatically to guests on Desert Island Discs. Other Quartet milestones included Jazz Impressions of Eurasia, Time Further Out, and the live album At Carnegie Hall.
Brubeck then worked regularly with saxophonist Gerry Mulligan and later formed a group with his musical sons Dan, Darius and Chris, while also branching out as a composer of orchestral and choral pieces such as The Light in the Wilderness or his 1971 cantata The Truth is Fallen, written in protest against the Vietnam War. His touring and recording schedule continued to defy his advancing age, though he had conceded it might be prudent to give up travelling overseas.
ADAM SWEETING: Have you seen Clint Eastwood's film about you, In His Own Sweet Way?
DAVE BRUBECK: I just got a copy of it. I thought it was a lot of fun. It covered a lot of territory and there's such a lot going on that you don't just watch it once. I've tried to watch it three times now on the road and I always get interrupted. You miss something, then you lose the train of thought that ties it all together. It's remarkable the way they've pulled together what's important in my life and my wife Iola's life, and it's wonderful how they've featured each of the guys from my quartet - Paul Desmond, Joe Morello and Eugene Wright.
How did the film come together?
Clint is the executive producer, and then there's [director/producer] Bruce Ricker who often does Clint's documentaries. We were down on Clint's ranch in Carmel, California and he was just asking me questions and we played some piano together and there were other people there. We were having a pretty good time.
Is Clint a good piano player?
I would say he really is a listener that loves jazz, and he composes his own scores and themes for his movies. So he's a fairly good creative guy.
The historical footage and black-and-white stills are very evocative of all the history you've lived through.
Oh yeah. And a lot of them go back to programmes I did with the BBC and an interview with Walter Cronkite, which surprised me. There are quite a few English people in it. Sting is on there and Keith Emerson and the late critic and musician Steve Race, you remember Steve? He was important in my life and I got to know him well, but at first he really thought I was not a good musician. Then he did a complete turnaround and went the other way, that I was a great musician, so I'll never forget Steve because he really put me down, and usually when some critic puts you down they don't say, "I was wrong, I really didn't understand what Dave was trying to do." You've got to have a lot going for you before you want to criticise some other musician, and Steve did a complete turnaround. He was an important guy in England, an important critic and an important musician, so to have him not like me was really bad news. And then for him to say how much he had to understand before he started understanding me… it takes some generosity of spirit.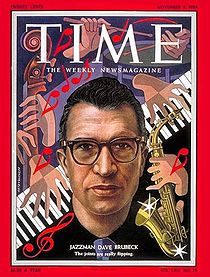 Some critics have thought they heard too much classical music in your jazz playing. Has that caused you problems?
It's traditional. It goes back to New Orleans, to the French quarter. Jelly Roll Morton was listening to French opera, and they say "Tiger Rag" was a Belgian march. When you consider that the early New Orleans music was just like march music, the clarinet playing the obbligato, the trumpet playing the melody, the tuba or trombone playing the bassline, you're right in Europe before you can blink your eye. The first blues ever written was W C Handy's "St Louis Blues", and guess how it starts – it starts as a rhumba. So where'd that come from?
South America?
Yes, so right from the beginning the first things had a South American tinge, right from the earliest blues. So how can you say I was using classical music? Listen to Art Tatum. He was playing Dvorak's Humoresque and other themes and making them just sound wonderful, so how more authentic than Art Tatum do you want to get? Do you think Ellington didn't listen to Debussy? You name a jazz musician you think wasn't influenced by European music, especially opera. They all loved it. Even Louis Armstrong loved opera – did you know that? Well he did, and a lot of the other great players, so don't think I'm the guy (Brubeck on the cover of Time magazine, 1954, pictured above).
And pianist Bill Evans owed a lot to Debussy, for instance.
Bill Evans? Sure. He's full of wonderful French harmonic devices. Name me a jazz pianist that you don't think was influenced by European music. Name me one! You can't, that's right. It was fun to say I was doing all this, but I always say it goes right back to the beginning.
Darius Milhaud [French composer who taught Brubeck at Mills College, California after World War Two] encouraged you to keep playing jazz, didn't he?
Milhaud loved jazz. At the time when he first started using jazz in the ballet The Creation of the World, he was the first European composer to do it, but other European composers were starting to use it too. Milhaud thought it was a liberating force for European art. You'd had strict ballet from Russia where you didn't dare to do one thing that wasn't in the Russian understanding of ballet, and then here comes jazz and African ballet. It changed ballet, it changed European classical music, it changed European poetry. Milhaud said in many ways, European music was at a dead end, and jazz liberated it. I think that's probably very true.
You toured the world with your quartet, and you absorbed various different styles of global music which you used on albums like Jazz Impressions of Eurasia or Jazz Impressions of Japan. Did you feel you were ahead of your time in doing that?
In 1949 in an interview in DownBeat magazine I said, "Jazz is like a sponge, and it's gonna pick up music from all over the world, and some day you might even hear a Chinese trumpet player." I predicted it and everybody thought I was crazy, but now who's crazy? There are great Russian and Polish musicians, and musicians from all over the world. My own Brubeck Institute in California is turning out fantastic young jazz players, and I know great things will happen.
You recorded an album with a jazz octet in the late 1940s, which was some time before Miles Davis made the highly influential Birth of the Cool with his nonet. You were ahead of the curve then, too.
I thought these guys are doing some great things, but I'm not going to copy them. I'm going to do my own thingAbsolutely. We were two or three years ahead of Miles in that octet, and five of the octet were GIs who studied after the war with Darius Milhaud. They were wonderful jazz musicians but also they were wonderful classical musicians. There was Bill Smith on clarinet and he's still playing today, and last week he had his jazz opera performed in New York. Dick Collins was a master trumpet player, either classical or jazz, and Jack Weeks on bass was a wonderful composer. And we had Dave Van Kriedt on tenor sax, who wrote fugues on bop themes. So we were all trying to incorporate jazz, and classical music, as I said before, was a tradition just being extended through us. Paul Desmond was there, and Cal Tjader was the drummer. Cal was a fantastic natural musician.
Did Miles Davis hear you play?
A lot of musicians heard us play, because we played Sunday afternoons at the Black Hawk in San Francisco. The Black Hawk had the top musicians playing six nights a week. I played there three months of the year, three months off, then three more months back there for six years and I heard everybody. I got [baritone saxophonist] Gerry Mulligan to come and play, that was his first steady job with [trumpeter] Chet Baker and that wonderful group they had. But we were all very interested in each other.
But you never liked it when you were grouped in with West Coast cool jazz, did you?
I don't believe I was at all. Listen to my early quartet records and they're so hot they sizzle. Nothing cool about 'em. Especially "Look for the Silver Lining" and the other side of that old 78, man, that is about as hot as you wanna get. Bull Ruther on bass, my drummer Herb Barman… They were a wild rhythm section, just great. Not cool at all. All you have to do is listen! Critics get an idea and that becomes this great truth, and they haven't done their homework, they've just come up with something to put a box around you. When you break out of the box they get really angry because they wanted you to just stay where they thought you should be.
They like to create their own musical movements?
Oh yeah. But you see, with the octet, just listen to my arrangement of "The Way You Look Tonight". I go through the keys, sometimes every quarter note I'm in a different key. Later on, there were pieces like John Coltrane's "Giant Steps" and they were listening to me and used a lot of that kind of changing keys and other things. I know where they heard it first.
Where did you get your fascination with unusual and complicated time signatures? (sleeve of Brubeck's 1959 Time Out album, pictured right)
I always was aware of drummers. My oldest brother Henry was a drummer and he drummed on everything in the house from the kitchen sink to stovepipes. He was 11-and-a-half years older than I was, and he was the first drummer in the Gil Evans Orchestra, so you've got to know how great he was. He influenced me, and then my brother Howard was a great composer. He wrote that piece "Dialogue for Jazz Combo and Symphony Orchestra", and I think that opened up a lot of ways for jazz musicians to start writing for orchestras. And there were people before us like [bandleader] Paul Whiteman and [trumpeter/bandleader] Bunny Berigan, who was very influenced by French music. The influences are there if you look for them, they go way back.
What impact did Thelonious Monk have on your playing and thinking?
None! I didn't even know who he was when I was living on the West Coast. Then I went to New York and the first time I became really aware of him, we were on tour together and we did a duet in Mexico, I remember. We had a lot of fun. But there was a period after the war when I wanted to do my own thing, and I came back from the army, I was gone for four years, and when I got back from Europe bebop was going on and I'd never heard it. So I got home and thought, well these guys are really doing some great things, but I'm not going to copy them. Everybody's copying them. I'm gonna do my own thing.
It must have been a shock when you first heard bebop?
Yeah it was, because I'd been completely cut off. I was in Patton's army in France and Germany, and you didn't go around listening to bebop - which I thought was great. I toured with Charlie Parker on his first tour. He and Chet Baker and Shelley Manne on drums and Jimmy Rowles on piano – that was his quartet. I had Paul Desmond, Ron Crotty on bass and on drums Lloyd Davis, and we toured the West Coast. How that never gets mentioned is beyond me. We played I would say 10 concerts and the fact just seemed to disappear, that that tour was the first bebop tour of the West Coast.
Watch the Dave Brubeck Quartet playing 'Take Five'
Did you get to know Charlie Parker?
I did. I got to know him quite well, and he told me many things that I keep to myself. But he really opened up and talked about his life, and how he got strung out and who first introduced him to drugs. He went pretty deep and he was a very intelligent, well-read, wonderful guy, and so really, really sorry that the drugs had hooked him. He would say to me, "Dave, send Paul to me," so I'd say to Paul, "Charlie wants to see you," and we would know why he wanted to see him. Because he hocked his horn to get drugs, concert after concert. That's when he had that plastic horn, you remember that? That's because his horn had been hocked. Paul would say "Gee, I don't know Charlie, I need that horn tonight, be sure to take care of it!" The tour manager roomed with Charlie, and he'd put his bed across the door so Charlie couldn't get out of the room trying to get a fix.
But it just ruined him and of course he tried to break the habit, and sometimes he'd be straight for a while, and boy, when he was straight! I heard him one night, he was in a suit, a beautiful suit. He was really in good physical shape, I don't know how he got there, and he played so beautfully that I knew this is why he's the great Charlie Parker. But that was about the 10th concert. For the first nine he would be so strung out he'd just kick off a tempo to these wonderful musicians he had, leave the stage and then stick his head out from behind the curtains and make faces at the audience. Now that was the way the first nine concerts went, and I was very, very upset until the last concert, which happened to be in my home town, Oakland California, and I told everybody "Come and hear this great guy." And boy, that night he didn't let any of us down. He was the master that night. It's really terrible, and how many kids thought that was the way to go? Charlie knew it was the worst way to go.
Why did heroin afflict so many jazz musicians?
I don't know, but I was around a lot of it. You'd tour together, and you were on that band bus, and there'd be the beer drinkers up front, the wine drinkers in the middle and the whisky drinkers further back, and then clear in the back were guys like myself who didn't smoke or drink. But you'd see on tour guys just having to get off the bus and try and find what they needed. It was really so pitiful to see these great great guys being addicted to the point where that was the most important thing in their life that day.
Did you see it as your mission to take jazz away from those associations with drugs?
Well it was common sense. You saw it every night and you saw the destruction and the addiction, and who wants to get caught in that trap?
Did your army service have a big effect on you and your philosophical attitude to life?
Oh yes. I saw a lot of things that affected me all my life. I saw that the enemy was Germany, another enemy was Italy, and I knew that we were Americans and we were all brought up in the same religion. I couldn't figure out why, when we all came from this background, call it Christianity or Old Testament… I thought, why? Why are we doing this? Don't we know the Ten Commandments from the time we're first learning about religion and about life? Don't we know "Thou shalt not kill", and here we are in armies killing each other. I said I'm gonna write a piece about the Ten Commandments, especially "Thou shalt not kill", and I couldn't do it, but I did it about five years ago. I finally put it together and I wrote a fugue on the Ten Commandments [The Commandments, premiered in New York in 2005].
But it affected me to see all the things I saw in the war – slave labour camps, where people were starving to death because the Germans didn't care to feed them when food was getting scarce. They got nothing. And I remember after we went across the Remagen bridge on the pontoons, the first place we came to was a camp where they were just making wire, but all the labourers were from all parts of Europe and they were starving to death. We tried to revive them but some of them were too far gone. Then we got a truck where, with a bullhorn, they'd announce "All the Italians get on this truck and we'll have you home today, we'll take you back to Italy," or we'd say, "All you Hungarians get on this truck and you Russians get on this truck," and that's the way we cleared out that place. Things like that you never forget.
That was a scary time, because there were machine guns pointed right at us. But I finally remembered the passwordDid you see the TV series Band of Brothers, about the American paratroopers in Normandy?
Y'know, I heard about it but I didn't want to see it. I was in the Battle of the Bulge, and that was a lucky time to get out of there alive. When Walter Cronkite interviewed me we talked about that [Cronkite was a war correspondent during World War Two before he became a famous TV news anchor]. He said, "I was in a tower where we were watching for the Allied airplanes to come in and there was fog every day, day after day after day, and the airplanes couldn't fly. They were mostly coming from England but they couldn't fly because of the bad weather, and then one day the clouds disappeared and I remember we were jumping up and down because we heard the planes coming, and there were so many planes you couldn't believe it, they were almost wing to wing." And Cronkite said, "The commander said, 'There's a whole German army down below us, and we've got a break in the clouds. Let's go! Come on!'" and they all dove down right on the German army and that's really what saved us maybe losing the war, because the Germans would have come down through Belgium, and D-Day and all the sacrifice could have been disrupted and we'd almost have had to start over again. But Cronkite remembered that so well.
When you were in Europe you were asked by your commanding officer to form an army band. That must have been a relief?
You bet. It was a relief for all the guys in the band. The Colonel in charge of the replacement depot said, "I want you to form a band, and everybody that gets wounded and sent back that isn't too badly hurt will be asked questions about what they did in civilian life. Any of them that are musicians I'll send to you and you form that band." We became the most played frontline band, because we could play at the front where other civilians going up there weren't accepted. My guys wore their uniforms that showed that they had been at the front, so we were accepted as the band that played to most of the front-line soldiers. We were called The Wolf Pack. We played American popular music because that's what they wanted to hear.
One time I was caught behind the German lines with my band. We couldn't get back in because the Germans had come through in American trucks with Germans who spoke perfect English, and they had killed a lot of our guys. When I came up from behind their lines, and told the American guys guarding our line that we were a band, one of the Americans came up to me with a hand grenade in each hand with the pins pulled. He was talking to me and not believing our story. That was a scary time for all of us, because there was dynamite tied in the trees above us and machine guns pointed right at us. But I finally remembered the password, and we got through OK.
We played with the first show that came overseas from the States, Cole Porter's Anything Goes. Then the biggest show that ever went overseas was the Radio City Music Hall with the Rockettes, 16 girls in a row and the ballet girls and a lot of fine acts, and they requested my band. So we joined up with them and then I got a notice from our commander, saying, "You're all AWOL, return to base immediately." So we had to leave the show and he put us on kitchen duties. He said, "You guys, sleeping in white sheets and eating in fine restaurants, here's the rest of us and we'll show you what you should be doing!" So they made it tough for us. Then he got a message from the commander of all the entertainment in Europe saying, "Return The Wolf Pack because the biggest show will not play the rest of Europe until they get that band." Boy, we got sent right there in a hurry. I was a Private First Class, and all the guys that had been sent to me were either sergeants or corporals or something, but next to my name, the last name on the roster, was, "In charge, PFC Brubeck". That meant that I could go any place, any time, anywhere. That's how we got behind the German lines, because we had been sent to play at the front but we went too far.
Do you follow politics today? American involvement in Iraq, Afghanistan and so on?
Oh yeah. I made a comment about a year ago. It's a piece called "Are You Now or Have You Ever Been a Democrat or a Republican?" My wife Iola helped me list all the things you could have voted for and didn't vote for, so I got a little political with that. It'll be recorded by the Pacific Mozart Chorale in Berkeley, California. They played it to the Berkeley audience, which is 20 or 30 thousand students and a lot of teachers, and they loved this piece. That's the most political I've gotten. Y'know, we're waiting for the politicians to be American in mind and not fighting each other. To pull us out of this mess we're in. (Brubeck with Clint Eastwood, pictured below.)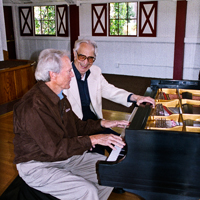 Do you feel you still have a lot of creative energy for writing new pieces?
Oh yeah. I'm still writing and I've got new things on the go. The newest one is a piece that deals with the photographs of Ansel Adams. I got a book of 400 Ansel Adams photos and I was asked to compose a piece. There were seven symphony orchestras that wanted this piece, and they put up the money for each orchestra to play it as soon as I would write the music. I wrote it for piano, which I could do, and then I said I can't do all the hard work that comes after writing the music, but my son Christopher then took that piano score and put it through his computer. It made a beautiful score and I'm very proud of it. When it's played there'll be a huge screen above the orchestra with the Ansel Adams photos projected. It's called Ansel Adams's America, and I've chosen a lot of the Yosemite photos he took, as well as some other things from all parts of America that he photographed.
Also recently I was asked to do an opera on John Steinbeck's novel Cannery Row, and I turned it down. I said, "I can't do a two-hour opera, and besides you're gonna do that at the Monterey Jazz Festival for a jazz audience after they've heard three days of music? You expect them to sit there and listen to two hours of opera?" So they got back to me and said, "Dave, just do four main characters from Steinbeck and make a short opera." I completed that, and Clint Eastwood filmed it when we performed it at the Monterey festival, but we couldn't get permission from the Steinbeck family to use the music. Clint's still got the film from that one performance and I hope someday it will be shown.
You've used some Jewish texts in your music, for instance in The Commandments and your 1969 oratorio The Gates of Justice. You're not Jewish, but what is it you see in the Jewish faith?
Well, most of the Christian heritage goes back to the Old Testament too, which as you know is Jewish. A lot of what we think comes from Jewish law and Jewish prophets. They were all related back to that, so once in a while I'll take a Jewish chorale and incorporate it into what I'm writing (sleeve of Brubeck's 1961 album Time Further Out, pictured below).
Is it because of the soulful quality in Jewish music?
You know, it's so Arabic. When I was asked to do this music, one of the Jewish scholars said that in some of the Koran it says we must honour the Laws of Moses. Now can you imagine us being more related to the people that we're having ... er… such conflict with than to the Laws of Moses? The Laws of Moses are the Ten Commandments. If you look far enough at your own religion we're all related, even if you're from India and you look at Buddha you'll see the relationship between Christ and Buddha. "Love your enemies, do good to those that hate you," Christ said. Six-hundred years before that, Buddha said the crowning enlightenment is to love your enemy. Now, when do we start taking seriously these world religions that are so really part of all of us? All we have to do is look back into our own culture, our own religion, and live the way that we were intended to live. And I think I'm talking too much… but that's what I think.
But there are always people who enjoy confrontation.
Well I guess so, but we haven't got time to play those games any more. It's too dangerous and we'd better grow in every way, especially in religious ways, to accept this, that we're all brothers. In one of my pieces I use that saying from Martin Luther King: "We must live together as brothers or perish together as fools." How can you lay it on the line better than that? If we're all going to die together as fools, count me out please.
On a lighter note, you're a prize-winner again. You've been voted Jazz Group of the Year in DownBeat's Annual Readers' Poll.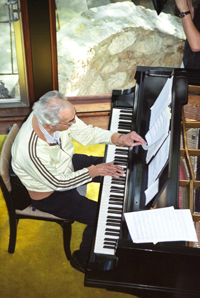 Yeah, after 50 years! My comment was, "That's the longest intermission I've ever taken." Can you imagine, after 50 years, that we're remembered by the voters for the DownBeat poll? I can't believe it but it's nice to feel that though I'm almost 90, I'm not forgotten. So that's a real surprise. They say it's never gonna happen again either, because that 50 years won't come up again!
In the Eastwood film, there are appearances by Goddard Lieberson, former president of Columbia Records, and Columbia's A&R man George Avakian. They were classic, old-school record industry guys, and we don't see people like them anymore do we?
Y'know, I just got a poster from Columbia Records when Goddard was president, and there's Miles Davis and Charlie Mingus, Duke Ellington, Count Basie… Everybody there in that poster has died, I'm the only one left. And it's kind of scary because they were all my friends. We all worked together on Columbia Records and it was a great roster of jazz musicians there, and here I am the only one left. I wish that Miles was still around and especially Ellington. He and I were good friends, and Miles and I were good friends, and I miss all those guys.
Do you sometimes look back and find it all hard to believe?
I can't believe it, no. When I look back on who were my friends and the ones I admired the most, Paul Desmond and Gerry Mulligan and Chet Baker and Duke and Count Basie and all these great players, it's hard to believe that they're gone, because we were all so close.
How do you feel about jazz in the year 2010?
I think it's going to be great. My institute [the Brubeck Institute, established at the University of the Pacific in Stockton, California in 2000] is turning out such great young players. Last night I played with two of my fellows from the Brubeck Institute, we tore the audience up, it was just amazing. I take these young players when they're 17 and they leave after they're 19, they have room and board, and all their tuition paid for. All they want to do is improve on their skills as musicians. They're way ahead of where I was and where my friends were, and they're going to turn out wonderful things because they're so advanced. There's one piano player who is so great that I write stuff that's too difficult for me to play because my hands aren't up to my brain anymore, and this kid will come in and sight read it and play my part. I think, oh my goodness! Look at that young kid, he's only 17 or 18 and he's so fantastic. I believe that tremendous things will happen in the future because of the young people's greatness. And with that I'll say goodbye and thank you.
Watch the Dave Brubeck Quartet playing 'Blue Rondo à la Turk'
Find Dave Brubeck's music on Amazon
Photos of Brubeck's hands, Brubeck with Eastwood and colour shots of Brubeck at the piano by Hank O'Neal
Do you think Ellington didn't listen to Debussy? Can you name me a jazz pianist who wasn't influenced by European classical music?
Explore topics
Share this article