Bullets, Boots and Bandages, BBC Four |

reviews, news & interviews
Bullets, Boots and Bandages, BBC Four
Bullets, Boots and Bandages, BBC Four
Letting slip the spreadsheets of war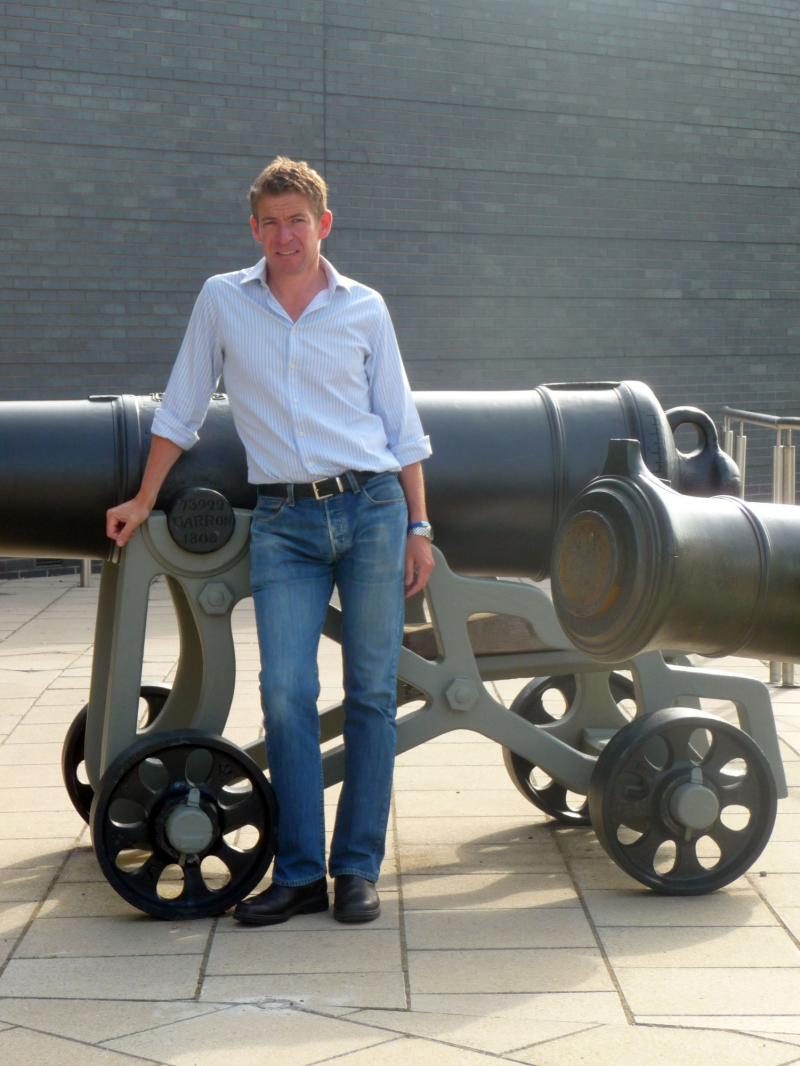 Saul David, military historian. (Could you tell?)
Watching Bullets, Boots and Bandages last night, I found myself recalling a tutor from my Master's year whose favourite hobby was lampooning the "sloppy thinking" of other noted academics.
His personal
bête noire
, he more than once informed us, had many years ago written a book averring that leadership was the most important thing in war; then, later, another saying that actually technology was the key; after which came a volume on the paramount importance of strategy; and then one concluding that wars were in fact won and lost over logistics.
Saul David agrees with the last bit, at least. "Today, military logistics dominates modern warfare, with entire branches of specialists dedicated to feeding, moving and kitting out frontline soldiers." And fair's fair. There may not be any great songs written about logistics, nor many lines of The Iliad given over to it – and I've never seen a monument to a quartermaster; but logistics is, quite literally, the oil on the wheels of the war-fighting machine.
It focused on everything from the humble boot to the Jeep and the jerry-can that fills it
Still, Professor David's first challenge was always going to be to keep the viewer viewing. This he did by walking us through the subject at a fair trot, keeping the focus moving from one area to the next, and keeping a lid, also, on the number of septuagenarian curators and "local historians" trundled out to wax all frotty over the Duke of Marlborough's ingenious axle-springs or the curious colour of a Grenadier's cuff.
Episode two – Stealing a March – focused on "the art of movement", the kit used for getting from A to B, and ways of keeping soldiers alive along the way. Everything, in short, from the humble boot to the Jeep and the jerry-can that fills it.
If, as seems fairly self-evident, being in the right place at the right time is the key to winning a battle, then it is surely equally obvious that if you can get there before the enemy you can – as with Wellington at Waterloo – chose whatever ground you fancy. Conversely, if you have to run to meet your enemy – as King Harold did, from York to Hastings – well, then you're looking at proportionately horrible odds, aren't you?
Also, don't forget your clipboard. Harold may have been personally unlucky to take one in the eye at the Battle of Hastings, but William of Normandy's Bayeux Tapestry records, in detail, the sort of meticulous and game-changing invasion plans that would not be witnessed again for almost a thousand years, when Churchill melded maverick ideas and first-class logistics in the ultimate feat of military engineering: the D-Day landings (with a pleasing symmetry, also in Normandy).
David's general argument (so to speak) is that above and beyond having some reliable battlefield acumen, the truly great military leaders know how to count shoes and modify bullock-carts (and do I half-remember that the ancient Greek word for "general" was… "logistikos"?). The flamboyance of a Patton or the daring of a Napoleon are the exceptions that prove what one might harshly call the Custer Rule. And even Napoleon slipped up eventually, his decision to invade Russia with the wrong horse-shoes being the tactical equivalent of starting a monsoon Grand Prix with your drys on.
In the Africa campaign, Rommel used as much as half of his fuel just getting it to the front line
The increasingly surreal statistics were given a fair look-in (over 6000 tonnes of hay and oats was shipped to France every day during WWI: more than ammunition), and the exponentially Gordian nature of high-logistics warfare was touched upon (in the Africa campaign, Rommel used as much as half of his fuel just getting it to the front line); but I felt there could have been more about the potential down-sides of logistics. It struck me as curious that David – the author of at least one book about the Zulu war – made no mention of, for example, the British drubbing at Isandlwana, inflicted by a barefoot and lightly armed Zulu impi that had travelled about 80km in five days while Lord Chelmsford, the British commander, spent too much time concerned about his wagon train. And it's funny, of course, to think that the Prussians laid the foundations of modern Germany through an efficient use of train timetables; but only if you don't consider what modern Germany used those timetables for next. (And what about that pig-fat business in India? Logistics, it seems to me, could be accused of having a long and unsavoury tail.)
Having brought us up to date at the city of Camp Bastion, and concluded that "long, grim route marches have been replaced by technology" – and perhaps anticipating a certain murmuring from the ranks – David brought the story back to boots and basics, gamely sampling the Royal Marines' famous three-week "yomp" across the Falklands, under 120lb packs. With his Barbour on, natch.
There were a few oddities in the script (William of Normandy apparently landed on the South Coast "with 700 ships and 7000 men"), which tended towards the patronising ("In war, the price of failure can be high"), and Professor David too-often resorts to a gung-ho, Clarkson-style delivery, yelling over his own .50 cal clatter or needlessly crashing about in the back of a tank. It was also not at all clear why he needed to wave around a rifle while saying "I'm a military historian…," or talk about King Harold's march south from outside the Oxford Street Benetton. But what can you do?
All in all Bullets, Boots and Bandages is engaging, informative telly, and – given its subject matter – remarkably agile. Next week is all about materiel. Somewhat to my surprise, I find that I'm quite looking forward to it.
I've never seen a monument to a quartermaster, but logistics is the oil on the wheels of the war-fighting machine
Explore topics
Share this article