Into the Storm: creating Churchill |

reviews, news & interviews
Into the Storm: creating Churchill
Into the Storm: creating Churchill
Brendan Gleeson of Dublin plays the saviour of another nation
We shall fight them on the airwaves: Brendan Gleeson rallies the RAF
A few years ago he was voted the greatest Briton in a national television poll. Among his many books is A History of the English-Speaking Peoples. He went to Harrow, for goodness' sake. And he is always played by English actors. Always. You name them: Robert Hardy, Simon Ward, Julian Fellowes, Albert Finney. So where, of all the unlikely places, did they look for an actor to follow in those footsteps for a new BBC/HBO drama depicting Churchill's leadership in the Second World War?
In the country, believe or not, where Churchill once threatened to send 300,000 troops to quell the natives.
Brendan Gleeson, who began acting professionally only in his 30s, is almost entirely known for playing Irish characters. He was a fictional Irish hitman in In Bruges and a factual one in The General. He played a close associate of Michael Collins in Michael Collins and, in The Treaty, the Sinn Fein leader himself. In one scene he even sat across the negotiating table from an actor playing Churchill. In the Harry Potter films he made Professor Moody an Irishman. When he was still a teacher he taught Gaelic. He is currently shooting The Guard in Connemara, about an unorthodox Irish policeman. You can't get less English and more Irish that Gleeson.
"I needed a little bit of convincing, I have to say," the actor concedes wrily in a thick Dublin accent. "I mean Churchill threatened to wipe us out. It's a little bit of a problem. There was history there between the two nations. I had to lose some baggage first of all."
It went through lots of different drafts which were mostly to do with making it affordable
The decision has been triumphantly vindicated. At the end of September Gleeson won an Emmy for his performance as Churchill in Into the Storm. It is broadcast tonight on BBC Two, where British viewers can see for themselves the extraordinary accuracy with which Gleeson has inhabited the role. The stylised cadences, the physical bulk and stooped shuffling gait – it's all there. But it's also a hugely generous performance. As dramatised here, the Churchill who took Britain through the war had to make some terrible decisions: to leave the wounded till last at Dunkirk, to bomb Germany into the dark ages, to cosy up to "Uncle Joe Star-leen", as he called him. "I wanted a fully rounded figure," says Gleeson. "From a previous period in Irish history I had a problem with him being a bully. But I understand the heroism of someone who stands up to a bully. When faced with a savage coming over the hill, who else could have done that?"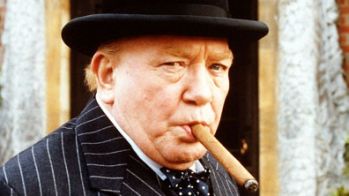 Into the Storm follows on from The Gathering Storm (2002) starring Albert Finney (pictured right). The first drama portrayed Churchill's wilderness years in the 1930s when he spent his time beating off depression and money worries, while harrumping at Chamberlain's policy of appeasement. It ended with the moment Churchill is summoned to lead the nation at war in 1940, which is where Into the Storm takes up the story. It is told in retrospect, as Churchill holidaying in France tetchily contemplates the result of the election called after victory in Europe. Its script was written, as was The Gathering Storm, by Hugh Whitemore, who as a small boy in Kent during the war remembers collecting shrapnel and worshipping Churchill as "a minor god figure".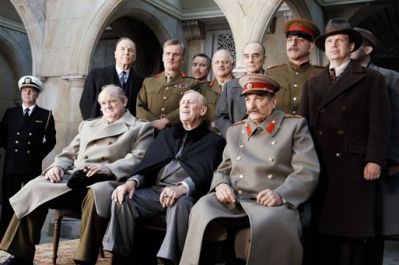 The plan was always to do another instalment of the Churchill story. "Then came a problem of how," recalls Whitemore. "You can't do the Second World War. So we spent a long time trying to find a point of view, and then I came upon this idea of basing it in the present on this holiday he had in Hendaye in the South of France which would enable us to follow his personal journey through the war without dotting every I and crossing every T. It went through lots of different drafts which were mostly to do with making it affordable." Accordingly a lot of the drama, in which Churchill mixes with Roosevelt, Stalin, George VI , takes place in rooms. "Which of course for Churchill the war did."
The role was offered to Finney. "He didn't want to," says Whitemore. "Also we were very keen to make a different sort of film. The new film isn't a sequel. Mary Soames called it a continuation. It's more obviously focussed on exploring his character. And I wanted to focus on his decline. It always seemed to me ironic that as soon as America joined the war, which was the one thing which could guarantee our victory, Churchill's powers as a leader declined immediately. It's the irony of winning and losing at the same time: a Pyrrhic victory, which seems to me sad. If you read the letters that Clemmie his wife wrote after he lost the election, he was clearly impossible to be with."
This was Whitemore's entry point when first approached to write The Gathering Storm. "I thought to myself, 'I can't do this, I know nothing about Churchill, there are thousands of books being written about him, I don't know what to say.' So we went down the country for the weekend and I was then exactly the same age as the Churchill was that I was writing about, overweight, and with a tall slender wife who is patient. I thought, 'Ah, it's really about me.' I always think that although one writes these things about real people really they're about yourself in a weird sort of way."
He had this very odd pattern of emphasis that sometimes the most forceful words were left with almost none
So it continues in Into the Storm. He decided to that "the only way to do it is to try to pretend that you've invented him. Because otherwise you're constantly rushing back to reference books to look up whether he smoked cigarettes or cigars." When challenged he concedes that this is a singularly bad example. And he did also consult sources, although not the lapidary biographies by Martin Gilbert and Roy Jenkins. He surprisingly leant on an unfinished American life by William Manchester, "which from a non-English point of view was very valuable", and talks highly of John Lukacs's Five Days in London, when Cabinet discussed the pros and cons of making their peace with Hitler. "People don't realise it wasn't easy for him to say, 'We shall fight on.' The book had an influence in so far as it demonstrated not only Churchill's accuracy of judgement but his determination. He wasn't going to be deflected by arguments which could have some substance in them. He had a much broader view. This was because he was an historian by trade."
Meanwhile, Gleeson went about assembling the jigsaw that makes up his performance. His first decision, after watching The Gathering Storm, was that there would be no point in serving up an imitation of another actor's imitation. He spent valuable time with the voice coach Joan Washington getting under the bonnet of Churchill's mannered oratorical style, with its dying falls and rising inflections. "He had this very odd pattern of emphasis that sometimes the most forceful words were left with almost none. And it was very interesting how his reaction in terms of his audience was that he drew them in as against pummelled them. People imagined that it was power. But actually he didn't thump tables. He was a journalist and the power of words was immense to him."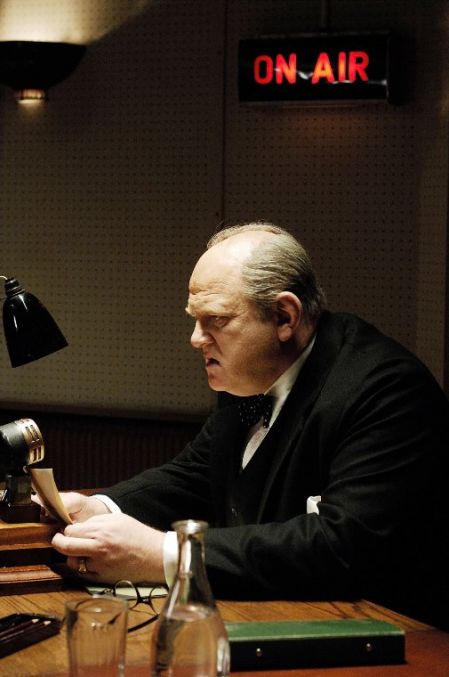 Whitemore's script goes to some trouble to explain the great labours Churchill put into his speeches, a legacy of an early failure in the House. In one bravura sequence, we see him dictating the famous "We shall never surrender" speech to a secretary, delivering it to the house then broadcasting it on the wireless to a waiting nation. In another, he tells some RAF pilots how much is owed to the few of them by so many them. "I may use that," he says back in the car. We also see Gleeson rehearsing the precise length of pause required between "some chicken" and "some neck".
"If you listen to the delivery it puts the hairs up on the back of your neck," he says. "But it's not really because of the cadence and flow and power, it's about the strength: you actually listen to every word he says. And it's the structure of the sentences and the balance and the way they fall. Somebody told me that it was about an hour a minute that it took him to prepare those speeches. Some of those speeches are two hours long. And roughly that's how it worked out. He used to spend days preparing those speeches. It wasn't off the cuff. So essentially the delivery was that of an actor."
Gleeson also found that he had other things in the actor's tool box. "He was extraordinarily emotional," says Gleeson. "He used to break into tears when he went out into the Blitz, or he blubbed inspecting a troop of cavalrymen. You can call it sentimentality if you like but he was just very free with himself. He had no problem displaying his emotions which is not a particularly English trait. I wonder if it's because he was half American." And then there were the moods. Part of the rounded portrait is to show his insufferable behaviour to his valet and indeed his wife Clemmie (a beautiful performance from Janet McTeer) as they holiday in France awaiting the results of the postwar election.
The Churchill family have professed themselves delighted. Lady Soames, who is herself a character in the drama, "was very taken with it," says Gleeson. "She said I hadn't fallen into any pitfalls. You can't play the cigar." Churchill's grandson Winston offered similar compliments to Whitemore. "He then added a small point: 'But I should point out my grandfather never wore pyjamas. Though perhaps it wouldn't have been a good idea to have Brendan Gleeson wandering round the set nude.'" Indeed. In fact Gleeson has a couple of bath scenes and does indeed bare himself to President Roosevelt on a trip to Washington. Part of the preparation was to put on enough weight for the Churchillian midriff to swim fleshily in the water.
It was the actor in Churchill which persuaded Whitemore to set the exceptionally moving final scene in a theatre, where the newly ousted Prime Minister goes to see John Clements and Kay Hammond in Private Lives with his wife. "It's only mentioned very briefly in one book," says Whitemore, "but as soon as I read it I thought, 'Ah that's for me.' The first thing I said to the producer was 'You've got to promise me a theatre full of people.' He is the actor taking the bow. He has become the leading character in his own play."
Watch the trailer to Into the Storm