Darkest Hour review - Winston airbrushed for the 21st century |

reviews, news & interviews
Darkest Hour review - Winston airbrushed for the 21st century
Darkest Hour review - Winston airbrushed for the 21st century
Gary Oldman tilts for an Oscar as a panicky, powerhouse Churchill
Thursday, 11 January 2018
No surrender: Gary Oldman's Churchill stiffens the nation's sinews
Oldman's performance is the sole, sufficient reason to see a film in which little else finally lingers. Kajuhiro Tsuji's prosthetics allow his physical transformation into a jowly 65-year-old. Oldman's vocal rhythm and tone then let the icon breathe. He is hesitant, breathless, uncertain. More than mercurial, his volcanic passion boils over in panicked rushes.
"Which self shall I be today?" Anthony McCarten's script has Churchill say. "My emotions are unbridled. A wildness in the colour..." Or, as a fellow parliamentarian puts it: "I wouldn't let him borrow my bicycle." Set between Chamberlain's resignation and Dunkirk's aftermath, as France falls and beaten peace seems Britain's rational fate, this Churchill hasn't yet been moulded by his radio speeches into a national figurehead. He can look, and feel, a failure-tarred liability. As his wife Clementine, Kristin Scott Thomas (pictured below with Oldman) built her part up but, like Lily James' secretary Elizabeth Layton, still does little but be supportive. Oldman's own fierce, witty intelligence blazes through the make-up, and finds Winston's love for his wife. His acutely alert eyes, watery with age, have it.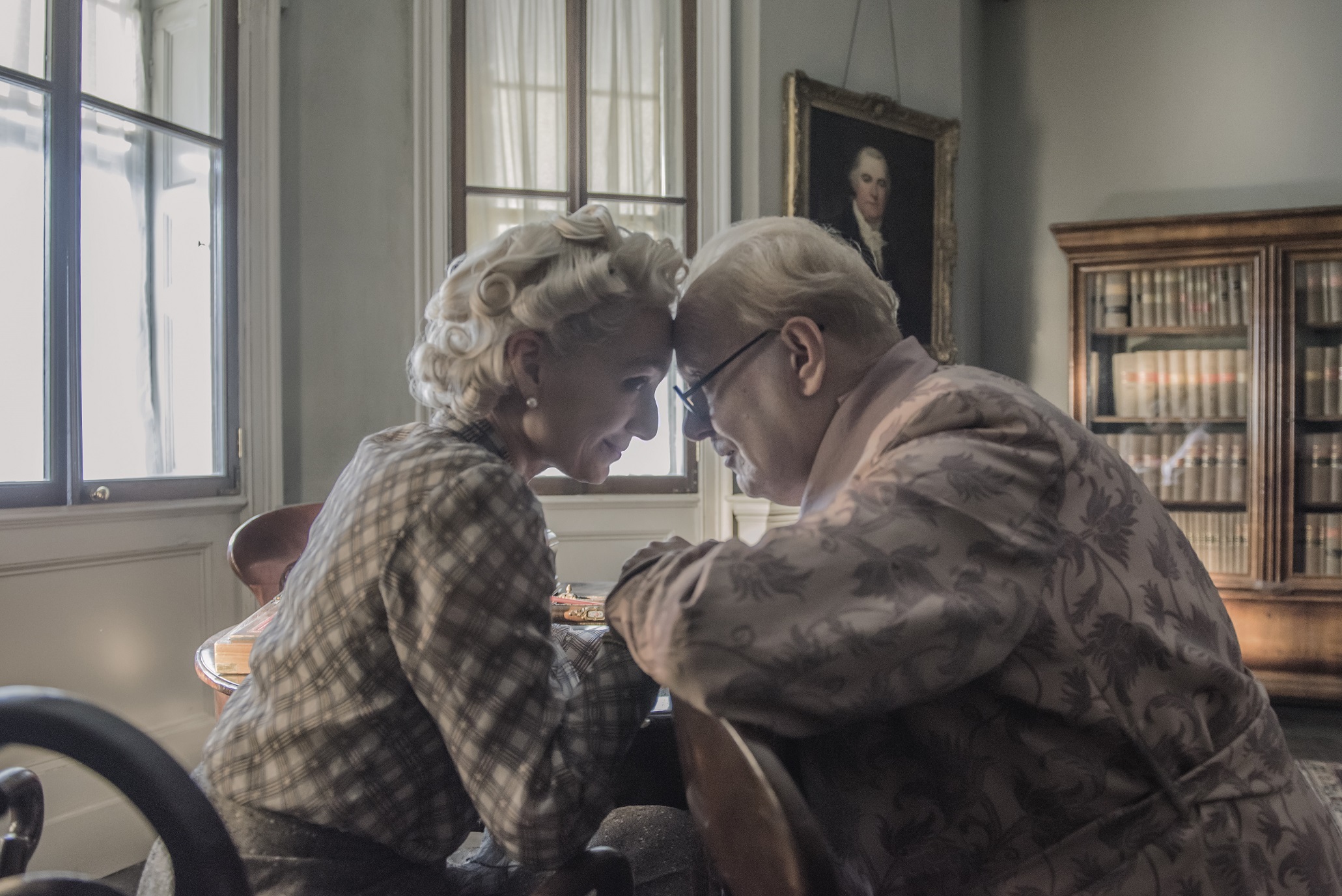 His relationship with a suspicious George VI is more interesting. Ben Mendelsohn, an Australian with Oldman's former capacity for fearsomely unpredictable characters, brings an outsider's unsentimental, undeferential toughness to the part. Darkest Hour's flaws are still clear even here. "Were you close to your parents?" the King asks his PM, with screamingly unlikely, touchy-feely concern.
Wright's efforts to break open the script's parliamentary chamber piece fussily fail. Whether blacking out the screen around an isolated Churchill or showing the war with clunking CGI, this remains a film about old aristos talking. Chamberlain (Ronald Pickup) and his preferred replacement Lord Halifax (Stephen Dillane) are the film's sclerotic villains, their understandable, World War One-informed wish to avert more bloodshed in seemingly certain defeat rarely given real credence. Churchill's own agonies on this score are, though, a useful corrective to popular memory.
This is still a symbolic Winston, refashioned for contemporary audiences as a people's Prime Minister. The scene where he resolves to fight on is this tendency's nadir. Slipping onto the Tube, he asks startled fellow passengers for advice. The two-minute journey between St James's Park and Westminster stretches interminably on, as a caricatured London cross-section pluckily refuse Hitler's terms.
Darkest Hour joins Dr Who's last season in no longer portraying pre-1950s Britain as an all-white world, and a hip West Indian is among the passengers heard by his avuncular PM. The Empire's, and Churchill's, true race relations are better exemplified by his culpable indifference to Bengal's 1943 famine. As for his appeal to the masses, the hostility directed to my grandmother for her Churchill surname in East London ration queues anecdotally confirms spotty popularity there. His triggering of the Blitz by bombing Berlin wouldn't have helped, if known; nor would his shepherding of the Luftwaffe from West to East End. Darkest Hour's 21st century Winston airbrushes too much from the Victorian imperialist who led our anti-fascist fight.
Darkest Hour's contention that the decision to stand alone in 1940, preventing total Nazi victory, trumps all, is one most Britons likely believe in their hearts. Dunkirk, though, gave that national heroism more visceral form and flight. As to that improbable tube ride, McCarten defends it as a composite of various off-piste ventures. It's still dramatically absurd. I'd say it betrayed Oldman's carefully showy turn, if the whole film didn't loyally frame him.