The Recruiting Officer, Donmar Warehouse |

reviews, news & interviews
The Recruiting Officer, Donmar Warehouse
The Recruiting Officer, Donmar Warehouse
Josie Rourke makes a triumphant arrival as the Donmar's Artistic Director
Wednesday, 15 February 2012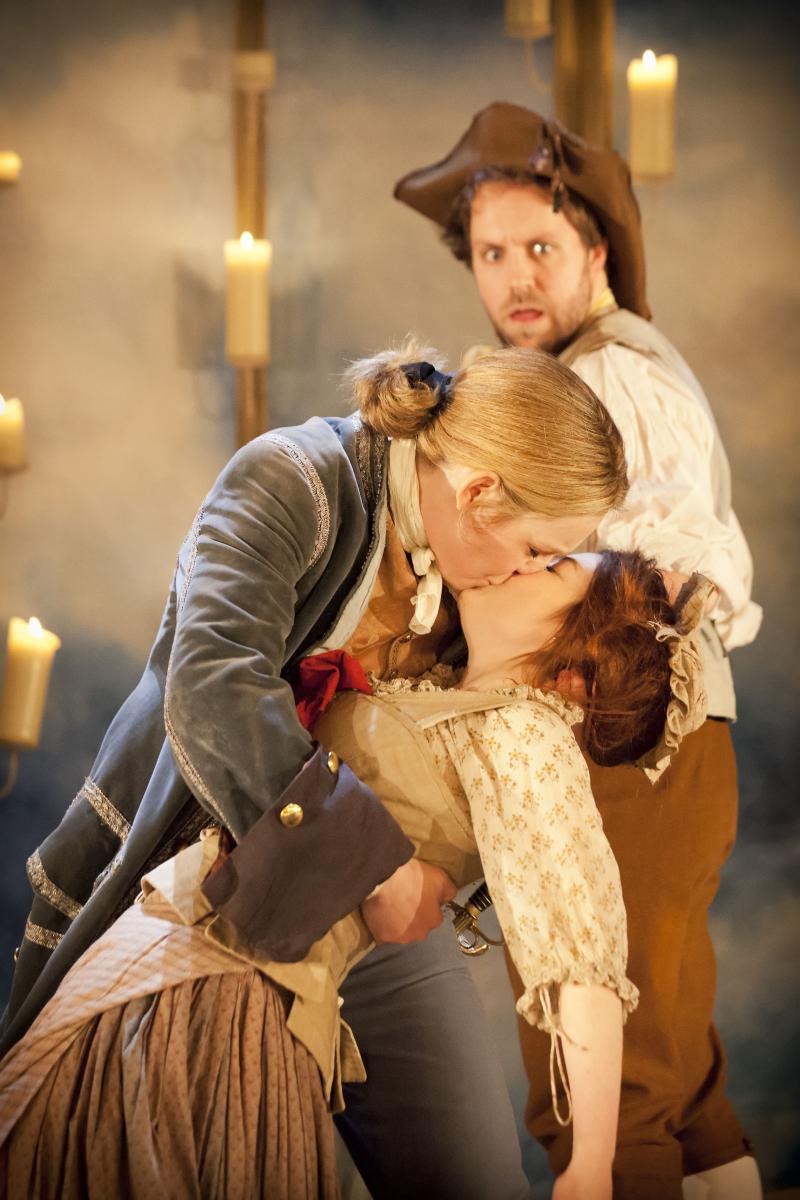 Silvia (Nancy Carroll) gets to grips with Rose (Aimeé-Ffion Edwards)
Drum rolls, fiddles and flutes were all in action last night at the Donmar Warehouse to herald the beginning of an era. After ten successful years under the direction of Michael Grandage, it was the turn of the theatre's new Artistic Director Josie Rourke to step forward and lay her claim to the West End's most intimate space.
If Rourke was making a statement with her first production, Farquhar's broad comedy
The Recruiting Officer
, then it was one loud with capital letters and laden with exclamation marks – an exuberant, joyous shout of arrival.
We all know where we stand when it comes to Restoration Comedy – women whispering acid asides behind fans, men either wigged and foppish or wielding swords and wits with equal aplomb. Yet it's a genre whose reassuring familiarity and stock characters smuggle a good deal of subversion beneath their frock coats, subversion that hits hardest at politics, both social and sexual. Rourke's production may be more generous with the latter than the former, but just when its slapstick seems in danger of blunting the play's sharper edges there comes a sneaking thrust of a closing that cuts (both politically and emotionally) to the quick.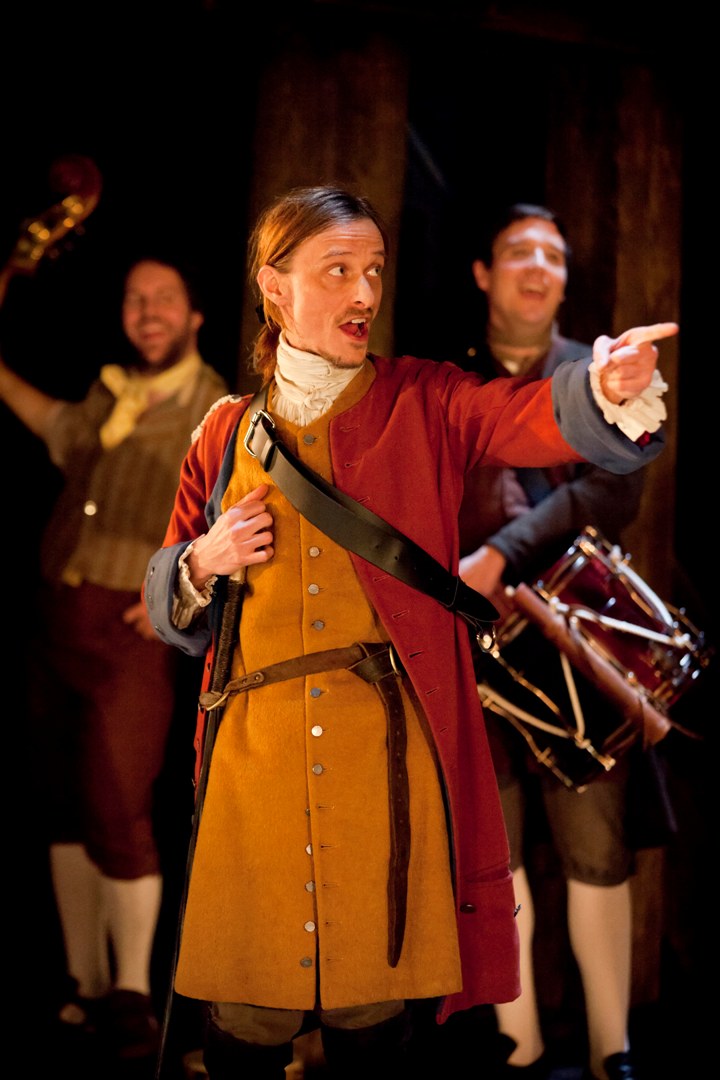 Farquhar's play is a late flowering, a blowsy, good-natured comedy that has shrugged off verbal niceties along with the society drawing rooms of Etherege or Dryden. The cleaner, rougher language allows both plot and pacing to flow more swiftly, something Rourke takes full advantage of, bustling her audience through the intrigue wrought by recruiting officers Sergeant Kite (Mackenzie Crook, pictured right) and Captain Plume (Tobias Menzies) with scarcely a lull.
Some jokes are lost in the frenzy (many more land squarely), but by playing off the Donmar's close quarters, involving the audience as though we were fellow drinkers in the tavern Lucy Osborne's set loosely suggests, Rourke carries her audience along in her vigorous country dance.
This is a play that calls for an ensemble of virtuoso comics, and Rourke more than gets her quota in the cast assembled here. Crook's rasping Kite is a miracle of put-upon knavery, relishing the role's obligatory "pimping, whoring, drinking and swearing", but coming into his own in a beautifully handled set-piece as the German fortune-teller. Menzies's Plume is an eighteenth-century Lord Flashheart, all swagger and sex-talk (and a lovely way with a wink), but with a rigidity about him that speaks of his essential good character. Rounding out the central trio is Mark Gatiss as Captain Brazen – "the most unaccountable fellow in the world" – a performance of surreal genius that bears little relation to anything else happening on stage, but somehow works.
Nancy Carroll's Silvia (or rather Jack Wilful) outmans them all however with a take on cross-dressing so fresh and spirited as to reinvigorate this most tired of conceits. She is supported by comic bookends in the form of the affected Melinda (an unexpected slapstick turn from Rachael Stirling) and peasant girl Rose (Aimeé-Ffion Edwards, pictured left with Menzies), as earthily charming and almost as foolish as her (live) chickens.
The engine of the action however is a troupe of singer/actors who not only take the supporting roles of Kite and Plume's Shrewsbury victims, but punctuate scenes with Michael Bruce's music. They offer everything from archly King's Singers-inspired five-part harmony to instrumental folk numbers, and the play's emotive closing is theirs alone; a raucous enlisting song transformed into a poignant ballad glancing "Over the Hills and Far Away" to the early deaths these untrained soldiers would most likely have met.
Framed against a candle-lit backdrop of sky (Osborne's set truly is a thing of beauty), the action gains a breadth its small-scale encounters lack, spreading out its comedy generously under the stars.
Midway through Farquhar's play Captain Brazen and Plume weigh up the risks of running a playhouse or a sea-going privateer, concluding that despite rocks, cannons and the French that the former is by far the more dangerous venture. On the basis of Rourke's first production however, the Donmar's fortunes seem altogether more secure, buoyed by unapologetic energy and high spirits. In a wintry recession few shows could be better calculated to cheer and console.
The Recruiting Officer at the Donmar Warehouse until 14 April
rating
Explore topics
Share this article