Bah Humbug: Richard Wagner - banish him from the stage |

reviews, news & interviews
Bah Humbug: Richard Wagner - banish him from the stage
Bah Humbug: Richard Wagner - banish him from the stage
There's nothing to be gained from the intellectual or dramatic thrust of his operas
Wednesday, 22 December 2010
'Wagner was no doubt an exceptional artist. But he was an even more exceptional anti-Semite'
Now that The X Factor's finally over, can we please get back to heaping opprobrium on the only Wagner that really deserves it? In the coming year opera houses around the world will be deciding whether to temporarily bankrupt themselves in 2013 to celebrate the composer's centenary. Opera Australia have announced a £10 million Ring Cycle.
LA Opera and the Met are in the middle of new bank-busting cycles (£20 million and £15 million respectively). No doubt ours will want in some way to follow suit. Yet they would do well to steer clear. We cannot afford it. And we should not be encouraging this least admirable of middle-class addictions.
Discouraging people from getting into Wagner isn't, to be honest, very hard. Just three little words will scare away all but the hardiest. Here's. The. Libretto. No one - not even the great Bryan Magee, who plays a very fun game of Schopenhauerian snap in Wagner and Philosophy - has ever managed to give a decent defence of Wagner's operas without adding a thousand qualifications.
Everyone admits that the plots are, of course, very silly. And dramatically deficient. And virtually impossible to stage. And that there's no realism to any of it. And that the jokes aren't worthy of the Chuckle Brothers. And that the inclusion of potions to further psychological development is hugely primitive. And that Siegfried is a bit of a twat - as is Parsifal. And that the characters of Mime (pictured right with Alberich, right, in Cosima Wagner's 1896 Ring) and Beckmesser are both nasty Jewish caricatures. And that the music can be a bit suffocating. And that no one's ever seen a decent production of any of them. Er. Sounds... great. Get me a £1,000 ticket tout de suite.
Any Wagnerian worth their salt would then counter with the argument that these defects are merely dramaturgical. Wagner's genius is primarily as a breathtakingly original composer, not as a playwright. His music eclipses the faults of his librettos. And yet if this was true, if his genius lay mostly in the music, and this same genius almost completely, embarrassingly, fails him on stage, why do we continue to fritter away millions of pounds attempting to fix his faulty theatrics?
We do it because we believe Wagner to be an exceptional artist with exceptional things to say about the human condition. Wagner was no doubt an exceptional artist. But he was an even more exceptional anti-Semite. His thoughts on the human condition are, therefore, exceptional only in their monstrosity. And nowhere is this misanthropic, monstrous world view more fully or clearly formulated than in his operas. In every character, in every plot line, in every philosophical postulation in every verse, Wagner's own fundamental inhumanity reveals itself.
He may vacillate philosophically between a mawkish Marian Christianity and Schopenhauerian nihilism but one life-sapping constant threads its way through his intellectual convulsions. Wagner believes that redemption can only be wrought from annihilation, whether suicidal (Isolde), homicidal (Siegfried), self-sacrificial (Elisabeth), sexual (Parsifal), holocaustal (Brünnhilde) or through Untergang, the destruction, of the Jews. There is no artist in history who has so often allied himself to and propagated the values of death in all its many permutations.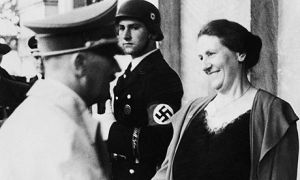 That his music became the soundtrack to the Nazi regime, therefore, was no coincidence. Wagner fits as snug as a bug in a rug within the ideology of Nazism. He wasn't co-opted against his will. His operas' music and meaning wasn't manipulated to work within the concentration camps. Rather, they goose-stepped along to join in. No other artistic oeuvre could possibly lay the cultural and philosophical foundations for the ethos of the Nazi regime better than Wagner's. "Every time I hear Wagner, I feel like invading Poland," says Woody Allen. There's a lot of truth to this joke. Hitler (pictured left, being greeted at Bayreuth by Winifred Wagner, Wagner's daughter-in-law) wasn't a Nazi who happened to enjoy Wagner. Hitler was a Nazi because he enjoyed Wagner.
Wagner's foot soldiers - the Stephen Frys of this world - will continue to insist that most of the repellent philosophy doesn't make it to the operas. Yet, much of it does. A few years ago Channel 4 were censured for allowing the bullying of the stuck-up Indian actress Shilpa Shetty at the hands of Jade Goody. Goody's pugilism was, however, nothing compared to the torrent of openly racist abuse unleashed by the glorified hero of The Ring Cycle, Siegfried, upon his foster father, the hideously caricatured Mime. Parsifal is no better. The eponymous hero shows his worthiness to become an Aryan saviour through arrogance and cruelty.
As a musical architect, Wagner cannot be ignored. But as a guide on life or love, he offers no nourishment
The only decent characters in Wagner are those who represent the soon-to-be-swept-away old order: humble Wolfram (pictured below right: Christian Gerhaher plays Wolfram in the recent Royal Opera House production) in Tannhäuser, noble King Marke in Tristan und Isolde, the rationalist Fricka in Die Walküre. The figures that are showered in musical glory, however, are the vain warriors who live life according to the codes of instinct, emotionalism and violence. One doesn't have to look to his life and his political writings to be repulsed by Wagner. One just has to read the surtitles.
The significance of the music remains. And it should be heard. But in these parsimonious times, is it justified - morally or financially - to stage dramas that even the most ardent fans cannot defend? Is it justified to keep his racist librettos as they are? As we approach his centenary, should we not reassess our slavish devotion to the composer? Should we not be as radical and disrespectful to his works as he and his works were to the world? Should we not rip out those mouldy librettos? Should we not banish his profligate dramas from the stage? Does he not deserve to be roughed up like a Vichy collaborator?
Don't get me wrong. As a musical architect, as a historical reality, as an artistic influence, Wagner cannot be ignored. But as a guide on life or love, he offers no nourishment. We must acknowledge this; that there is virtually nothing to be gained - and everything to lose - from absorbing the intellectual and dramatic thrust of his operas. Die-hard Wagnerians (over-fed and under-washed) tend to be living proof of this: of how not to be.
At up to £20 million a hit, Wagner is the most expensive, addictive and deleterious drug the middle classes have. And it is the tax-paying poor who will have to pay for it. Opera houses should be forced to clean up their act and remove this John the Baptist for the Third Reich from their repertory.