Jo Brand on Kissing, BBC Four |

reviews, news & interviews
Jo Brand on Kissing, BBC Four
Jo Brand on Kissing, BBC Four
Comedienne explores her terror of kissing strangers in public
Wednesday, 15 February 2012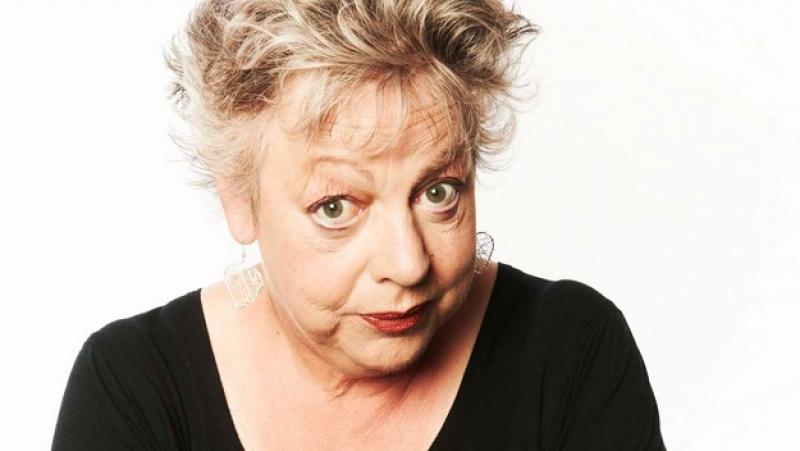 Kisses for me? Not on your life, mate
We know any old nonsense goes on Valentine's Day, but as it dragged itself towards the end of its allotted hour, Jo Brand's search for the meaning of kissing was being drowned out by a cacophonous din of barrels being scraped. Considering Brand's implacable hostility towards seeing people kissing - "There's far too much kissing going on these days, especially in public" was her opening salvo - it's amazing she wanted to make the programme at all.
In the end, though, it was her neurotic eagerness to avoid kissing or being kissed that gave the film what little fascination it managed to generate.
Mostly, it consisted of Brand trudging around tracking down assorted experts, commentators and talking heads, most of whom proved remarkably uninformative. Brand looked bored and weary throughout, and I found it easy to sympathise (Brand practises social kissing, pictured below).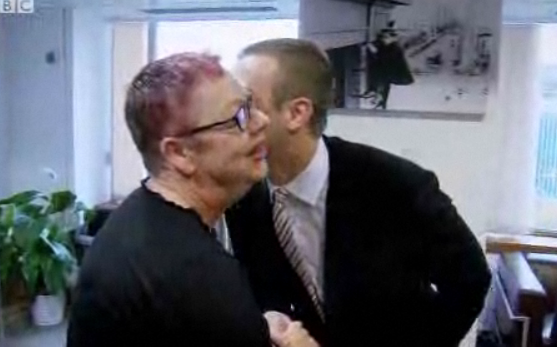 Paul Taylor, a Professor of Communications at Leeds University, perspicaciously told us that kissing can very often be the prelude to more adventurous sexual activity, though on the other hand it may be innocent and not sexual at all. Donna Smithson, who looks after bonobos at Twycross zoo, explained that male bonobos might kiss each other, or for that matter hold each other's testicles or indulge in "anal mating", but (don't panic) only for reassurance.
Dr George Fieldman is a Cognitive Behavioural Therapist, though his rather theatrical bow tie made him look more like an end-of-the-pier magician. He gave us some suave technobabble about how the human mouth is bristling with nerve-endings, so therefore kissing generates tingly waves of sensation which people often find pleasurable. As for Adrianne Blue, author of On Kissing, a still photograph of a tropical beach with some some nice guitar music would have made an acceptable substitute.
Most of the waffle regurgitated by these "experts" could have been found in a Christmas cracker, and they wouldn't even have had to raid the licence fee coffers. However, we did glean the incidentally interesting information that "sex workers" (it means prostitutes) can add a whacking surcharge if they kiss their clients and offer an intimate "girlfriend experience" in place of the basic wham-bam show-me-the-money routine. But it was when it touched on Brand's more personal nerves that you got an inkling of a much better programme struggling hopelessly to get out.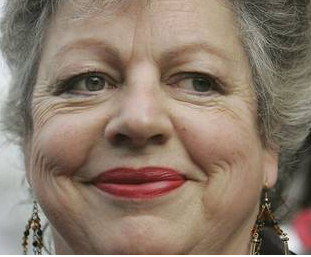 The best bit was when Brand went for a chat with her mother, a former social worker in child protection whom she tracked down at a mother-and-baby activity group. Brand seemed hesitant about the whole idea, as if she were involving her parent against her better judgement, and as the conversation developed it began to emerge that mum's own reluctance to be emotionally demonstrative had been passed down to her daughter. She even expressed her own dislike of sloppy, exaggerated public kissing in uncannily similar terms to Jo's.
I suppose Brand deserved some credit for confronting her deepest primal fear, which was participating in a kissing class for actors. While the rest of the group paired off with almost superhuman enthusiasm, Brand seemed on the verge of a panic attack, and had even brought a clove of garlic to chew to deter potential partners. She ended up with a polite young man who gently tried to get her to indulge in a stage kiss, but she just couldn't do it, and jerked her head away violently when he got too close. Even after all those standup years of batting away hecklers and drunks, the kissing thing was a gig too far.
Brand's panicky eagerness to avoid kissing or being kissed gave the film what little fascination it managed to generate
Share this article