Antonacci, LPO, Nézet-Séguin, Royal Festival Hall |

reviews, news & interviews
Antonacci, LPO, Nézet-Séguin, Royal Festival Hall
Antonacci, LPO, Nézet-Séguin, Royal Festival Hall
Conductor and diva light up quirkiest Berlioz and Ravel
Wednesday, 16 February 2011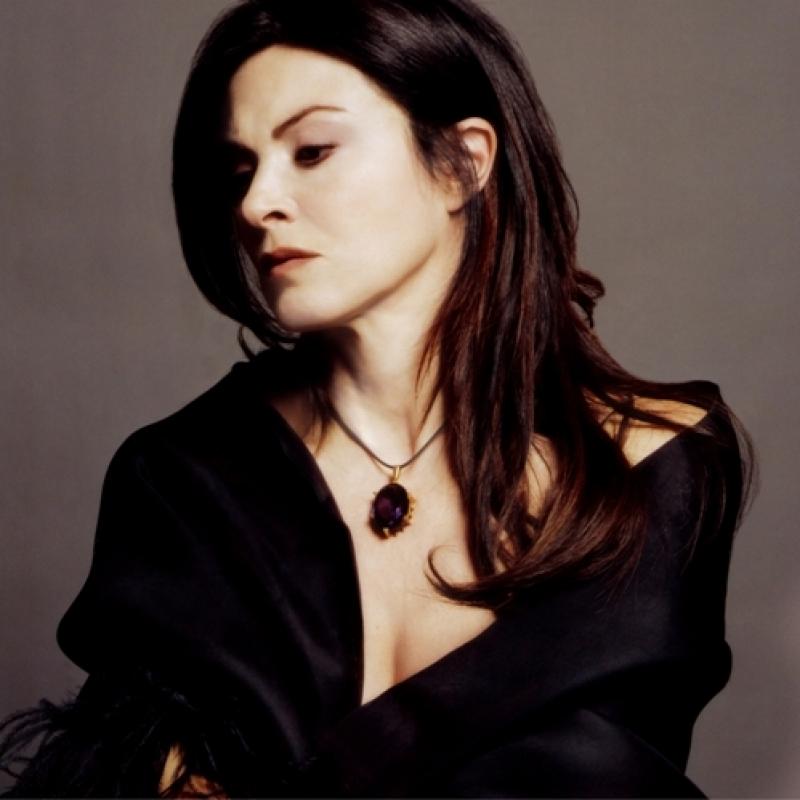 Anna Caterina Antonacci: High diva quotient as the serpent of old Nile
It's hard to believe that Yannick Nézet-Séguin could ever turn in a less-than-electrifying concert. According to theartsdesk, he did just that a couple of weeks ago. I wasn't there so I can't comment (though I can credit a rough edge or two).
What I do know is that last night was showbusiness as usual: the phenomenal urge to communicate, with a committed diva in tow; the rounding-off and energising of every phrase; and a danger to the music-making, meriting a pop-star reception from the audience at the end, which that live-wire maverick among composers, Hector Berlioz, would have adored.
So would the other greatest orchestrator of all time, Maurice Ravel. It was a risk to begin with the suite - alas, only the suite - Ma mère l'oye (Mother Goose), which as Shakespearean redemption of romance really deserves to be the subtle icing on any concert's cake. Fortunately Nézet-Séguin, like his confrere at the LPO, Vladimir Jurowski, has a knack of winning an attentive silence from his audience. We sat spellbound as he got his delicate forest of strings and rounded woodwind to project the wan grace of the Sleeping Beauty, the pathos of Tom Thumb lost in the wood. Xylophone rattled riotously for the Chinese ritual which finally breaks the spell, and then came the heartbreak: clarinet Beauty performing an elaborated Satie Gymnopédie with a discreet contrabassoon Beast, culminating in his high-violin transformation (leader Pieter Schoeman, imaginative as always) and one of the most magical chords ever for 17-part strings. It's a vision which Nézet-Séguin stretched out to infinity, allowing his harps the space to "tell" the notes in the chord before a very serious Fairy Garden, the ringing conclusion of which made us feel that all our Christmases had come at once.
Enter Anna Caterina Antonacci, a vision in black and glitter, morphing before our eyes from Fellini film-star kittenishness into marbled grandeur as the serpent of old Nile facing her death. La mort de Cléopatre, the 25-year-old Berlioz's most audacious attempt to win the coveted Prix de Rome - he only got it by playing safer the following year, 1830, the annus mirabilis of the Symphonie fantastique - is already an authentic oddity, all fragmented, dizzying cries and nostalgia at first. Then it turns into a masterpiece with the throbbing lower-string pizzicati and Stygian trombones of the Meditation. Antonacci's odd technique, from impressive mezzo-ish chest voice to feminine soprano heights, sometimes means she's swamped by the orchestral drive, but that's appropriate: even the Egyptian queen finds herself dwarfed by the majesty of the pyramids.
Antonacci's French was impeccable and urgent, the range of tones riveting even while one wondered what the core Antonacci sound really is. The ultimate stars, though, were the LPO double basses, digging Cleopatra's grave as her pulse falters with unique and terrifying presence (again, what wouldn't any composer living today give for such a startling idea; Berlioz remains more modern than most of our own contemporaries).
Those quirky bass lines continued to leap out at us at every twist and turn of the Symphonie fantastique, the artist's opium-driven pursuit of the beloved who had inspired his Cleopatra (in fact it was Harriet Smithson's playing Juliet which made Berlioz fall in love with her, but he transmuted as always). If Nézet-Séguin hadn't worked on every precise string colour in the way that Stéphane Denève had so audaciously done up in Scotland last year - the perilous early flight of violins wasn't quite as phantasmagorical - his trademark perfection of an often feminine phrase-ending was always in evidence, and the peaks and troughs were always perfectly placed, making total sense of a slow movement which can outstay its welcome.
Nézet-Séguin had also given careful thought to every one of those spatial effects in which Berlioz was such a pioneering daredevil. The second oboe which answers the shepherd's cor anglais (Sue Bohlin, a star as always) rang down from the top right of the Festival Hall auditorium, a mountaineer responding, while the big midnight bells which signal the muse's grotesque appearance at a Witches' Sabbath were not only offstage - the cold white light as the doors opened was theatrical in itself - but also doubled with two gongs to give them extra resonance (I only know this because I'd been treated to a backstage demonstration).
Only sound effects, perhaps, but every detail helps. Nézet-Séguin is one young conductor who's never in a hurry, and he made us want to hear the two repeats - of the loved one as idée fixe and the awesome March to the Scaffold - which are so rarely featured. It was, in a different way from Denève's, a connoisseur's performance, but higher in pure visceral excitement, and little wonder if the final acceleration of the foul but hilarious infernal orgy set the audience roaring. Yes, everyone loves our Yannick.
Watch Anna Caterina Antonacci sing Marguerite's Romance "D'amour l'ardente flamme" from Berlioz's La Damnation de Faust
Yannick Nézet-Séguin discusses Berlioz's Symphonie fantastique in preparation for the Rotterdam Philharmonic recording to be released on the BIS label in March
Nézet-Séguin had also given careful thought to every one of those spatial effects in which Berlioz was such a pioneering daredevil
Explore topics
Share this article