My Phone Sex Secrets, Channel 4 |

reviews, news & interviews
My Phone Sex Secrets, Channel 4
My Phone Sex Secrets, Channel 4
The English language is abused so that men might abuse themselves. Still, it's a job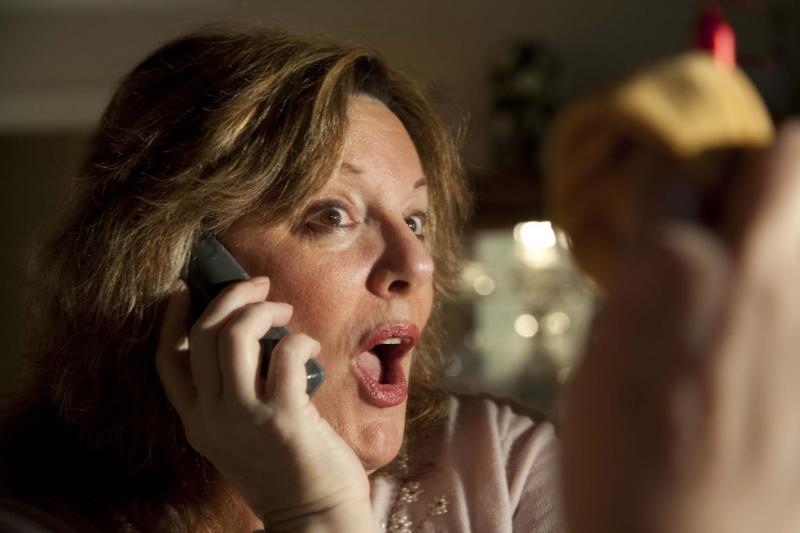 Control the cock, you control the man, says Jenny, phone sex worker between men
In the right hands, the English language can work itself up into an intensely erotic lather. It can seduce and caress, tease and undress. It can perform tantric wonders, all through the power of the word. In the right hands. "You ain't got yer knob out already?" said Jenny, on the blower to a gentleman while redecorating her kitchen. "Listen to how wet I am." And she dipped her brush in a sloppy tub of Dulux.
Jenny, slightly wheezy at 56, is a phone sex worker. If she's broad in the beam, she's broader in the mind. "Control the cock, you control the man," she advised. One of La Rochefoucauld's maxims, if one's not mistaken. Oh sorry, no, it's from Jenny's book on phone sex technique. She's in the right job, being obsessed with sex. Not that she gets much, being on the far side of two marriages and another long relationship. We followed her to the butcher, where she ordered a Cumberland sausage – "a nice big ring". Ooh matron.
One was pelted with a phnar-phnarring montage of rude food images
"I never tire of talking about sex," she advised. You slightly tired of her talking about sex. Inside the hour-long My Phone Sex Secrets there was a snappy little half-hour documentary itching to get out. It tumesced to double its natural length for roughly the same reason women do phone sex: they get paid by the minute. (You wonder if the toilet paper advertised in one of the breaks was quite the right product for the slot, given that one phone sex worker offered to use a client for a similar purpose.) Anyway, in the style of Donald McGill for the full duration one was pelted with a phnar-phnarring montage of rude food images and Katherine Parkinson – the throaty one off The IT Crowd – wading through a thicket of alliterated titillations. The banks are bust and people are penniless, we were told, so touting this tawdry talk and bawdy banter as a hotline hottie is a saucy sideline with fabulous flexibility. That is basically a quotation. And I think I've got a headache.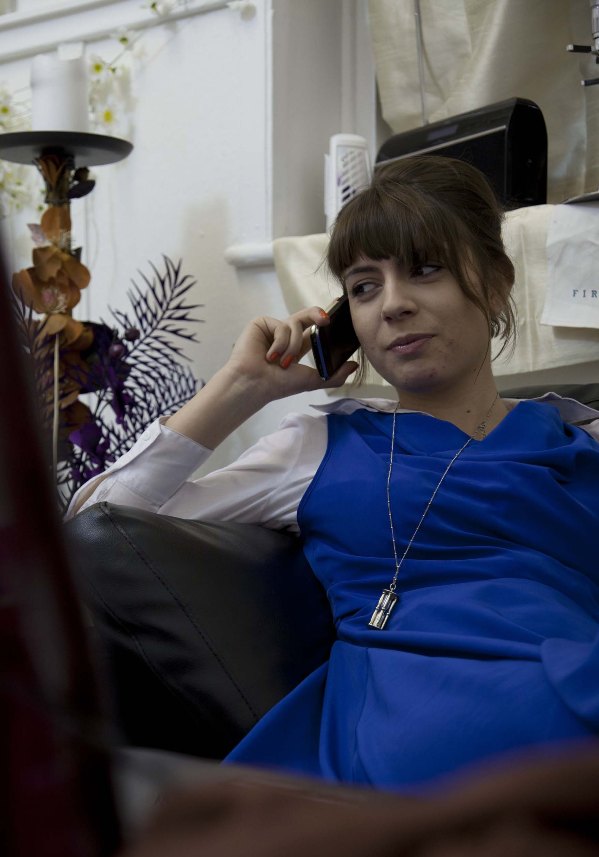 The film caught the discrepancy between the torrid one-minute fantasies (and often less) conjured up at the end of the line and the mundane reality. Jenny did it while decorating. One phone sex worker did it in the supermarket. "They're clients," she explained. "It's just some of them are wanking." Some of them? If this film had a deeper purpose -and it's a big if - it was to report that now students are at it too, paying for their education by helping sad fetishists take advantage of themselves over the phone. Meet Marnie Diamond (right) – possibly not her real name - who is bright, perky and fielding calls in doorways from men pretending they're in nappies. "Do you need mummy?" she cooed. She's 19.
Up at uni Rosa in her first year was broke and needed the cash, but also the empowerment. We watched her take the plunge, ordering a client to light his cigarette at her command. Well, it worked for him. It's one thing to do this for money, another to do it on television. Marnie seemed to be a slightly lost exhibitionist. Rosa had done time at an MoD boarding school and was keen to take no further orders from parents or anyone. Visiting Jenny in Carlisle for tips on faking orgasms was part of her emancipation. She rather enjoyed herself, though Meg Ryan can probably sleep easy.
Meanwhile down south Marnie worried she was in danger of forming a skewed view of men. One would like to submit to the jury the suggestion that she's possibly not working from the most representative cross-section. The phone sex industry trades in loneliness and, for the likes of Trish and Nigel who have set up their own specialist call centre known as Pleasure Dome, lucrative. We visited their offices and overheard a worker taking a booking. "Do you prefer big boobaloobies?" Or would do you prefer the English language?
By the end of the film Jenny had found a man, Rosa was still at it and Marnie had given up. Instead of going to university, she is now photographing escorts and strippers. Which is progress of sorts.
Now students are at it too, paying for their education by helping sad fetishists take advantage of themselves over the phone
Explore topics
Share this article