Alice's Adventures in Wonderland (2012), Royal Ballet |

reviews, news & interviews
Alice's Adventures in Wonderland (2012), Royal Ballet
Alice's Adventures in Wonderland (2012), Royal Ballet
Even the best butter would not help this plot-less evening
Lauren Cuthbertson as Alice in Wonderland
"I told you butter wouldn't suit the works," accuses the Mad Hatter. "It was the best butter," replies the March Hare apologetically, in Lewis Carroll's original tale. Butter might or might not suit the works onstage in the Royal Ballet's everything-including-the-kitchen-sink version of Alice in Wonderland. We'll never know, since Christopher Wheeldon has not used any butter at all, allowing his audience the merest scrape of choreographic margarine.
If you like video tricks, dazzling projections, special effects and Uncle-Tom-Cobbleigh-and-all, then this
Alice in Wonderland
is for you. If, however, you want a dance-drama, well, you're out of luck.
Early on in Act I, when Alice is with her sisters in the deanery at Christ Church, before she drops down the rabbit-hole, it appears that Wheeldon has been paying attention to what a dance-drama entails: up pop the imperious mother, the hand-shaking older men, the ringleted sisters, and the bobbing, turning, prancing maids of MacMillan's Mayerling. But immediately after summoning them all, Wheeldon seems to give a shrug, and discards any attempts at story-telling, exchanging that for endless noodling solos for Alice.
A seasoned dramaturg would have told him his choice of story had doomed him to this, since Alice in Wonderland is not, properly speaking, a novel at all, with rounded characters, or anything as eccentric as a plot. Instead it is a picaresque, with a single character moving from scene to scene, each designed merely to answer the question, And then? And then? So poor, perky Lauren Cuthbertson bourées and arabesques without focus between groups of people who have no interest in her, or in each other, at all.
There has been some extensive reworking, it is true, since the ballet was premiered last spring. Some of the changes are helpful: there is certainly more actual dance than in the original. (The piece is a co-production with the National Ballet of Canada, and it appears that additional choreography was inserted when the piece was first mounted there.) The evening is now in three, rather than two, acts: originally, the first act lasted a full 70 minutes, whereas now it is a more child-friendly 45.
But these tinkerings come at a price, the extra interval stretching the evening out to nearly three hours. And the new act break is dramatically uncertain, just finishing in mid-air rather than concluding coherently: Alice is in a pas de trois with the White Rabbit and the Jack of Hearts. She is blindfolded and turns, bewildered, as the curtain comes down. As well she might be. There is no explanation of what the blindfold is for, and when we return to the same point at the start of Act II, it is immediately discarded.
Despite the cosmetic surgery, the core of the problem remains: Wheeldon does not appear to know how to use dance to tell a story. Instead, the props, the special effects and the scenery (Bob Crowley's fine work) tell the story, and dancing is what happens in front and in between these moments.
Joby Talbot's score is not much help in building a shape for the piece, following rather than impelling the action, and intermittently swelling with lushly emotional strings whenever a bit of oomph is called for – is he, in fact, the Sigmund Romberg of the dance world?
It is not unreasonable to hark back to the creator of The Student Prince: a frothy entertainment that pretended to be an opera. Art repays repeated viewings; entertainments give up all they have on a single visit. And reviewing this piece for the second time, I feel like a policeman after an accident: "Move along now, move along, there's nothing to see here."
It seems unkind to go on about what a mess this piece is. Everyone concerned really does their utmost to make the work appear coherent – apart from high production values from Crowley and his colleagues, kudos as always to Edward Watson, whose batterie is now really a thing of beauty; to Eric Underwood, who is once more burdened with the "exotic" role (which, by the bye, in 19th-century ballet is almost bearable as a period piece; in a work choreographed in 2011 is an embarrassment) but who performs with dignity nonetheless; to Steven McRae and Ricardo Cervera who team up admirably as the Mad Hatter and the March Hare. But these heroic efforts are rendered null. The piece is slick, smooth, creamy and glossy. It's also a waste of everyone's time and talents. Not the best butter at all.
ALICE'S ADVENTURES ON STAGE AND SCREEN
Alice, Scottish Ballet. It should be a capital crime to attempt an Alice ballet - off with their heads
Alice's Adventures Under Ground, Barbican. Gerald Barry's crazy velocity berserks both Alice books in rude style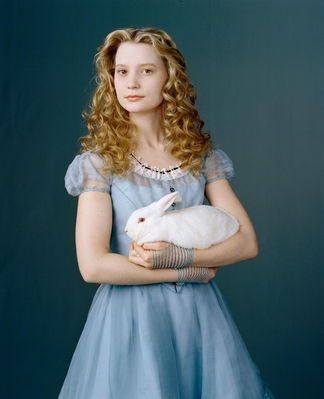 Alice in Wonderland. Tim Burton takes on the fantasy classic
Alice in Wonderland, BBCSO, Brönnimann, Barbican. A curious tale gets a riotous operatic telling from composer Unsuk Chin
Alice Through the Looking Glass. Mia Wasikowska (pictured), Helena Bonham Carter and Johnny Depp back in inventive if unfaithful Carroll sequel
Jan Švankmajer's Alice. The great Czech animator's remarkable first full-length film
wonder.land, National Theatre. Damon Albarn's Alice musical has fun graphics, but a banal and didactic storyline
The piece is slick, smooth, creamy and glossy. It's also a waste of everyone's time and talents
Share this article