Alice's Adventures in Wonderland (2013), Royal Ballet |

reviews, news & interviews
Alice's Adventures in Wonderland (2013), Royal Ballet
Alice's Adventures in Wonderland (2013), Royal Ballet
A multisensory experience that brings a difficult-to-stage story very much to life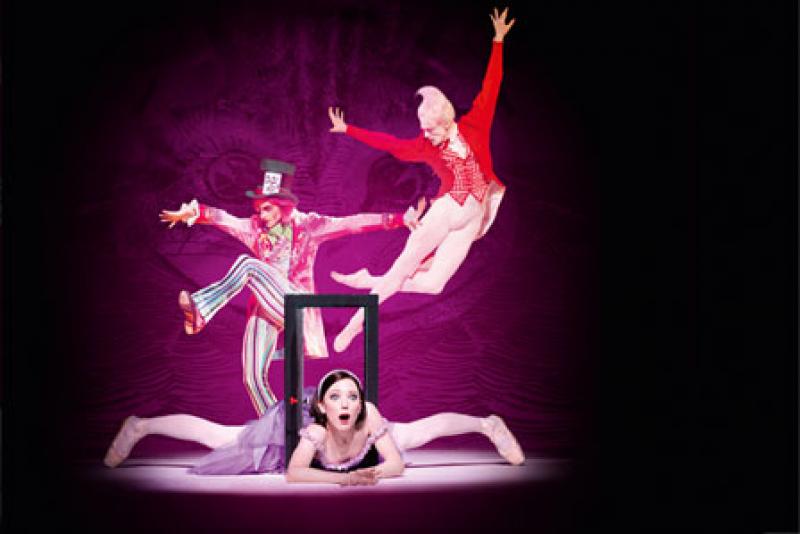 Carroll's characters: jumping off the page
Art is a fickle subject – hence why many preeminent philosophers offer different theories as to how we can begin to understand the opposing effect the same object or creation can have on different people. Many can be mildly affected by a given entity, but occasionally something bigger can happen – some might say a revelation of sorts. And such a thing took place for me at the Royal Opera House yesterday evening.
The Royal Ballet opened their third run of Christopher Wheeldon's Alice's Adventures in Wonderland to a packed and receptive audience, including me – somewhat to my surprise. I aimed to arrive at the theatre open minded, but found it hard to shake the disappointment I had felt after experiencing Alice in 2011. But after the opening seconds of Joby Talbot's lush, magical score, all preconceived notions vanished.
Pantomime, if done discerningly, has its place in the world's greatest opera houses
The ballet is a perfect example of what can (sometimes) be realised when a group of like-minded, gifted artists get together and create, fortifying the strength of each individual's creative prowess. From Wheeldon's movement – ranging from understated to wild; Joby Talbot's score – so broad in sound and quality that the mind is often left boggled; Bob Crowley's designs – enabling a tricky story to be more than brought to life; and the Royal Ballet artists, proving yet again that their fine dancing is backed up by great individual dramatic capabilities.
The work is split into three acts, with the first seeing the majority of the story being told. Lewis Carroll's complex and at times nonsensical narrative could easily be lost on a dance audience, but Wheeldon and his artistic team chose to include visual projections in order to enhance the trickier aspects. The use of film in dance, or specifically ballet, is a recent addition, but a beneficial one in my eyes. Often the audience are left in the dark (literally) when a scene change is taking place behind a gauze...so why not cast a zillion pixels over the screen, allowing the spectators to connect even more deeply with the work's overall journey.
The opening sees all the major characters introduced through a family scene in mid-19th century Canterbury. Alice and her sisters are besotted by a young bespectacled Carroll (the White Rabbit); their mother (the Queen of Hearts) is an impatient character obsessing over the cook's speciality tarts, and so on. Thus when each immortal character is introduced later in the evening, there's an instant point of reference.
All of Wheeldon's/Crowley's takes on the notorious characters are arresting, but some shine through more than others. Zenaida Yanowsky's Queen of Hearts (pictured below) takes the often difficult notion of parody to a very amusing place, and the feminine/menacing persona is adeptly realised. Federico Bonelli's Knave of Hearts is emotionally poetic, and the dancing a marvel, leaving little wonder as to why Alice fell so hard. Gary Avis's Duchess is the most tasteful Dame I've ever come across...proving that pantomime, if done discerningly, has its place in the world's greatest opera houses too.
The White Rabbit (Edward Watson) is the linchpin holding all the disparate facets together. And Watson does the responsibility more than justice with a charming bunny-like eccentricity – all scratches and neurotic dashing. Sarah Lamb's Alice, who barely leaves the stage, communicates a sense of extreme enjoyment which feeds into the auditorium. Lamb is one of those rare dancers who are able to maintain their characterisation through testing choreography, as it develops through different phases.
The best way to understand the epic quality of this production is to experience it for yourself, though tickets are few and far between. I believe the work will become recognised as a classic of its era and we'll see it return often, growing with more and more relevance each time. And if you close your eyes, Talbot's masterpiece of a score enables you to conjure up all manner of things: clearly a master's work.
The work will become recognised as a classic and we'll see it return often
rating
Share this article