Drowning on Dry Land, Jermyn Street Theatre |

reviews, news & interviews
Drowning on Dry Land, Jermyn Street Theatre
Drowning on Dry Land, Jermyn Street Theatre
Modest revival of Ayckbourn's prescient play about celebrity culture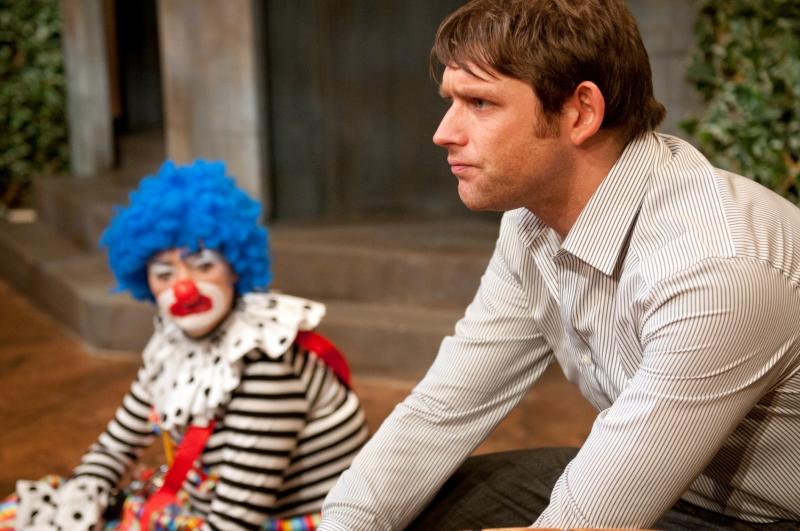 Clowning around: Christopher Coghill and Helen Mortimer in 'Drowning on Dry Land'
There's a fascinating programme note for this production of Drowning on Dry Land, taken from an interview given by its author for the play's premiere at the Stephen Joseph Theatre in Scarborough. Back in 2004, Alan Ayckbourn told The Yorkshire Evening Press: "There will be a day not long ahead when everyone will have their own website with pictures that say, 'Here's me in the bath'."
It was also in 2004 that Mark Zuckerberg and his Harvard colleagues were inventing a little something called Facebook, the subject of the Oscar-winning The Social Network. And so Drowning on Dry Land may appear to be remarkably prescient - but Ayckbourn was merely revisiting the subject of celebrity culture, which he first addressed way back in 1988 with Man of the Moment.
In Georgia Lowe's brilliant design for Guy Retallack's revival (and the London premiere) of Drowning on Dry Land, a folly in the grand country house of Charlie Conrad - famous for being famous - acts as a wryly expressive metaphor for the pointlessness of celebrity. Charlie (Christopher Coghill) is a failed athlete who, after a hopelessly inept quiz-show appearance, is now a television personality. He's a charming dimwit whose agent, Jason (nicely played by Les Dennis, who knows a thing or two about the pitfalls of fame), has guided him to a lucrative career despite Charlie being useless at anything other than looking pretty on the box.
Charlie's wife, Linzi (Emma Swain), was on the telly when they married and is now missing fame as she stays at home to look after their children ("Now I'm just Mrs Charlie Conrad"). She's bored with their life and matters come to a head at their young son's ridiculously over-the-top birthday party where Marsha (Helen Mortimer), a clown who describes herself as Charlie's greatest fan, has been hired to entertain the dozens of children invited. An aggressive journalist, Gale Gilchrist (a fine turn by Siobhan Hewlett), is also at the house to interview the famously squeaky clean Charlie. Ayckbourn takes a rather long time setting up the play's pivotal point (and Retallack's direction could be snappier) as Marsha accuses Charlie of sexual assault after they are caught in flagrante by Gale, Linzi and Jason.
The pace picks up in the second act, when the injured parties' lawyers (played by Mark Farrelly and Russell Bentley) are introduced, and there's some terrific repartee between the two as they indulge in dicks-out legal sparring and facts-spinning - Ayckbourn's writing at its sharpest. There's a resolution of sorts as everybody but Charlie profits from his downfall while he faces a life as empty as his folly. But the fact remains that, however prescient, Drowning on Dry Land is not often performed because it's far from being one of Ayckbourn's best.
There's some terrific repartee between the two lawyers as they indulge in dicks-out legal sparring and facts-spinning - Ayckbourn's writing at its sharpest
Share this article