Taking Steps, Orange Tree Theatre |

reviews, news & interviews
Taking Steps, Orange Tree Theatre
Taking Steps, Orange Tree Theatre
Rarely seen Alan Ayckbourn farce comes fizzingly to Richmond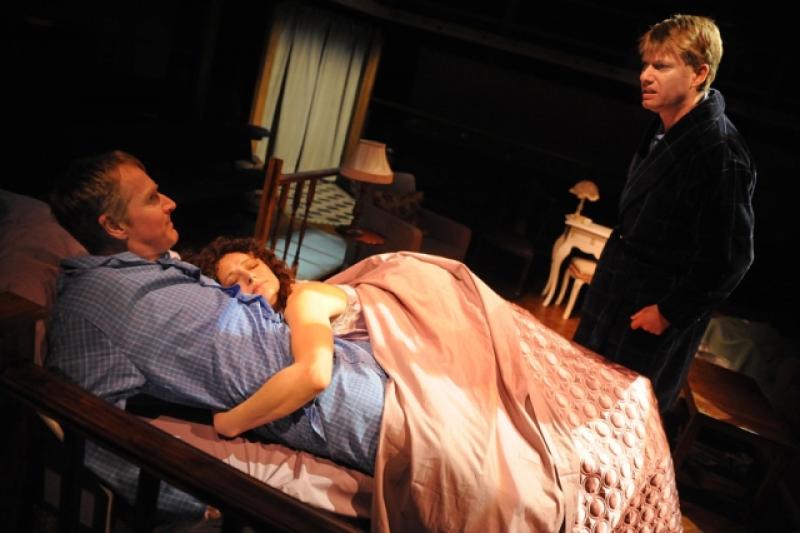 Bedroom farce? Matthew Cottle and Anna Francolini caught in the act by Stephen Beckett
One of the stranger facts of the theatre in recent years is the comparatively short shrift given to Alan Ayckbourn, who was once a seasonal mainstay. The upside of that same lessening of productions is that those Ayckbourn outings that do come along have for the most part been wonderfully welcome.
Topping that list, and how, was the Old Vic's glorious revival of
The Norman Conquests
, which went on to triumph critically on Broadway, a street not always susceptible to this writer's ways. And now, within weeks of the author turning 71 on 12 April, we have a mini-Ayckbourn season: the transfer to the West End, partially recast, of the Rose Theatre, Kingston's delicious reappraisal of
Bedroom Farce
, preceded by a rare sighting of AA's 1979 entry,
Taking Steps -
which, its non-generic title notwithstanding, truly is a farce.
Surely Taking Steps is not merely farcical, given that Ayckbourn's mantra more or less replicates exactly the famous Beckettian dictum about nothing being funnier than unhappiness. Bedroom Farce, after all, contains within its fizzingly funny set-up quantifiable reserves of pain, while the director Matthew Warchus's abiding achievement with The Norman Conquests was to mark out the distinctly Chekhovian landscape occupied by that event's triptych of plays. And Chekhov, too, of course, referred to his greatest, most wounding of plays as "comedies".

Taking Steps, by contrast, really does just want to have fun. Sure, the terrain contains within it abundant opportunities for woe: wonky marriages, overindulgence in drink, and even a suicide note all form part of a narrative that itself ends on a note of uncertainty characteristic of this author's admirable open-endedness. (Life doesn't present itself in tidy little packages, so why should art?) But what most impresses about Ayckbourn's own Orange Tree Theatre revival of a play that wasn't much liked the first time round is that its farcical momentum rarely flags. At one point, the attic of the house where the play unfolds is transformed into the middle-class English equivalent to the stateroom sequence in A Night at the Opera.

As expected from this writer, structure is key. Occupying multiple floors of an apparently capacious home called The Pines that at least one of its inhabitants is desperate to vacate,Taking Steps flattens proceedings into a single stage space, so that the same acting area functions at different times (and sometimes at once) as the various levels of the house. The movement from one floor to the next often has to happen for reasons of stealth, the result being a cast that seems perpetually to be tiptoeing sweetly around the perimeter of Michael Holt's set: on this evidence, it's amazing that Hollywood didn't hire Ayckbourn to write the most intricately plotted yarn yet on the topic of cat burglars.

Instead, his world is one of couples on the edge and careerists on the make. Lizzie (Anna Francolini) is a dancer who wants to extract herself after only a few months from marriage to Roland (Michael Simkins), a life spent working on entrechats preferable to a partner who thinks nothing of announcing, "I'm a very successful man". (Such proclamations are something of a specialty for Rowland, who early on lets it be known that "very successful men should live in very big houses".) Such dwellings, in turn, require solicitors and builders in order to facilitate sales and repairs. That, in turn, explains the incorporation into the action of junior solicitor, Tristram (a hilariously hapless Matthew Cottle), and a local builder called Bainbridge (Adrian McLoughlin), who knows his way around wet rot.

If outsiders to the family up the potential for chaos, one's relations offer anything but balm. Lizzie's brother Mark (Stephen Beckett) has come to help only to end up negotiating a peace of sorts with his own wayward fiancée, Kitty (Emily Pithon), a depressive who has been found "dancing about in the middle of Haverstock Hill" (!) Cue bed-hopping, much of it inadvertent, fuelled by booze, in between meditations on whether marriage ought to be a "30-year marathon or a three-month sprint".

After Ayckbourn's own, rather logy West End revival last year of Woman In Mind, I wasn't entirely sure whether he remained the best director these days for his own work. No such concerns here: Taking Steps moves as it must with a spring in its step, a playgoer's delight amplified by the in-the-round configuration at the Orange Tree itself prompting concern that some of the more, uh, enthusiastic antics might spill over into your lap. The cast consists largely of Ayckbourn regulars (Cottle, McLoughlin) and West End/musical theatre names (Simkins, Francolini) whose presence makes one wonder whether an onward life is possible. On the other hand, the whole point of this production is to see the play in the kind of space for which it was written at Ayckbourn's one-time stomping ground in Scarborough, i.e. with the audience on all sides. If I were you, I'd make steps to Richmond now.
Taking Steps is at the Orange Tree Theatre, Richmond, until 29 May.