Wild Bill |

reviews, news & interviews
Wild Bill
Wild Bill
Dexter Fletcher sets a modern family drama in gangland for his pacy directing debut
Father for justice: Charlie Creed-Miles in 'Wild Bill'
The Olympics will be upon us all any minute now, but for the residents of East London they have been physically sprouting at the end of the road in the shape of a futuristic stadium for years. It takes the role of a shy walk-on in Wild Bill, a looming symbol of a local regeneration which was touted as integral to the hosting bid. It's safe to say that the London seen here will not earn the grateful rubberstamp of the Cultural Olympiad.
If you could get onto a podium for knifing, gashing, stabbing, thumping and thrashing, the characters we meet here could have been contenders. They'd probably fail a drugs test, mind, given that they all trade in crack.
Wild Bill is a dystopian postcard from an actor turned, for the first time, director. In his former guise Dexter Fletcher would have been one of the yobby gobshites giving it gor-blimey in front of the camera. For his debut behind the lens, he visits a London most of us know well, if only from the gangland movies which seem to feature the same actors striking the same threatening poses and scrapping over the same barren patch of concrete.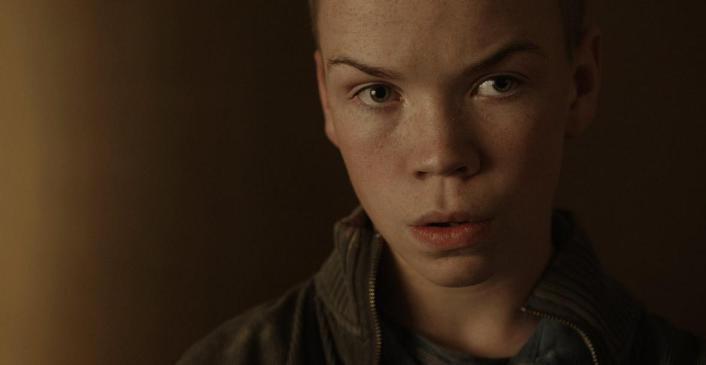 Into this neighbourhood returns Bill (Charlie Creed-Miles), no longer very wild after eight years inside. His old criminal muckers greet him like a returning hero, stuffing him full of booze and drugs and parking him with a prostitute. However, there's much less of a welcome in the tower block where his two sons, aged 15 and 11, are surviving without their mother, who has absconded to Spain. The older boy Dean in particular (Will Poulter [pictured above], who has shot up since he played a pre-pubertal hardnut in Son of Rambow) has had to turn parent. Holding down a job on a building site, he's a tightly coiled spring who wants none of his father's chaos. "I didn't run away from home," he says. "Home ran away from me." They strike a deal: the father can stay temporarily in order to keep the social services from putting the boys into care.
Some of the dodgy geezers seem to have been bussed in from a broader, blunter film
The younger and more impressionable Jimmy (Sammy Williams) plainly needs more than a teenager for a dad, and it's through him that Bill starts to turn back into a functioning member of society. The transformation is handled a little too smoothly. One minute he's a feckless ne'er-do-well hanging out with known criminals; after a lecture from his parole officer (Olivia Williams) in no time he has found an ethical backbone which he will soon need: the local dealers have muscled in on Jimmy and made a mule of him. To prove his mettle as a father, Bill must deliver a stark lecture about the grimness of prison before facing down those threatening to take away the family he has worked to rebuild.
At times it feels as if we have wandered into a feature-length episode of EastEnders, but Fletcher's script (co-written with Danny King) has copious flashes of wit, a real sense of coiled menace, and as a director he finds beauty where he can in the brutal surroundings. When Bill and Jimmy first connect, it's over paper planes they liberate from their high-rise balcony to soar over hatched-faced rooftops. The acting is also solid: Creed-Miles plays a lovely dope but when it's his turn to be quietly courageous he more than convinces. He can throw an authentic punch too. Some of the dodgy geezers seem to have been bussed in from a broader, blunter film – in particular Andy Serkis as a druglord, jive-talking Iwan Rheon and perennial dial-a-crim Leo Gregory as his underlings. The tart-with-a-heart who can also play mother (Liz White) arrives direct from the cardboard sections of Oliver Twist.
Fletcher's hopeful hymn of praise for the post-nuclear family unit is not a freshly minted masterpiece – tonally, it doesn't quite know if it wants to make you laugh or shudder - but there's clearly a handy filmmaker at work here. Maybe for his next trick he might relocate a little patch of England with some green in it.
Watch the trailer to Wild Bill