Classical CDs Weekly: Falla, Rameau, Nikolaus Harnoncourt |

reviews, news & interviews
Classical CDs Weekly: Falla, Rameau, Nikolaus Harnoncourt
Classical CDs Weekly: Falla, Rameau, Nikolaus Harnoncourt
Baroque delights from France, sun-baked Spanish music and a joyous celebration of the Viennese waltz
Jill Crossland plays Rameau on a modern piano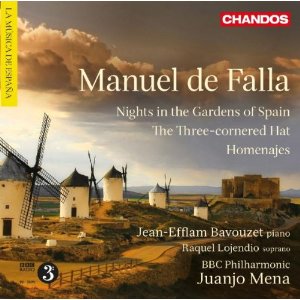 De Falla: Nights in the Gardens of Spain, The Three-Cornered Hat, Homenajes Jean-Efflaum Bavouzet (piano), Raquel Lojendio (soprano), BBC Philharmonic/Juanjo Mena (Chandos)
Spanish conductor Juanjo Mena has recently succeeded Gianandra Noseda as the BBC Philharmonic's principal conductor. You trust that the choice of repertoire on this release was driven by Mena himself, and this disc has loads to commend it – playing of real verve, and the more-than-decent acoustic of the BBC's much-maligned Media City in Salford. The Three-Cornered Hat isn't heard enough in its complete form; Mena's gift is to bring out the rhythmic zest, the hints of violence underpinning what can too easily sound like a sequence of musical postcards. Soprano Raquel Lojendio is superb in the ballet's introduction, matched by the beefy shouts of the orchestra's men.
Then there's Jean-Efflaum Bavouzet's account of Nights in the Gardens of Spain. Not quite a piano concerto, but a delectable, substantial three-movement work. Bavouzet is predictably impressive – technically stunning in the more brilliant passages, but always prepared to melt into Mena's carefully coloured orchestral backing when acting as a tutti player. The rarity is the late Homenajes, a suite compiled in 1939. Falla recycled earlier works composed in tribute to musicians he had known and admired. The sombre mood of the fourth movement's Dukas homage is a surprise, but the closing tribute to Felipe Pedrell is drawn with warmth and affection.
Watch Juanjo Mena conduct Nights in the Gardens of Spain
Rameau: Pieces for Keyboard Jill Crossland (Signum)
I grew to love this music through a chance encounter with Alexandre Tharaud's Harmonia Mundi anthology. British pianist Jill Crossland was persuaded by her father to try playing Rameau on the piano when she was eight years old. Crossland doesn't attempt to mimic the sound of the harpsichord, and she's careful not to let the florid ornamentation get in the way of the music. What you hear is supremely elegant and technically brilliant. She's also alive to the fun in this music, injecting enough sparkle into the more sober 1705 Premier livre, more closely resembling a conventional Baroque suite. Crossland's take on the barline-free Prelude is initially probing, improvisatory, before the giddy rush of the last 40 seconds.
The two later suites contain the flashier, more flamboyant miniatures. It's hard to resist a composer who gave some of his pieces such offbeat subtitles. Le rappel des oiseaux does suggest chattering bird song. La boiteuse limps gently, and La follette is as whimsical as you'd expect. These pieces contain so much witty invention and their brevity is an asset. Like all good composers, Rameau knew when to stop when he'd made his point, so the jokes don't fall flat. And who could resist a minute-long piece named after a slice of gammon? This is a consistently delightful disc, the richness of the piano sound adding to the pleasure.
Walzer Revolution: From Mozart's Dances to Lanner and Strauss Concentus Musicus Wien/Nikolaus Harnoncourt (Sony)
This is a fabulous set; familiar dance numbers by Mozart and Johann Strauss Sr sparkle as if heard for the first time, and numbers by Strauss's contemporary Joseph Lanner emerge from the vault after languishing unplayed for nearly two centuries. Nikolaus Harnoncourt's careful attention to detail and unflagging energy are intoxicating. The results are worlds away from an over-upholstered, over manicured New Year's Concert. You can smell the beer and sawdust, and the Viennese lift is applied with such subtlety and delicacy that you don't always notice it's there. The original orchestrations are used, together with period wind instruments - the differently sized valve trumpets producing delicious, creamy sounds.
Josef Lanner conducted a Viennese dance band from the 1820s to his death in 1843 and his music fills the second disc. Lanner's extended arrangement of ballet music from an opera by Mercadante features virtuosic solo wind writing. Two miniature galops contain jolly shouting and rousing horn blasts. All delectable. As are the two sets of dances written by Mozart late in his career. Fluff, yes, but top-drawer fluff. Interesting sleeve notes and faultless playing make this a must-have.