Rose Wylie, Jerwood Gallery, Hastings |

reviews, news & interviews
Rose Wylie, Jerwood Gallery, Hastings
Rose Wylie, Jerwood Gallery, Hastings
The buoyant paintings of an artist with a singular vision
The fluid, confident touch of a gifted draughtswoman: Rose Wylie's 'Red Twink and Ivy', 2002
The Jerwood Gallery on Stade beach in Hastings has so far had a fraught if very short history. Local opposition, largely from the neighbouring fishing community, have campaigned relentlessly against the gallery, fearing that it would ruin the Stade's rustic charm and bring little or no benefit to most locals.
There's negative graffiti among the huts surrounding the Jerwood and a bright orange "NO to Jerwood" banner still hangs on one of the iconic black "net shop" towers beside the gallery, fully visible from the gallery's foyer.
Social and economic concerns aside, it's difficult to see what the fuss is about when you consider the gallery architecturally. It has a modest silhouette from the street and it's sensitively clad in glossy black ceramic tiles that pay some deference to the adjacent net shops and huts, as well as reflecting the huge seaside horizon and surrounding old town buildings and hills. The inside is kept simple with white walls, wooden slats and pale terrazzo all flooded with sunlight from generous windows and a glass-walled courtyard.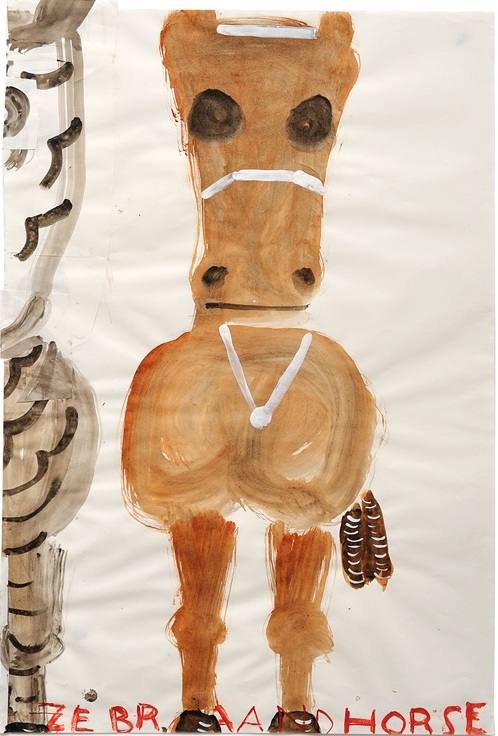 For the inaugural show we are treated to a retrospective of the work of Rose Wylie (pictured, Zebra Horse, 2009), the new septuagenarian star who has broken art-world convention by peaking so late in her career. As such, she has been the subject of as much feature-writing as criticism. Big Boys Sit in the Front caps a long association with the Jerwood and a slew of media coverage around her recent international successes.
It's easy to assume Wylie is younger, as many people have done, because the paintings are executed on such an enormous scale. Getting Better with Water, 2011, comprising four large panels, is almost too big to fit between the ceiling and the floor. Running 16ft around the corner of the main room is a frieze-like combination of Swimming With Cats (Blue Twink), 2002 (pictured next page), Green Twink and Ivy and Red Twink and Ivy, 2002 (main picture) where raw, possibly un-primed canvas deadens much of the brushwork save for richly slathered patches of pea-green, blue and red, roughly delineated with syrupy daubs of black that register a quick but considered pace. The lines peter out and pick up where they left off with generous reapplication before fading again to translucence.
Wylie's carelessness is thrilling in these details, and you get a vicarious buzz from her devil-may-care attitude as you trace the paint over the canvas. The bright smiles of swimmers with their dimples and eyelashes have a postcard feel to them, but also the fluid, confident touch of a gifted draughtswoman.
Not that these are lazy pictures. Splats of paint tell us that these canvases spent some time on the floor, and rethinking is much in evidence in the rough-hewn and peeling patches of canvas stuck to the surfaces. When it comes to placing Wylie's work schematically, many late-20th-century painters spring to mind, particularly the Americans Phillip Guston and Jean-Michel Basquiat. But there's a buoyancy in these pictures that those don't have, leaving the impression that Wylie's vision is singular.
Repetition underscores the work of recollection
The thread through all the pictures is recollection, be it of film scenes, newspaper stories or conversations. Wylie has said herself that she draws from memory and the drawing comes first. "Drawings look like how I see," she says. "And the paintings look like the drawings." There's a lot of painted text, too. Getting Better with Water seems to recall an interview with swimmer Rebecca Adlington. The scrawled question, "What do you most dislike about yourself?" is answered "BIG SHOULDERS" in capitals that intersect the fussy figure of the swimmer who's enveloped in a comic-like starburst.
Repetition in many of the paintings underscores the very work of recollection. In Kill Bill (Film Notes), 2007, painted from the memory of a scene in the film, Wylie paints two versions side by side, with one showing Uma Thurman's blonde crown as she overlooks a brutally vanquished body lying over an absurdly bright pool of blood. As well as echoing the celluloid's gradual frame-shifts, the nixed duplication demonstrates that memory is something we work at and this labour of piecing things together finds many forms in the show, in the jigsaw motif, the continual patching and reconfigurations of elements. "What you see is as important as the food you eat," she says in the video, and it's sharing her delight in reconstructing lost moments that leaves a lasting impression.
Rose Wylie at Jerwood Space, Hastings until 1 July
rating
Explore topics
Share this article