The Sinking of the Titanic, Gavin Bryars Ensemble, Philip Jeck, Barbican Hall |

reviews, news & interviews
The Sinking of the Titanic, Gavin Bryars Ensemble, Philip Jeck, Barbican Hall
The Sinking of the Titanic, Gavin Bryars Ensemble, Philip Jeck, Barbican Hall
Quietly sensational tribute to the tragedy and to a neglected musical tradition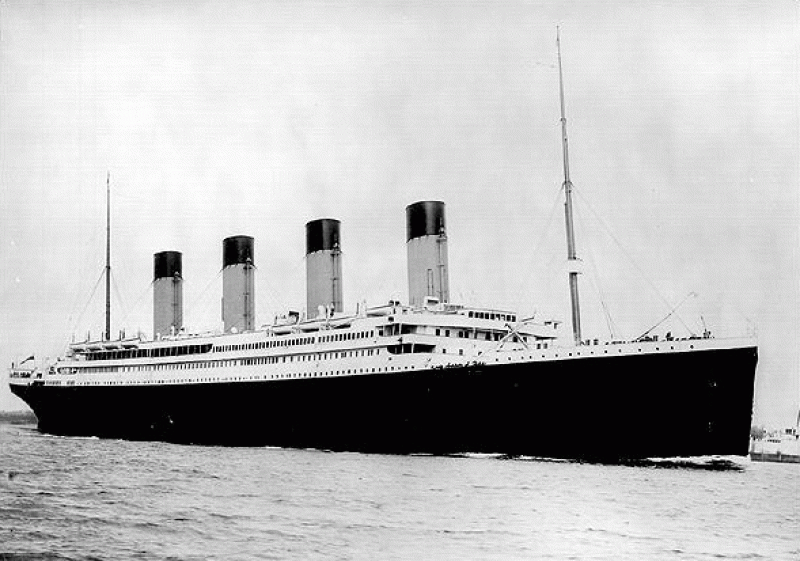 The Titanic: inspiration for a musical masterpiece
I don't have many feelings about the Titanic (any more than I do about any tragedies of the distant past). I know few of the facts, I can remember nothing of the film and I have been left almost completely untouched by the centenary. Yet I am enormously grateful to have caught a Barbican performance of The Sinking of the Titanic, Gavin Bryars' beautiful musical meditation on the event.
The reason why this hour-long rumination works so well is that it does not rely on the emotional power of the catastrophe to generate its own emotional power. The debris of sounds that assemble like flotsam on a river top as the music slowly drifts its humble course is imbued with a potency that does not derive from the event itself. There is an intrinsic beauty to the immersive sound of the string quartet and the way it dreamily winds its way round and round the same melody and then duets with its amateur quartet double (made up of the not very amateur Bryars family) that does not need the Titanic story to prop it up.
What made it such a quietly sensational concert was the work's modesty
There is intrinsic satisfaction to be had from the aleatoric facts of the music, which will settle differently each time it is performed according to which musical artefacts the players choose to play with (a list which increases and changes with time as new evidence about the tragedy surfaces). There is an intrinsic attractiveness to Bryars's recreation of the world of the sea and to hearing how these deceptively simple musical portraits splash up against the music of the quartet.
One of many quietly thrilling moments came when the bass saxophonist and brass player (I couldn't quite see what instrument he was playing but it sounded like a euphopnium) suddenly launched into a musical ode to the foghorn. Later, the roll of the waves is evoked by some nifty jete-ing from the strings. And the imposing squeaky creak of approaching icebergs became a reality at the hands of some atmospheric drum and electric guitar improv.
The live music was echoed and added to by Philip Jeck's turntabling and the film projections (in double screen, mirror formation) of Bill Morrison and Laurie Olinder. These too developed their value not through association (even when the association was blatant - in the newsreels and the lists of names) but through a muted but sensational investigation of the film medium itself.
One twenty minute sequence that haunted as much as it amazed was the passage that revelled in almost complete blackness: a reel of ancient footage of the sea at night. You couldn't see a thing. Just an abstract black and white flickering. Fireworks? Waves made half-visible by the moonlight? Or a ship? A boat? A search for survivors? Visions of heaven and hell were being conjured up by this innocent William Kentridge-like charcoally playfulness.
The night was moving more generally because of what this radical 1969 piece represents in our musical history. Bryars is a pioneering figure in British cultural life, a lynchpin between the New York experimentalism of John Cage and the British musical scene, classical and rock. And this work was one of the first works to fuse Cage's chance principles with Minimalism's lack of struggle to form a fresh new British language. Yet only with the help of Forma, a visual arts production company, was this event able to come about.
Bryars' experimentally minimalist language is the source of so much attractive postwar music that is still cold-shouldered by the academic musical establishment. And the thing that condemns it in academics' eyes is the thing that provoked such a warm reception at the Barbican and made it such a quietly sensational concert to witness: its modesty.
Visions of heaven and hell were being conjured up by the innocent charcoally projections
Share this article
Subscribe to theartsdesk.com
Thank you for continuing to read our work on theartsdesk.com. For unlimited access to every article in its entirety, including our archive of more than 10,000 pieces, we're asking for £3.95 per month or £30 per year. We feel it's a very good deal, and hope you do too.
To take an annual subscription now simply click here.
And if you're looking for that extra gift for a friend or family member, why not treat them to a theartsdesk.com gift subscription?