The Crimson Petal and the White, BBC Two |

reviews, news & interviews
The Crimson Petal and the White, BBC Two
The Crimson Petal and the White, BBC Two
Rumbustious postmodern prostitution in plush Michel Faber adaptation
Sugar (Romola Garai) supplies goods and services to William Rackham (Chris O'Dowd)
Playing a prostitute on film has been big career business for some very famous actresses, not least Jane Fonda, Elizabeth Taylor and Julia Roberts, but it hasn't worked quite the same way on TV. Unless you count Secret Diary of a Call Girl. Or Moll Flanders. Or The Devil's Whore. Though maybe not Five's brothel sitcom, Respectable.
Now here's Romola Garai taking aim at the enigmatic Sugar, the hooker with a keen intellect but possibly not a heart of gold from Michel Faber's novel, The Crimson Petal and the White. Faber's 800-odd pages have been boiled down into four parts by screenwriter Lucinda Coxon, and judging by this first episode the telly version is bristling with menace, madness and intrigue. Vivid micro-flashes of murders foretold hint at murky psychodramas to come.
This being a multinational co-production, there's plenty of budget splashed up on the screen, some of it looking desperately eager to please. There were long tracking shots through the supposedly reeking backstreets of London, 1874, with fallen-looking women posed challengingly in doorways and filthy, scabby urchins scuttling along the kerbs. The much sought-after brothel hosted by Gillian Anderson's Mrs Castaway (why did I keep thinking of Mrs Overall?) is a gauzy labyrinth of crimson drapes and carefully colour-balanced yellowy candlelight. The exteriors of the tonier environs of what was billed as Chepstow Villas - somebody had helpfully planted a big street sign in the middle of the shot - gave the game away though, because wherever it was, it didn't look remotely like London (a fright-wigged Gillian Anderson, pictured below).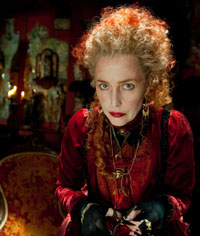 But the story draws buckets of juice from the big, simple idea at its core, of the shrewd, remorselessly self-educating prostitute determined to drag herself out of a lifetime of abuse and climb the social ladder to money and position. All she needs is a suitable sucker, and he obligingly rolls up in the homely shape of William Rackham (Chris O'Dowd). He's the heir to a family perfume business, but he has the business acumen of an ironing board, which drives his bullying father (an unrecognisable Tom Georgeson) to apoplexy. Rackham fancies himself as a writer, though he's forced to admit that so far his collected works amount to "a small pamphlet, not yet published". We've all been there, buddy.
Rackham has an ardently God-fearing brother, Henry, evoked with delicious whispery piety by Mark Gatiss (pictured below). He prowls the streets looking for prostitutes to save. Finding one, he tells her to cover up her body parts, because "the whole belongs to God". The wench retorts that, "My 'ole belongs to anybody who's got two shillings, sir." Must be open-mike comedy night at the Bull and Bush.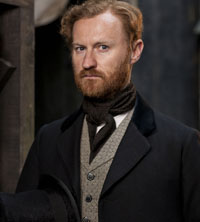 Rackham is also burdened with a pale, pitiful wife called Agnes, constantly wracked by hallucinations and hysterical interludes. She's played like a tremulous porcelain ghost by Amanda Hale, and her condition is being exacerbated by the deplorable Doctor Curlew (Richard E Grant), who pays regular visits to her boudoir and fiddles about beneath her undergarments. Poisonous whispers of everything from Jane Eyre to Gaslight swirl unhealthily around the Rackham household.
It's Rackham's sexless marriage that drives him towards Sugar, but there's a neat role re-alignment when he discovers that she's even better read than he is, easily trumping his literary name-dropping (absurdly, Daddy Uncool Rackham has tried to get his hair cut like Matthew Arnold). She's even secretly writing a novel, for God's sake. If this all sounds achingly, archly postmodern, it is. And on the screen, at least, it's much less weighty and literary than it thinks it is. But it does have the makings of a rumbustious Gothic blockbuster.
It's not as weighty and literary as it thinks it is, but it has the makings of a rumbustious Gothic blockbuster
Share this article