Prisoners of War, Sky Arts 1 |

reviews, news & interviews
Prisoners of War, Sky Arts 1
Prisoners of War, Sky Arts 1
You've seen Homeland, now here's the Israeli series that spawned it
Friends reunited: counting the cost of 17 years in captivity
This is, as you may have heard, the Israeli TV series which provided the inspiration for Homeland, smartly snapped up by Sky Arts to plug the gap left by the latter after last weekend's finale. And guess what - it may be even better than its Hollywood spin-off.
Written and directed with auteur-ish panache by Gideon Raff (who also exec-produced on Homeland), Prisoners of War - or Hatufim in Hebrew - is less the labyrinthine thriller, more a skilful and probing analysis of loss and separation. Where Homeland's central theme was whether or not rescued US Marine Nick Brody had been turned by his Islamist captors and primed to commit terrorist acts back in the USA, Prisoners of War traces the struggle to readjust faced by two Israeli prisoners released 17 years after being captured in Lebanon.
Their families and friends have endured their own kind of purgatory, a form of suspended animation
One of Homeland's less convincing traits has been the way Brody briskly threw off the trauma of his captivity to emerge as focused, disciplined, mentally razor-sharp and capable of Oscar-winning feats of deception. He's more like James Bond than a physically and mentally scarred Marine sergeant. At the opposite, and more plausible, end of the dial are the two protagonists here, Uri Zach (Ishai Golan) and Nimrode Klein (Yoram Toledano).
A pivotal sequence in this opening episode was their arrival on a Red Cross aircraft at Ben Gurion airport, where they were shepherded into a lounge to meet assorted dignitaries and reunite with the families they hadn't seen in almost two decades. Much of the scene's haunting power was delivered by facial expressions and body language. The families stood rooted to the spot, unable to articulate the torrent of mixed emotions. Uri stood like a wounded animal at bay, one eye twitching slightly as he stood in a half-crouch to ward off imagined attackers. Beside him, Nimrode looked aghast and thunderstruck. It needed Uri's elderly, wheelchair-bound father to break the ice by shouting at his son to come and embrace him.
But despite the pitifully broken state of the liberated captives, we begin to learn that "Prisoners of War" doesn't just refer to them. Their families and friends have endured their own kind of purgatory, a form of suspended animation in which attempts to move on with their lives have been undercut by memories of the past and uncertainty about the fate of the prisoners, gone but never quite forgotten. This sense of being trapped in limbo is especially intense for Yael (Adir Ezroni), whose brother Ami was the third Israeli prisoner but died in captivity. She now knows he's dead, but her longing to see him again brings on intense hallucinations in which she can touch him and talk to him.
Everyone pays, one way or another. Nimrode's wife Talya (Yael Abecassis) has become a national heroine for her unflagging campaigning to get the prisoners back, but it seems that her over-developed single-mindedness may now crowd out her disorientated, depleted husband.
Meanwhile, Uri's former sweetheart and bride-to-be, Nurit (Mili Avital), has since married his brother, and she's feeling ripped apart by guilt at Uri's startling return. Her agony is screwed tighter by the insistence of military psychiatrist Haim Cohen (Gal Zaid) that she should act the role of Uri's faithful partner and hide her wedding ring, in an effort to ease his return to his former life. Little does she know that he already knows what happened, thanks to his captors having helpfully left an Israeli newspaper lying around for him to find with its story about how Nurit was "cheating on an entire nation" (Uri and Nurit, pictured below).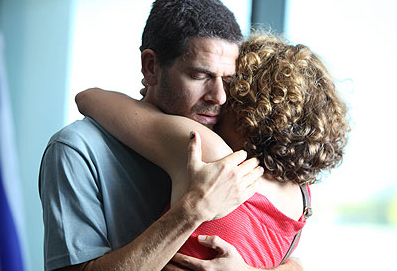 But the sufferings of the prisoners have clearly been in their own unspeakable category, and emerge in brief but horrific flashbacks as the series progresses (I must admit I've cheated and watched all of it). There were glimpses in episode one, where Nimrode's attempts to make love to his wife were shredded by hideous memories of how he was tortured with electric shocks. The setting of the story in Israel, with its existential baggage of conflict and controversy, lends the issues and emotions painful urgency. You really should watch this, if you aren't already.