Outside the Law |

reviews, news & interviews
Outside the Law
Outside the Law
Director Rachid Bouchareb gets under the skin of France's Algerian war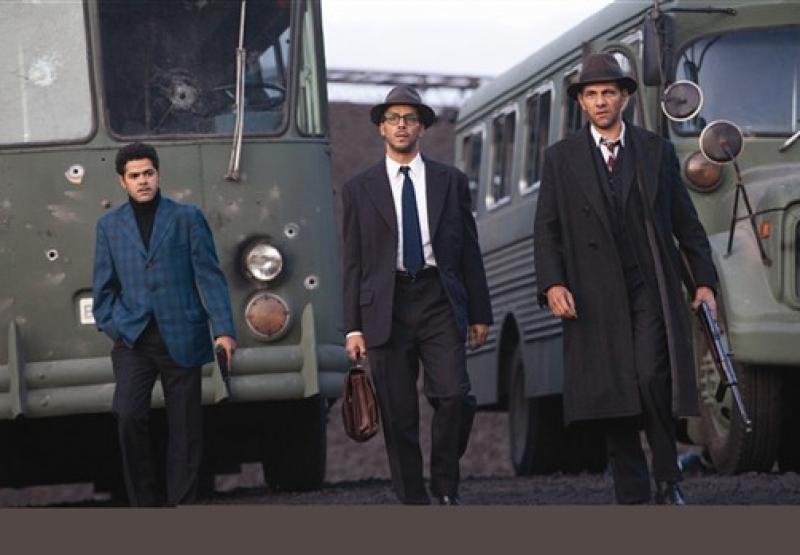 (Left to right) Jamel Debbouze, Sami Bouajila and Roschdy Zem bring the Algerian resistance to the French mainland
Australia's cricketers used to call batsman Mark Waugh "Afghanistan", because (compared to his brother Steve) he was the Forgotten Waugh. It was a reference to the Soviet campaign against the Mujahideen during the 1980s. But few wars in recent-ish memory have been so deprived of the oxygen of damaging publicity as France's brutal struggle to hang on to colonial Algeria.
It was a conflict that had been bubbling up since the end of World War Two, during which Algerian and other colonial troops had fought with the Free French. They reckoned that had earned them some control over their own destiny, but it was never going to be that simple. The massacre of Algerian protesters by French troops in Sétif in May 1945 (pictured below), while the German surrender was being celebrated in mainland France, makes an adrenalin-pumping early climax to Rachid Bouchareb's Outside the Law, though French critics have protested that historically, the French reaction was in response to Muslim attacks on European settlers.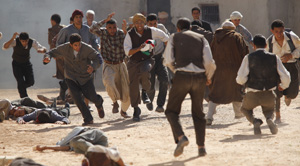 Bouchareb, a Frenchman of Algerian descent, is on a mission to throw daylight on the history of Algerian-French relations, and he hasn't been afraid to apply a hefty pro-North African spin. The movie's opening scene, set in the 1920s, flags up the director's message by depicting a poor Algerian family (whose story we're about to follow) being evicted so their land can be given to French colonialists. Outside the Law leads on logically from Bouchareb's acclaimed 2006 film Days of Glory (Indigènes in French), an examination of the Algerian contribution to the French war effort which depicted Algerians experiencing racism and discrimination as they slogged up Italy and into the South of France. This time, he takes the story from Algeria to the French homeland, using the interlocking tales of three brothers to knit together a broad panorama of the key events that led eventually to Algerian independence. Each of his three lead actors played a different character, but with the same name, in Days of Glory.
One brother, Massaoud (Roschdy Zem), joins the French paratroopers in Indochina, where he survives the nightmare of Dien Bien Phu and gets a dose of revolutionary indoctrination in a Viet Minh prison camp. Abdelkader (Sami Bouajila) is arrested in Sétif and imprisoned, emerging as a mirthless political ideologue bent on overthrowing French colonial rule. Refreshingly, Said (Jamel Debbouze) moves to Paris and becomes a pimp in Pigalle, where he is sucked into the criminal underworld. His true ambition is to train champion French boxers in his private gym, greatly to the disapproval of the revolutionary brotherhood.
The film struggles to strike a comfortable balance between history, polemic and character, but there's no mistaking Bouchareb's epic intentions. It's a multi-generational family saga, a history of the Algerian FLN liberation movement, and a would-be dissection of French colonial attitudes as the motherland thrashes around in a mounting frenzy of violence as the historical tide rises round its ears. Bouchareb may be a pro-Algerian pamphleteer but he has done his homework, detailing outrages like the French police throwing Algerian prisoners into the Seine and depicting the activities of the Red Hand, a clandestine state-backed terror group that waged a campaign of murder and sabotage against the FLN. What has especially irked French commentators is Bouchareb's suggestion of an equivalence between the FLN's struggle and the efforts of the French Resistance against the Nazis - there's a scene where Abdelkader meets Colonel Faivre (Bernard Blancan, another Days of Glory alumnus), leader of French counter-intelligence operations and a Resistance veteran, and tells him that he's now fighting on the wrong side.
International audiences with no knowledge of the subject will find Outside the Law hard going, but its arrival alongside the so-called "Arab spring" gives it added resonance, and it documents a tragic, bloody but fascinating period of recent history which has left deep scars on both the French and Algerian psyches. The French don't like to admit that there was ever a war at all, and it took them until 2008 to acknowledge that any massacres had taken place in Algeria. Bouchareb may just be kicking off a process that's long overdue.
Watch the trailer for Outside the Law
It's a multi-generational family saga, a history of the Algerian FLN liberation movement, and a dissection of French colonial attitudes'
Explore topics
Share this article