Jean Vigo: Celebrating the father of French New Wave |

reviews, news & interviews
Jean Vigo: Celebrating the father of French New Wave
Jean Vigo: Celebrating the father of French New Wave
The release on DVD of all the French director's films commemorates his unique genius and humanity
Jean Vigo's 'L'Atalante': Juliette (Dita Parlo) and Jean (Jean Daste) celebrate happy times
The release of Jean Vigo's wonderful L'Atalante on DVD is cause enough to celebrate, but the arrival of everything he committed to film in one place is more than that – it commemorates this special filmmaker's genius and humanity. Zero de Conduite and L'Atalante are thrilling films, whatever their context and influence on the French New Wave. They need to be seen.
This double DVD set, L'Atalante and the Films of Jean Vigo, includes A Propos de Nice (1930), Taris (1931), Zero de Conduite (1933) and L'Atalante (1934). The films are supplemented by the incredible Nouvelle Vague-flavoured French 1964 documentary Filmmakers of our Time: Jean Vigo, which is stuffed with people who worked on or feature in the flilms. Vigo's fine head of hair is universally praised. Also included are a surprisingly fascinating documentary on the various versions of L'Atalante, a feature on the rehabilitation of the films's audio, a bio of Vigo and images.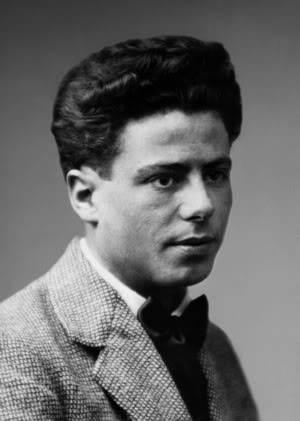 Although his life was short, unsettled and marked by tragedy, Vigo's trajectory can be mapped (pictured right: Jean Vigo). Born in Paris in April 1905, he died from the side effects of tuberculosis in October 1934. His father, the Catalan anarchist Eugeni Bonaventura de Vigo i Sallés (Eugene Vigo) wrote under the name Miguel Almereyda for Le Bonnet Rouge, the left-wing newspaper he had founded. As a kid, Vigo was with his father when the French socialist leader Jean Jaurès was assassinated in a café. Convicted as a spy, Eugene was found dead in prison in August 1917 – he apparently strangled himself. After this, abandoned by his mother, Vigo was packed off to a series of boarding schools, initially as Jean Sales to escape the attention he'd attracted from being branded the son of a spy. Also at 12, he first contracted tuberculosis.
In the late 1920s Vigo worked as an assistant cameraman in Nice and bought his own camera. This mapped his immediate future. At this point, the nature of French cinema was largely undefined: Marcel Carné was writing rather than directing, Julien Duvivier was still concerned with allegory and Marcel Pagnol was working in theatre and had not moved into film. Jean Renoir was the period's most prolific director. Vigo had few local conventions to look to, and probably wouldn't have paid them heed anyway.
The first of Vigo's films was 1930's A Propos de Nice. It was funded and co-written by Boris Kaufman, the brother of the Russian verité filmmaker Dziga Vertov, who had completed the newsreel-like Man With a Camera in 1929. A Propos de Nice was closer to that than anything coming out of France.
A Propos de Nice is a travelogue (pictured left). Silent, it runs for 22 minutes and inspired a tribute in 1995, A Propos de Nice, La Suite. It also, obviously, inspired Godard. It begins with aerial shots of the townscape and seafront, interspersed with waves on the beach and a roulette game. Workers sweep the promenade, dust tables off and set up for the day. The promenaders arrive. Sailing boats tack. Cars disgorge their swanky passengers onto carpet lain on the ground. An ostrich peers. Alligators crawl. The clothes of a seated woman change repeatedly until she is naked. The town behind the tourist façade is revealed. A cat scavenges garbage. A factory belches smoke A Propos de Nice travels through societal strata rather than place.
Vigo's next film was 1931's just-under 10 minutes Taris, made for Gaumont about the champion swimmer Jean Taris (newsreels of the seemingly super-human Taris are included in this package). It's more about capturing the human form in water than narrative and best viewed as an exercise in image rather than an end in itself.
Zero de Conduite though had a fully formed narrative and is based on Vigo's experience of school. It's compelling, intense and funny – Vigo inserts the ridiculous in ways that do not jar. In this school, over the film's 40 minutes, authority is utterly absurd, heavy handed and pompous. The boys rebel (pictured right). Vigo used non-professionals in his cast, and found some participants in the street having decided they looked as if they'd fit. Both Truffaut's 400 Blows and Lindsay Anderson's If were inspired by Zero de Conduite. Its unfettered declaration of the invalidity of authority meant it was banned until after World War II.
L'Atalante, even though based on a pre-existing script, was similarly problematic. It wasn't even originally released under its given title – it was renamed Le Chaland qui Passe to tie in with a popular song of the time that was bolted on as a theme tune. Vigo had died by time the bowdlerised film arrived in cinemas. Ostensibly the story of Jean (Jean Daste) the captain of the eponymous barge and his new, sometimes ghost-like yet deeply alive and easily sidetracked, wife Juliette (Dita Parlo) and the distractions they face, it's a charming, sensitive depiction of people interacting the best they can in challenging circumstances. Their relationship isn't helped by the barge's mate, the cat-loving and over-the-top and snuffling Michel Simon – a character added to the scenario by Vigo and Boris Kaufman. Seen here in it's 1990 Gaumont restoration, this version of the pointedly observed L'Atalante is the closest yet to Vigo's original.
Like the rest of Vigo's slim, truncated catalogue, L'Atalante's observations on human nature are made without resorting to the explicit. Vigo's films frame his concerns rather than shouting them. He treated his audience with respect. Vigo knew it was them he was depicting.
Watch the trailer for L'Atalante