Queens of the Stone Age, Roundhouse |

reviews, news & interviews
Queens of the Stone Age, Roundhouse
Queens of the Stone Age, Roundhouse
Grunge rocker celebrates his birthday with a mind-bending concert
Josh Homme: Guitar work that threatens to blow the roof off
"Tonight there's no one else in the world – just us together," announced Josh Homme halfway through the night. And it felt so. But it didn't seem like we were in the Roundhouse. More like we were sitting amid the heat haze of California's Palm Desert, on a two-hour psychedelic trip, and the Queens of the Stone Age front man was our personal shaman. Sometimes it was euphoric, and other times it was dizzying.
And when the volume was cranked really high it was like the top of the Roundhouse might blow off.
This world tour is supporting the reissue of the band's eponymous debut recording. As such, the first half of the set offered up few surprises. The album was played more or less straight and in its entirety. What was more of a revelation was how well the music stands up 13 years after it emerged from the frazzled rock of the Palm Desert scene. Whether you consider Queens of the Stone Age to be a band or a vehicle for Homme – it has been both – the first album now seems like it was their mission statement. They've never been afraid to innovate and experiment, but nor has their core sound left the psychedelic, melodic rumble reminiscent of the best of Hawkwind.
The crowd of everything from students to fried-out old rockers and exotically tattooed girls nodded their heads, punched devil's horn signs and took lots and lots of photos on iPhonesLast night's journey through the Queens of the Stone Age back catalogue was enough to make Lemmy wish he'd never left his psychedelic days. Musically the freshman album was played harder and heavier than the recording. In places, like "Walking on the Sidewalks" and "You Would Know", it was downright brutal, like Black Sabbath in the early Seventies. But on "Regular John", "Avon" and "If Only" it sounded like the good times were coming. And quite right. As Homme declared early on, whilst swigging vodka and smoking on stage, it was his "f*cking birthday" and please could we "party and pogo". It looked pretty rambunctious in the mosh area and I can't imagine that the amount of beer being thrown around was anything less than irritating. But mainly the crowd of everything from students to fried-out old rockers and exotically tattooed girls nodded their heads, punched devil's horn signs and took lots and lots of photos on iPhones. Queens of the Stone Age is generally classified as stoner rock, a kind of turbo-grunge on acid. But the amount of guitar heroics that Homme and second guitarist Troy Van Leeuwen managed to wring out seemed more in keeping with one of metal's sub-genres. As did many of the riffs, such as the Metallica-isms Homme and Van Leeuwen sparred with in "Hispanic Impressions". Not unexpectedly from the Roundhouse, the sound was excellent: the instruments were clear, the drums thundered and Homme's powerful yet deceptively sweet voice was given full rein to soar. The album's a pretty relentless piece of music and for the most part Homme was on full throttle, but whenthe tension was released on "I Was a Teenage Hand Model", a piano boogie and "silly song about not giving a f*ck", the effect was stunning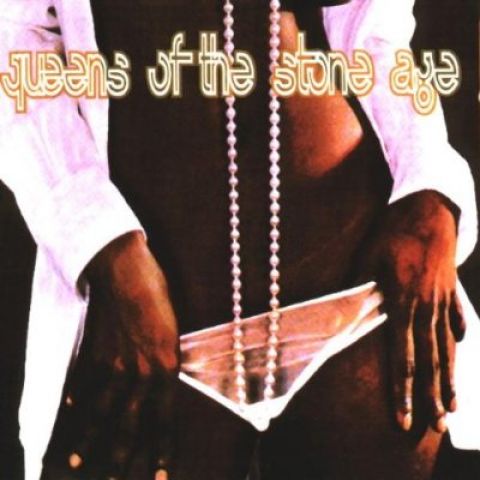 The two sets of encores that followed Queens of the Stone Age (pictured right) felt more like a second half. A series of tubular LED lights were lowered down, and the band started taking requests. It was here that they really showed what a diverse and musically inventive act they developed into. The stomp of "Burn the Witch" gave way to the Beck/Prince-style funk of "Make it Wit Chu", Homme's voice sounding warm and sensuous. "Hangin' Tree", originally recorded with Mark Lanegan on vocals, seemed a little improvised in its new form, but maybe the biggest surprise of the evening was a rare outing of "I Never Came", which, with its gorgeous effects-driven guitar, dance rhythms and lovely sad vocals, sounded like something James Murphy might have come up with. By the whooping and cheering, I think the crowd agreed it was a rare place we'd been taken to.
The last three songs of the night, "Little Sister", "Sick, Sick, Sick", and "Go With the Flow" werethrashy, punky crowd-pleasers. By the end the room had been carpeted in plastic beer glasses, and spontaneous crowd-surfing had broken out.
As a birthday present to himself, I am sure that Homme was delighted with how it all worked out. In fact at one point he asked for the lights to be turned on, so he could "soak it all up". For fans, that's pretty good news. After his work with Them Crooked Vultures, a project that echoed the heady days of Cream in the Sixties, many wondered whether Queens of the Stone Age might be dead. In fact, every time Homme starts a new project, the rumour mill starts that he's done with Stone Age sound. Well, he might just be touring a reissue of an album, but it seems that this is a job he just can't resign from.
Watch Queens of the Stone Age perform "Avon" at Glastonbury 2002
Fried-out old rockers and exotically tattooed girls nodded their heads and punched devil's horn signs
Explore topics
Share this article