The Mountain That Had To Be Painted, BBC Four |

reviews, news & interviews
The Mountain That Had To Be Painted, BBC Four
The Mountain That Had To Be Painted, BBC Four
How Post-Impressionism arrived here via a Welsh landscape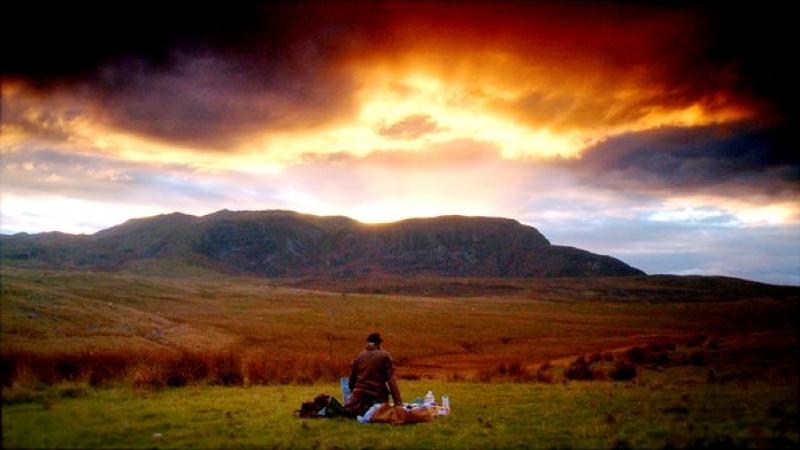 Arenig Fawr: 'At one convulsive sunset it was as if the mountain was volcanically detonating light''
Half of Wales is visible from the blustery summit. "Of all the hills which I saw in Wales," recalled George Borrow, author of the prolix Victorian classic Wild Wales, "none made a greater impression upon me." He was not alone. Arenig Fawr, a southern outcrop of Snowdonia, was also the entry point for British art into Post-Impressionism.
This at any rate was the claim of a scenic documentary which joined Augustus John and his young protégé James Dickson Innes on their productive two-year sojourn at the foot of the mountain.
It's a mountain in the Welsh sense of the word mynydd, being at 854 m/2,802 ft not quite high enough to qualify under the official rules. But its twin crags had such a hypnotic fascination for Innes as an unknown stripling of 23 that in 1910 he committed Arenig Fawr obsessively to canvas in a free and impulsive way which, said one expert here, no British artist had yet managed. His work excited John, older by nine years, into following him up to North Wales, in due course bringing his chaotic ménage along too. It was a fruitful stay. When the Post-Impressionists were famously exhibited in New York in 1913, two British artists' work travelled across the pond with that of Picasso, Gauguin, Cézanne et al: John and Innes.
The Mountain That Had To Be Painted coyly failed to reveal that most of John's paintings in that seismic show were in fact the product of his stays in France. But Innes's were of Arenig Fawr. Within six months tuberculosis, whose advance he did nothing to disencourage by drinking and trudging around the mountain's cold damp slopes, had killed him. Portraits of Innes, a thin livid figure with intent eyes, certainly hinted at a failing constitution. His reputation is thus entirely bound up in this lonely windblown spot. Knowing he was dying, he is said to have buried at its summit a casket of letters from the lover who had cast him aside.
The film visited the mountain and the work it yielded through the eyes of various artists, academics and John's biographer, Michael Holroyd. There was a general keenness to stand in the very places where Innes and John had daubed. John's granddaughter Rebecca gamely revealed that she actually preferred Innes's wilder and more fantastical paintings to those of her grandfather, whom she recalled as a deaf old grump (pictured below). (Archive footage of an aged John being interviewed in 1960 certainly suggested a man who didn't like awkward questions.) In John's paintings the mountain's contours had to compete with a figure - invariably a sinewy female and often swathed in swirling Romany scarves – parked foursquare in the foreground. One of these women was the sultry beauty Euphemia Lamb who bedded both men (among many others) and who would break Innes's heart. But the profounder relationship of the two men seems to have been, on a creative level, with each other and with the landscape.
The photography of John Claypole's affectionate film did much to capture Arenig's powerful allure in all weathers. In one shot whole cities of cloud towered above it; at a convulsive sunset it was as if the mountain was volcanically detonating light. At other times the sky was deserted. (It was on just such a day that I went up Arenig Fawr a year ago. Not being one of the popular peaks, it was, as usual, empty. Maybe there'll be more hiking up it thanks to this film.) There wasn't always so much light in the script read out by Siân Phillips. Surprisingly for a story about two artists committed to avoiding clichés, the narrative seemed keen to embrace them. This was a story which would "drag British art kicking and screaming into the 20th century", whose artists would "give French Post-Impressionists a serious run for their money" while John's French landscapes "stuck two fingers up at the British art establishment". Bleurgh.

It seems a strange and isolated place for the course of British painting to re-route itself. The rough old inn where they once stayed and caroused is now a farmhouse whose family were welcomed into the bosom of the film. The idea, I guess, was that we saw these painters and their paintings through fresh young eyes. Two boys with lovely airy North Walian accents showed the crew the latrine hut. Its poopholes gave onto a stream, facilities of which the artists must once have availed themselves. Not sure we needed to know that.

On a clear day the boys also clambered to the top of the mountain. Arenig Fawr is one of many peaks in Wales into the side of which a military plane has crashed in thick cloud. In this case the American bomber obliterated – if it was there at all - the casket of Euphemia's letters. That's the thing about Welsh mountains. Half the time you can't see them. Nobody mentioned this, but maybe it explains why the two artists spent so very long trying to capture Arenig Fawr's ravishing mystical essence.
In one shot whole cities of cloud towered above Arenig; at one convulsive sunset it was as if the mountain was volcanically detonating light
Share this article