theartsdesk in Göttingen: Handel Festival 2012 |

reviews, news & interviews
theartsdesk in Göttingen: Handel Festival 2012
theartsdesk in Göttingen: Handel Festival 2012
Young performers and Europe's oldest early music festival make for an energetic combination
Scotland by way of Alexander McQueen: Göttingen's Amadigi offers authentiity with attitude
Other towns may choose national heroes as their emblems – posing generals, politicians or sword-wielding officers on horseback, glaring sternly down from their plinths – but not Göttingen. It is entirely in keeping with the unassuming, unobtrusive loveliness of this small town in Lower Saxony that its symbol should be not a grandee but a goose-girl.
The delicate art nouveau statue of the young girl and her feathery charges that tops the fountain in the market square (pictured below) is the heart of the town, kissed in ritual celebration by every graduating doctoral student. But while students and the life of the celebrated university (home to over 40 Nobel Prize-winners during the past century) dominate Göttingen most of the year, for 10 days every spring the town is taken over by visitors from across the world, the ever-growing audience for Göttingen's annual Handel Festival.
Sigrid T'Hooft's Amadigi offers the illusion of taking a trip into Handel's own performing past
The oldest ongoing early music festival in Europe, the Göttingen Handel Festival survived even the Second World War, as a faded opera poster from the 1945 season proudly testifies. Newer rival festivals may have sprung up in Handel's nearby birthplace of Halle as well of course as London, but there remains an energy and an intimacy to Göttingen that sets it apart as the festival's new musical director Laurence Cummings explains.
"Göttingen has such a wonderful family feeling," he says. "Suddenly the whole city becomes Handel-mad; the shop windows are all filled with Handel displays, and there's the sense that everyone is very honoured to host the festival. It's a great atmosphere for making music."
This season marks Cummings's debut as musical director, the third British conductor in a row to hold the appointment, following John Eliot Gardiner and Nicholas McGegan. Despite the natural ties between England and Handel, it was a role Cummings (already director of the London Handel Festival) hadn't expected to gain. With two major celebrations approaching in 2014 (for the anniversary of the Hanoverian Succession) and 2020 (to mark the festival's own 100th anniversary) Cummings's major focus in his new post is to ensure a performance of all Handel's 47 operas by 2020 – a goal that will incorporate major works alongside some seldom-heard rarities.
Traditionally the festival has been unified each year around a different theme or motto, a practice Cummings fully intends to continue – with a slight difference. "While Handel will continue to be the festival mainstay", he explains "our programming will hopefully begin to broaden its outlook on the composer. It's always interesting to think laterally, to put music alongside quite different music and see how that juxtaposition changes your view of the Handel we know and love already."
This year's theme of "Love and Jealousy" however sits squarely in Handel heartland, opening with Handel's first English oratorio Esther with its persuasive and seductive heroine (not forgetting the jealous Haman) and closing with Aci, Galatea e Polifemo, described by Cummings as "one of the greatest stories for both love and jealousy of all time". The centrepiece however is a fully-staged production of Amadigi, mounted in Göttingen's demure Deutsches Theater.
Framed in botanic gardens, the Deutsches Theater sits at the top of Göttingen's old town, an easy stroll through the gabled streets, lively with bicycles and cafes. Miraculously preserved from bombs and over-zealous town planners alike, the charm of Göttingen lies in its haphazard surprises, both musical and architectural. From the 12th-century Altes Rathaus and Johanniskirche to the half-timbered houses of the 16th-century and 18th-century university buildings, the town has a syncopated aesthetic rhythm, setting contrast against contrast to unexpectedly harmonious effect. Explore behind the beautiful facades of the market square and you'll find another gem – the small courtyard garden now open to the public for a sunny afternoon's drink, and beneath it the endless cellar bar (once the cellars of the town's homes, linked up in case of fire) for winter evenings.
Despite languishing unperformed for over 200 years (between 1720 and 1929) Amadigi is among Handel's most attractive early operas, a characterful sequence of dances, obbligato arias and some serious coloratura showpieces. The plot is a predictable mixture of sorceresses, rival knights and of course a captive princess, all brought together in a pastoral romance of extraordinary complexity given a cast of only four principals and a chorus of demons.
Director Sigrid T'Hooft never intended to go into theatre, but her dance background led to research into the baroque treatises and a speciality in historically-informed productions, rooted in the language of movement. Working here with set and costume designer Stephan Dietrich, she creates a stylised take on authenticity whose moments of dramatic stasis are balanced by a superbly vibrant orchestral performance from the Göttingen Festival Orchestra under Andrew Parrott, and the illusion of taking a trip into Handel's own performing past.
The tone for proceedings is set in Dietrich's costumes that take historical designs as just the basis for elaboration and contemporary exaggeration. The dancing chorus of spirits (Corpo Barocco) summoned by sorceress Melissa arrive wreathed in snakes, scales, or lively with grossly protuberant breasts. According to Montalvo's original source the illegitimate Prince Amadigi was educated in Scotland, a detail echoed briefly in the score's Lombardic "Tu mia speranza" (emphatically characterised by the Festival Orchestra) that becomes an idée fixe in a production which sees Mareike Braun's Amadigi out in an exuberant tartan ensemble that seems to come by way of Alexander McQueen.
The relationship between movement and stillness in T'Hooft's scheme is an unusual one, and demands considerable adjustment to contemporary expectations of action and drama. Restricted (T'Hooft might argue enabled) by a rigid set of conventions governing everything from how to die (never on the floor, apparently) to expressing varying degrees of anger and passion (a formal sequence of arm movements) and even stance during an aria, the production relies on the intimacy of the theatre and the musical characterisation of the singers to achieve its impact. Love duets take on an oddly postmodern detachment when addressed outwards rather than shared between the participants, and the formal structural patterning of the da capo aria becomes unignorable when underlined by a similar regimented sequence of movement.
Fascinating though it is, it's an approach that's hard to warm to, flattening-out already perilously thin stock characters, and one that begins to pall over the course of three hours. A cast of young singers step gamely up to its challenges though, with the stand-out performance of the evening coming from Canadian Stefanie True whose technique anchors a sweetly flexible soprano. Her sugary, almost unbearably Disneyfied Oriana is balanced by Judith Gauthier's Melissa (pictured above) – an altogether more bristly figure aided by a sequence of rage and despair arias (culminating in an impressively controlled "Destero dell'empia dite") that anticipates the expressive creativity of Handel's later ariosos for Alcina.
In a cast of four upper voices a countertenor would have been a welcome contrast of timbre, and mezzo Mareike Braun as Amadigi offered frustratingly little to compensate. Terrifyingly young, she may yet grow into the Handelian hero her mature stage presence suggests, but as yet her wayward coloratura just isn't a vehicle capable of supporting any kind of dramatic intention. Better work came from Marketa Cukrova's Dardano, and an exchange of roles could easily have solved a number of the evening's problems.
Lovely touches of colour came from bassoons and oboes in Parrott's band, as well as a few moments of textural grit, echoing the deliberately naïf storm and magic effects visible on stage. His might not be the speediest of readings, nor T'Hooft's the most dynamic, but as a glimpse into opera's past they offer a fascinating encounter – offering a new understanding of Handel's own musical conventions, once so intricately bound up in the practicalities of staging and movement.
Rejecting the trappings of staging and scenery and bringing the chorus to new prominence, Esther was Handel's first English oratorio, the prototype for the new genre that would raise the composer to even greater heights of success than his Italian operas. Directed by Cummings himself, the Festival Orchestra were joined by an international cast of soloists and Germany's NDR Choir for a concert performance in Göttingen's Stadthalle.
The Göttingen Festival Orchestra are truly the superstars of the festival
A recent spate of recordings have revived the fate of this undeservedly neglected work, whose pacing and drama may not quite equal the composer's later Theodora or Saul, but which makes up for it with a score of big tunes and even bigger choruses (including an unexpected cameo for two re-texted Coronation Anthems, including Zadok The Priest).
Leading the cast in the title role was Carolyn Sampson, in characteristically beguiling form as Israel's persuasive seductress. The athletic and impeccably articulated "Alleluia" set the pace for the evening, eventually bookended by Iestyn Davies's closing Alleluia interjections in the final chorus – as relentless and breath-defying a passage of coloratura as Handel ever produced.
The shifting power balance between Davies's autocratic Ahasverus and Sampson's Esther energised a drama whose primary flaw is a slightly unfocused narrative. The chorus in this early work as yet punctuate rather than direct the flow of action, and while arias are carefully characterised (from villain Haman's storming "Pluck root and branch", sung by a gloriously snarling Njal Sparbo, to the Israelite Woman's spun melody for "Tune your harps") they don't quite coalesce dramatically.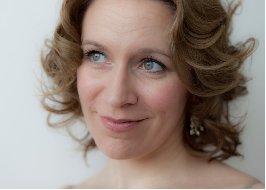 In the pit however Cummings showed not the smallest doubt in the material, and together with the Göttingen Festival Orchestra – not the biggest names but truly the superstars of the festival – coaxed a reading that smote and seduced by turns, supporting the lighter voice of Daniel Taylor's tender Mordecai, anchoring Sophie Junker's Israelite woman, and growing to match and rival Sampson (pictured above) and Davies for virtuosity.
With pacy tempos and choral episodes that grew in assurance and character as the evening progressed (though both pronunciation and enunciation of the English text was an issue), Esther was a stylish promise of things to come under Cummings's direction.
Summer is traditionally the time for festival giants – for Edinburgh, Salzburg, Verbier and Aix – but somewhere among the crowds and the sheer too-much-of-a-good-thing excess of the programming fatigue can set in. Gottingen's intimacy, its quiet excellence and lack of pomp, makes for a refreshing palate cleanser. There's a lot to be said for a specialist festival; doing one thing well and with warmth has kept the Göttingen Handel Festival going (and growing) for nearly 100 years. Under its new artistic director repertoire may change, new performers will undoubtedly feature, but the spirit that turns a concert into a celebration looks set to stay exactly the same.
The charm of Göttingen lies in its haphazard surprises, both musical and architectural
Share this article