Cannes 2012: Making a killing on the Côte d'Azur |

reviews, news & interviews
Cannes 2012: Making a killing on the Côte d'Azur
Cannes 2012: Making a killing on the Côte d'Azur
A Hollywood superstar struts his stuff, the return of an enfant terrible, an exciting Mexican discovery and Britain's finest on form
Pushing up the rates: Brad Pitt in 'Killing Them Softly'
The last time that actor Brad Pitt and New Zealand director Andrew Dominik teamed up it was for the epic and elegiac western The Assassination of Jesse James by the Coward Robert Ford. Their new one, in competition in Cannes, couldn't be more different.
Killing Them Softly is a short, sharp, entertaining crime thriller, with a built-in commentary on America in the shadow of the economic crisis – a situation, of course, created by crooks by another name. Brad Pitt plays a freelance enforcer, Jackie Cogan, called to Louisiana to discover who robbed an illegal card game, a deed that has resulted in all the games in town closing down. Jackie has to punish someone, quickly, as an act of reassurance to the criminal fraternity that will get everyone back to business.
The action never leaves a low-life milieu of gamblers, drug addicts and hit men, whose common characteristic seems to be indecision. Most of the many dialogue scenes revolve around whether to rob, whether to kill, whether to grass on a pal or, in terms of Jackie's employers, whether to pay his newly-inflated rate. These combine to create an air of ineptitude and collective joylessness, the latter epitomised by James Gandolfini's contract killer on the skids (pictured above right), a whiner and boor who effectively talks himself out of a job.
All the while, the background buzzes with television reports, covering the presidential election campaigns of Obama and Bush and the proposed solutions out of the crisis. Jackie's desire to kill his victims "softly, from a distance, without emotions" could be voicing the inner thoughts of politicians sugar-coating the reality of the national bail-out.
Pitt is ineffably cool, and surrounded by a coterie of fine character actors (Ben Mendolsohn, Scott McNairy, Richard Jenkins) dipping their bread into some top-class, often highly amusing dialogue. Violence is kept to a minimum, though when it comes it's pretty graphic. My only quibble is a certain déjà vu; the shadow of Quentin Tarantino is a long one.
In a year when even the best films have been pretty conventional, Holy Motors stands out as the wild, exhilarating exception, a film so boldly out there that it deserves a prize of some sort. It's directed by Leos Carax, whose early work (The Night is Young, Les Amants du Pont-Neuf) singled him out as one of France's best directors, but who hadn't made a feature for 13 years. His return is a triumph.
The extraordinary Denis Lavant plays Monsieur Oscar, an actor and master of disguise who drives around Paris in a stretch limo, adopting numerous personas in which he enacts various dramatic scenarios for hidden cameras. The purpose is a vague one, though there are intimations of a paying audience. In the course of one day he will be a leprechaun-like monster who kidnaps a supermodel (Eva Mendes, pictured above left with Lavant) and takes her to his underground lair, a killer who murders his own doppelgänger, an elderly, dying man, and a family man whose wife and child are monkeys. En route he catches up with an ex-lover and fellow role player, played with surprising gravitas by Kylie Minogue.
Carax offers an homage to cinema but also a taste of its demise, with a conceit that is as hilariously bizarre as it is difficult fully to fathom. The moment where he introduces an "intermission" in which Lavant leads a band of accordion players in raucous performance might be the best single moment of the whole festival.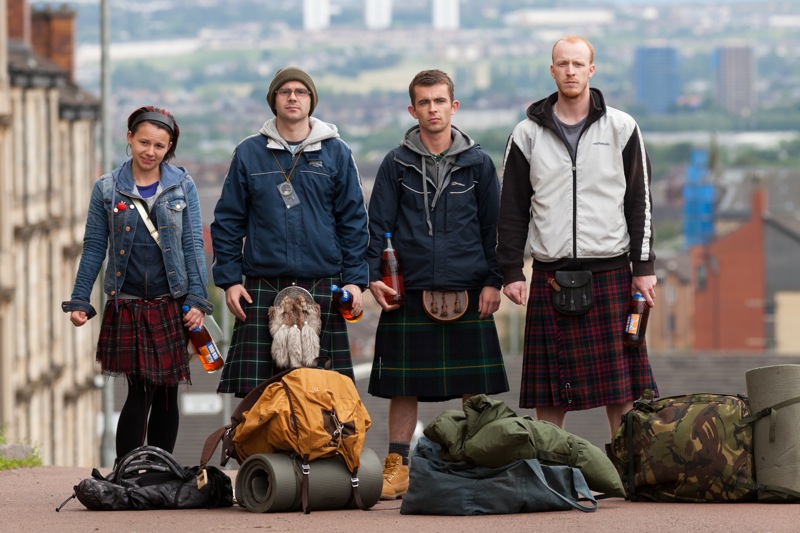 Mexico has unearthed yet another cracking director, in the form of Michel Franco. His After Lucia is the most harrowing film I've ever seen about school bullying, partly due to the extremes to which it is taken, partly because this theme is allied to others, in particular the grief of losing a family member, and how that loss can affect the survivors. Interestingly, these ideas were also explored by Britain's festival entry Broken, but with far less subtlety and far less impact.
Like many Mexicans, Franco has an ability to build tension without resorting to onscreen violence. The consequences of the psychological and physical assault on a young girl are surprising, shocking, and made me think that if After Lucia was distributed to schools, bullies the world over would quickly decide to call it a day.
Ken Loach's comedy The Angels' Share (pictured above) has its UK release next week. In the meantime, this shaggy dog story about a gang of likeable Scottish scoundrels who meet while performing community service and hatch a plan to steal a rare and highly expensive whisky lifted the spirits enormously on La Croisette. It's one of those Loach movies, scripted by Paul Laverty, where even English speakers benefit from subtitles. But it was lovely to see how the international audience here was uniformly roaring with laughter.
Read all Demetrios Matheou's reports from Cannes 2012