The Hangover Part II |

reviews, news & interviews
The Hangover Part II
The Hangover Part II
Director Todd Phillips treats the boys to a lost weekend in Thailand
Nightmare in Bangkok: Bradley Cooper, Zach Galifianakis and Ed Helms in hangover purgatory
Warner Brothers are anticipating that The Hangover Part II will gross $100 million over the coming Memorial Day weekend, which would put it comfortably on course to trounce the $470 million earned worldwide by its 2009 predecessor. It might even deserve it.
If you saw the first Hangover, you'll know what to expect (wedding-party dudes experience surreal amnesiac gross-out with walk-ons by gangsters, hookers and animals), but you also get a guaranteed supply of hot-button sew-my-sides-together moments. For instance, I love the one where camp Asian gangster Chow (Ken Jeong) snorts a giant cocaine "bump", goes into instant rigor mortis and falls head first into a glass table. Obviously I have unusually sophisticated taste.
Producer/director Todd Phillips, who also helmed the original, has wisely adopted the "if it ain't broke, don't fix it" model, and his most radical move is merely to shove his cast on a long-haul flight from Las Vegas to Thailand. The troupe's oddballs-in-jeopardy routine has made the journey intact, and it's their easy rapport that makes what is, by and large, nonsense function so effectively. This time it's Stu the LA dentist (Ed Helms) who's getting hitched, to his lovely Thai fiancée, Lauren (Jamie Chung). Her family have organised the perfect island paradise wedding, even though her father harbours serious reservations about Stu's deficient manliness and moral fibre. In his speech at the prenuptial dinner, he compares Stu to the soft white rice soaked in warm water which is fed to old people and invalids (pictured below: the boys with Ken Jeong, second left).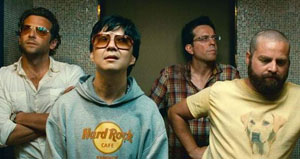 Having barely survived Hangover I, in which the sociopathic slob Alan (Zach Galifianakis) inadvertently dosed up the boys with "roofies" (aka the date-rapist's favourite, rohypnol), Stu does his best to fend off stag-fest mayhem by taking his homies for a pre-wedding-trip brunch at a pancake house which doesn't serve alcohol. However, once they're walking on warm Thai sand under succulent Pacific skies, Stu's resistance weakens. He joins his buddies on the beach by moonlight for "just one drink".
Enter the unknown cataclysm. They wake up (with difficulty) in a vermin-infested hotel room. In the first movie, they found themselves sharing the accommodation with a tiger and a baby. This time it's a severed finger and a precocious monkey wearing a Rolling Stones tour jacket. Stu has acquired a lurid tattoo and Alan has lost all his hair. The bride-to-be's teenage brother has vanished without trace (except for the stray finger). Before long, their list of conundrums is added to with the arrival of a dead body. Even working out where they are takes mental agility of which they're barely capable ("We woke up in some shithole room in some city," is how Bradley Cooper's Phil sums it up in his first desperate phone call).
Unravelling their predicament and unpicking their forgotten trail of wreckage involves springing an ancient monk from jail, facing down Paul Giamatti's snarling mobster, a shootout and car chase with a gang of drug dealers, and getting the lowdown from the ladyboy who has unleashed Stu's darkest sexual desires. It's like I'm a Celebrity..., except with an extra squirt of moral darkness, offering virtually nothing in the way of restored self-esteem or personal growth (pictured above, cast with director Todd Phillips at far right). Merely being in a condition to make Hangover Part III will have to do, and the ending is sort of happy, in the manner of a shattered vase hastily patched together with Bostik and hidden at the back of a cupboard. Whatever you do, don't leave before the end credits, because they contain some of the best jokes.
Watch trailer for The Hangover Part II