National Theatre Wales announces its second season |

reviews, news & interviews
National Theatre Wales announces its second season
National Theatre Wales announces its second season
Can the NWT top its remarkable opening season?
The inaugural year of National Theatre Wales included an immensely ambitious body of work which tested to the limit the definition of what a national theatre can and should be. In new venues and old, found spaces and open spaces, it staged several freshly created plays, some retrieved ones, as well as adaptations, devised pieces and, in Aeschylus'sThe Persians, the oldest play of all. The year was capped at Easter by the widely hailed The Passion of Port Talbot starring Michael Sheen. Now NTW has announced its second season and it looks to be just as boundary-pushing as the first.
Earlier this week the US president Barack Obama was asked in a press conference in London about the legal prospects for Bradley Manning, the young American soldier who passed the secrets of the US embassy to WikiLeaks, and is now facing a lifetime in prison. He brushed the enquiry aside. NTW will ask many more questions in a new play which imagines Private Manning's teenage years spent in West Wales. The Radicalisation of Bradley Manning is written by Tim Price and directed by NTW's artistic director John E McGrath (pictured below).
Among other left-field enticements is a staging of Chekhov's rich full short story A Provincial Life, in which Welsh director Peter Gill will make his NTW debut. There are also three shows which fall under the umbrella of London 2012's Cultural Olympiad. The team which brought The Persians to an army training range in the Brecon Beacons will stage a modern interpretation of Coriolanus. Berlin-based Argentine choreographer Constanza Macras will create a new dance piece in the wilds of the North Wales forests. And McGrath will team up with writer Kaite O'Reilly, who adapted The Persians, to create a show for a cast of deaf and disabled performers.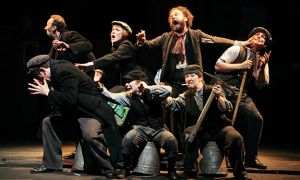 Other new productions include a homecoming work for Frantic Assembly, originally of Swansea, who will create a show about teenage life inspired by Dylan Thomas's Just Like Little Dogs. They will also expand on the brief to create a Theatre Map of Wales which began last year when A Good Night Out in the Valleys toured miners' institutes across the South Wales coalfield. This autumn NTW will be touring The Village Social, a surreal musical by Dafydd James and Ben Lewis, to village halls. One of the big hits of the first year, an adaptation of Gwyn Thomas's The Dark Philsophers (pictured above), will be going to the Traverse in Edinburgh for the festival.
"After a wonderfully rich and fulfilling launch year," say John McGrath and executive producer Lucy Davies, "we are truly excited to be announcing our second year's programme. We'll be travelling across Wales, and also stepping beyond the borders to Edinburgh. As well as our signature large-scale site-specific work, we'll be touring into village halls, exploring digital space, and celebrating some great Welsh artists. It's going to be another extraordinary adventure."
The Dark Philosophers
Co-production with Told by an Idiot
9 – 28 August, 2011
Traverse Theatre, Edinburgh

The Village Social
Created by Dafydd James and Ben Lewis
October/November 2011
Village halls across Wales

NoFit State Circus
February 2012
Theatres across Wales

A Provincial Life
Adapted from Chekhov's story by Peter Gill
March 2012
Sherman Cymru, Cardiff

The Radicalisation of Bradley Manning
By Tim Price
March/April 2012
Haverfordwest and other venues

Little Dogs
With Frantic Assembly
May 2012
Patti Pavilion, Swansea

In Water I'm Weightless
By Kaite O'Reilly
July/August 2012
Weston Studio, Wales Millennium Centre, Cardiff

Coriolan/Us
From Shakespeare
August 2012
Dragon Film Studios, near Bridgend
Branches (working title)
Constanza Macras/DorkyPark
September 2012
The forests of North Wales
Share this article