Big Star Third, Barbican |

reviews, news & interviews
Big Star Third, Barbican
Big Star Third, Barbican
Multi-generational tribute to the Memphis musical wonders with a bit of Muswell Hill magic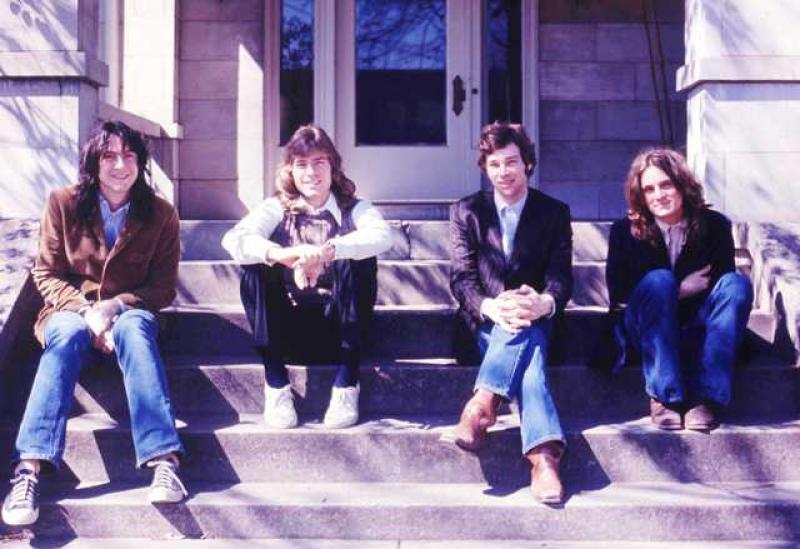 Big Star in 1972, ready for blast off. Left to right: Andy Hummel, Jody Stephens, Chris Bell, Alex Chilton
"You're a wasted face, you're a sad-eyed lie, you're a holocaust." The devastation of Big Star's "Holocaust" manifested the mood of the album it was recorded for, which was supposed to be the Memphis band's third. Last night celebrated this classic musical evocation of fragmentation. Capturing that on stage was a tall order.
Playing the songs along with a string section reading from sheet music could never be as spontaneous as the chaotic, booze-fuelled sessions that birthed what became
Third
.
Even so, this extraordinary album was brought to life, a life it never had back in 1974 when it was recorded - or in 1975, when it was shelved. This new afterlife netted a terrific cross-generational array of musicians. Masterminded by The dBs' Chris Stamey, this concert found Big Star's Jody Stephens sharing the stage with R.E.M.'s Mike Mills, Robyn Hitchcock, Hot Chip's Alexis Taylor, Norman Blake of Teenage Fanclub, Lets Active's Mitch Easter, Jon Auer and Ken Stringfellow from The Posies and Yo La Tengo's Ira Kaplan – and Ray Davies, of whom more later.
Vocalists came and went, instruments were swapped. We didn't need to be told who was who, which broke the flow. Some, like Alexis Taylor (singing "Nightime"), seemed overwhelmed by the occasion and a little lost. Some overcompensated and oversang, like Sondre Lerche's run-through of the Big Star-ised Velvet Underground song "Femme Fatale". Relaxation was the best policy. For "Kizza Me", Mitch Easter ditched the template and chucked in random guitar runs that fitted the chopping, changing structure perfectly. Mike Mills did a little hula and radiated joy. Most affecting was a shimmering "Blue Moon", sung by an unfeasibly well-preserved Jody Stephens. The live reimagining was all the more rewarding as it was as erratic as the album itself. (Pictured right, Chris Stamey [left] with Jody Stephens. Photo by Daniel Coston)
Appropriately, Big Star didn't last long and were never stable. Formed in Memphis in 1971, the band coalesced around ex-Box Tops frontman Alex Chilton. The melodic rock of their first two albums, #1 Record and Radio City, wasn't inaccessible and 1972 saw the similarly inclined Raspberries climb the US charts. But Chilton, Chris Bell, Andy Hummel and Stephens weren't destined for success.
Bell left in 1972 after the release of #1 Record. By the time it was decided to record a third album in 1974, just Chilton and Stephens convened with producer Jim Dickinson at Ardent Studios. Although the album was mixed in 1975, it took until 1978 for it to come out when it was credited to Big Star, even though the band had fizzled out. The new wave came along and, like The Velvet Underground, Chilton and Big Star were finally in tune with the times.
Ray Davies spoke movingly of his friendship with Alex Chilton
Chief amongst the late Seventies torch-bearers were Chris Stamey and Peter Holsapple of North Carolina band The dBs. Holsapple would hand out cassettes of the then-unreleased Third. Stamey issued a Chris Bell single on his Car imprint and recorded with Chilton. Stamey and Holsapple's friend Mitch Easter – who produced the early R.E.M. – was another early acolyte. Word spread. Third's "Kangaroo" and "Holocaust" were covered on This Mortal Coil's It'll End in Tears in 1984 . The Teenage Fanclub unashamedly borrowed the Big Star sound. In 1993 Big Star reformed when Chilton and Stephens united with Auer and Stringfellow of The Posies. Sporadic further activity led to new recordings as Big Star. A definitive box set of the original band arrived in 2009. Stephens is the only surviving member: Bell had died in a car crash in 1978, and both Chilton and Hummel died in 2010. So this was a gathering of disciples.
After Third and the interval, the cast reassembled to tackle more Big Star and related material. Some songs weren't surprising: a sensitive Norman Blake-dominated "I'm in Love With a Girl", a Mike Mills-sung charge through "September Gurls". Hearing Chris Bell's "I Am the Cosmos" was fabulous. But Ray Davies was a surprise. He spoke movingly of his friendship with Chilton and sang a high-octane "Til the End of the Day", the Kinks' song that Big Star covered. He then made The Box Tops' "The Letter" his own.
More than a tribute to Big Star's Third, last night was about Alex Chilton, the man who created much of this music. That one man could have written so many incredible songs, each so different from the next, is hard to take in. He wasn't there, but more so than his talent, his presence was felt.
Watch producer Jim Dickinson discussing the making of Big Star's Third
More than a tribute to Big Star's 'Third', last night was about Alex Chilton, the man who created much of this music
rating
Share this article