Under African Skies |

reviews, news & interviews
Under African Skies
Under African Skies
Paul Simon's Graceland phenomenon revisited in superb documentary
Paul Simon onstage with Ladysmith Black Mambazo during his Graceland tour
The world is awash with rock docs, most of them not very good, but it's best to think of Under African Skies as merely a superb piece of film-making.
Marking the 25th anniversary of Paul Simon's
Graceland
, and included on DVD with the album's special reissue package, it's a gripping exploration of how Simon went to South Africa searching for fresh inspiration, made possibly the most memorable album of his career, but found himself embroiled in the poisonous politics of apartheid.
Looking back a quarter of a century later, and 18 years after Nelson Mandela was sworn in as South Africa's president, there no longer seems to be a case to answer. Graceland was a triumph, it brought South African music to an unsuspecting world which was amazed and delighted by what it heard, and it gave priceless exposure to the South African musicians who toured the world with Simon. But, as the film makes clear, it wasn't that simple at the time, and though we see a kind of reconciliation between Simon and his critics, you feel that all the old enmities might easily erupt again.
Essentially, nobody was prepared to back down. Dali Tambo, son of veteran African National Congress activist Oliver Tambo, is the most voluble of Simon's opponents, and director Joe Berlinger (who made Metallica: Some Kind of Monster) has used a meeting between the two as a central prop of his narrative. Tambo's view was, and still is, that Simon (pictured above) was wrong to visit Johannesburg without the sanction of South Africa's liberation movement, and he was in breach of the UN's cultural boycott. "At that moment in time it was not helpful," says Tambo. "There was this inconvenient thing called apartheid. It got in the way."
Simon's position is that the artistic impulse takes precedence over politicial restrictions, that the musicians and the local musicians' union welcomed his visit, that he rewarded the musicians with generous fees and songwriting credits, and that there could have been no finer advertisement for the glories of South Africa's culture. "The artists are always treated as if we worked for the politicians," Simon comments, and he doesn't see why that should be the case.
Simon is an intelligent guy, but also an incredibly stubborn one. He knew he'd be breaching the boycott, and he was urged by anti-apartheid campaigner Harry Belafonte to alert the ANC to his Johannesburg visit, but chose to ignore him. But it was a brave leap into the unknown too, and Simon recalls how he was shocked by the palpable racial tension on the streets of Johannesburg, and his relief on arriving back in New York. What he couldn't have predicted was that his Graceland experiment would blow up into such a popular phenomenon, and its huge profile made it a magnet for opinions from all sides.
One of these opinions was that Simon was a rich white American exploiting Third World music for commercial gain, though the affection and respect in which he's held by the musicians doesn't support this. Those musicians were also indignant at being ordered by the ANC to abandon the Graceland tour and return to South Africa and its delightful apartheid lifestyle, which would, in guitarist Ray Phiri's view, have amounted to being victimised twice. Decriptions of how Simon and recording engineer Roy Halee went about creating the Graceland songs from pieces of the tracks he'd recorded in Johannesburg also make it clear that this was far from being a case of Simon simply stealing a bunch of material and claiming credit for it.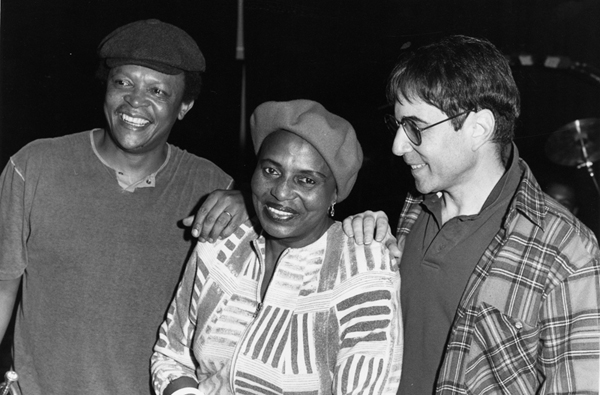 In the end, the film's force derives from the way it illustrates the ecstatic and irrational power of music to sweep away all arguments. It's generously illustrated with performance footage, from Simon's first contact with musicians such as Phiri, bass player Bakithi Kumalo and drummer Isaac Mtshali through to their subsequent international touring and his return to South Africa last year for a reunion concert. Also in the mix are such milestone moments as Simon performing "Diamonds on the Soles of her Shoes" with Ladysmith Black Mambazo on Saturday Night Live, and the 1987 Graceland concert in Zimbabwe, featuring a historic roster of South African artists including Miriam Makeba and Hugh Masekela (pictured above with Simon). Graceland was a unique example of popular music making history, and the story won't be better told than it is here.
Watch video of Paul Simon and Ladysmith Black Mambazo on Saturday Night Live
The film's force derives from the irrational power of music to sweep away all arguments
rating
Explore topics
Share this article