theartsdesk Q&A: Conductor Gustavo Dudamel |

reviews, news & interviews
theartsdesk Q&A: Conductor Gustavo Dudamel
theartsdesk Q&A: Conductor Gustavo Dudamel
As the Simón Bolívar Symphony Orchestra return to the UK, its maestro explains where his loyalties lie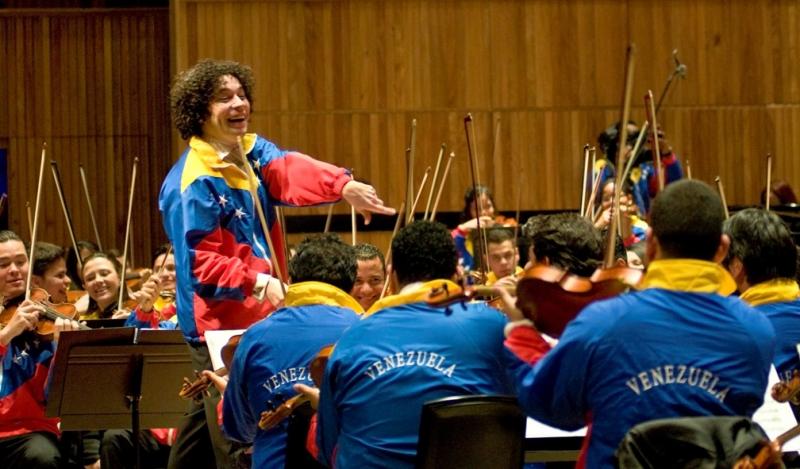 'We have to create more bridges and less borders': Gustavo Dudamel conducts his compatriots
At the Royal Albert Hall one summer evening in 2007, a teeming ensemble of young South Americans served up a BBC Prom that is the most YouTubed classical concert this side of the Three Tenors. Under the baton of the compelling Gustavo Dudamel, an all-dancing, all-shouting account of "Mambo" from West Side Story has become the roof-raising sign-off of the Simón Bolívar Symphony Orchestra of Venezuela, who last year dropped the word Youth from their name.
Still a mere 32, with the hair of a poet and the grin of a chipmunk, their conductor seems to be few critics' idea of the finished article but he is the closest that a classical industry hungry for self-rejuvenation has to a saviour. If conducting is communicating, nobody of his generation does it better. It would almost be quicker to list the world-class orchestras he hasn't worked with. This summer he ends nearly six years at the helm of the Gothenburg Symphony Orchestra, while in 2009 Dudamel took on the Los Angeles Philharmonic where he recently completed a Mahler cycle.
And there is his Venezuelan gig. Like all of the Simón Bolívar Orchestra, Dudamel is a product of the now world-famous music education project known as El Sistema first set up pianist-politician José Antonio Abreu in 1975 to rescue children from a broken future. There were a dozen at the first sesson. Now there are 300,000. It gave him his chance first as a violinist. Then he traded bow for baton and by 18 was the orchestra's music director.
This week the Venezuelans return to the UK. First they head to Scotland, specifically Raploch, a housing scheme on the edge of Stirling where that El Sistema has experimentally taken root. The 120 children from The Big Noise, as the longterm Scottish project is known, will perform with the Venezuelans at the open-air Big Concert on Thurday night while, for the rest of their stay, welcoming young South American musicians into their homes for impromptu chamber recitals.
I can still remember every moment of that residency and we are so happy to go back
And then Dudamel takes his musicians back to the Southbank Centre for a repeat of their tumultuous 2009 residency. There will be the grandstand concerts as part of the Shell International series in Festival Hall, but also satellite events of every stripe: family/player-curated concerts, free open rehearsals, have-a-bash workshops and all sorts amounting in total to 60 events. As in Raploch, young musicians of In Harmony England will get their moment. Sounds Venezuela, as the residency is called, is also part of the Soutbank's Festival of the World.
In his idiomatic Venezuela-inflected globish English, Dudamel talks to theartsdesk in Gothenburg, the city which gave him his first job outside his home country after he stepped in at short notice to conduct a Prom. "We will be very sad when he goes," says the clucking matriarch who has managed his life in Sweden these past five years. And she draws a finger down her cheek to semaphore her sorrow.
JASPER REES: You're just off the plane. Where were you last?
GUSTAVO DUDAMEL: In Venezuela. For one month and two weeks. To come to Europe is really difficult. When you go the other way it's easy. You can go to sleep and you wake up really early. But the problem here is you never sleep during the night, so you want to sleep when it's rehearsal here.
Are you a different conductor when you move between orchestras?
No. And you know I have the privilege to conduct three orchestras and of course I am a guest conductor with some orchestras that I really love and respect, but the fact that you have three families where you spend most of your time is great. You can build something in a long term. And of course you have been working for a relatively long period – here, five six years already. So you know the orchestra, they know you. And the same happens in Los Angeles where I only have been three years almost now. And in Venezuela of course it's different because it's longer but it's the same family. It's strange because they are three orchestra with three really different cultures. Here they have been many conducted by conductors. Also in Los Angeles Philharmonic. With the Bolívar it's different because I started to conduct them when we were teenagers. But it's great because in the long term when you arrive you know very well them and it's easy to understand each other. I think it's a privilege for a conductor to be music director in an orchestra of course if you have the chance like me in this case to have three it's amazing because you spend the time with three families. Guesting is very important because you have different conditions. You have the same love but you cannot pretend to go as a guest and to change everything because it's impossible. Being music director you can change things with time and then when the time passes it's easy because everybody understands what it happening. With the time we understand each other so I can go deeply. As a guest you have only one week or two weeks. You have to adapt to the tradition but also you give a little bit to you, you receive a little bit of them. It's beautiful. This world is amazing. Every day is different.
Proms portrait © Chris Christodoulou

You don't have much time left with the Swedes. Why did you decide to move on?
Look, I started here in a contract for only three years and I stayed for two years more. And you know it's only about the title. But I'm coming back for a few weeks in the future. But it's not about less responsibility. I don't know. For example I want to conduct more opera and I think it's the right time now. I have done opera, I have done six or seven operas but I think it's the time now to learn and to adopt because it's a different world. You have to work in a different way, more elements. And I have the opportunity to do and I would love to spend a little bit more time doing opera. I'm not talking about being a music director in an opera house. So in Venezuela I have the chance to do now the opera. And also family. Sometimes you are so busy and you don't get the chance to see your baby, for example. When it's a child things change really fast.
Has fatherhood changed you as a musician?
Me? I have changed absolutely. As a person and as a musician. You see life different. With a perspective. You are not the first. You are not the number one, so that is crazy. And especially being a conductor, because a conductor is the boss. I have felt all the time in my life part of the orchestra because I was playing in the orchestra and that is something very natural. I really respect a lot the musician and or than that I love to feel that I'm inside of the body and not something extra that is giving orders. It's not only orders.
The first time it's easy, the second time is really difficult and the next one is even more difficult. And I love that
Is that why you never take a bow by yourself?
Absolutely, absolutely. It's nothing about, "oh my god the boy is very humble." It's something real. It's not only me. It's not only one person. They have done everything. For us it's impossible to do something without the orchestra in front.
How much classical did you have around you as a child?
Look, what I had before was not a lot of classical music, until I started to study at the Sistema. Expecting to play the trombone and I was five years old and I started to listen and I was like "Wonderful, wow, great". I went to my father's concerts but it was not a lot that I was there because I was very small but then this became a passion, it became something very necessary to be listening, to be studying, to be around music, and I wasn't playing an instrument.
How good did you become as a violinist? Without being modest.
Was OK.
Could you play with your orchestras?
I think I was a good violin player but the thing was that I started to conduct so young and I started to have responsibilities as a conductor when I was 12, so I was assistant conductor of this Amadeus chamber orchestra when I wasn't even a teenager. I was playing the violin as a soloist and playing in the first generation Simón Bolívar Orchestra first violin section and also I played some concertos as a soloist, but at the same time I was really focused on my conducting life. Then I was music director of the youth orchestra in my town. That was a big responsibility because I was rehearsing every day dong concerts every two weeks, something like that, and then they invited me to the professional orchestra when I was only 15, 16. And then the music director of the national youth orchestra (now it's the Simón Bolívar ). So I was more focused on the conducting really early. That is why the career as a violin player was stopped.
Do you still have a violin?
Yes and I love to play chamber music for example. With a lot of limits, because you have to study every day to be a good player. You have to be doing your technique. But when I'm in a party I love to play a tango or a bolero or if it's a Mozart Quartet or a Mendelssohn I love to play. Last time we were in a friend's house in Los Angeles and the Berlin Philharmonic was visiting so some of the musicians came of the Los Angeles and the Berlin Philharmonic and were playing the Mendelssohn octet between all of these musicians. Of course I was playing fourth. But that is not easy. I'm not telling you that it's easy but it's not the first one. But it was really fun.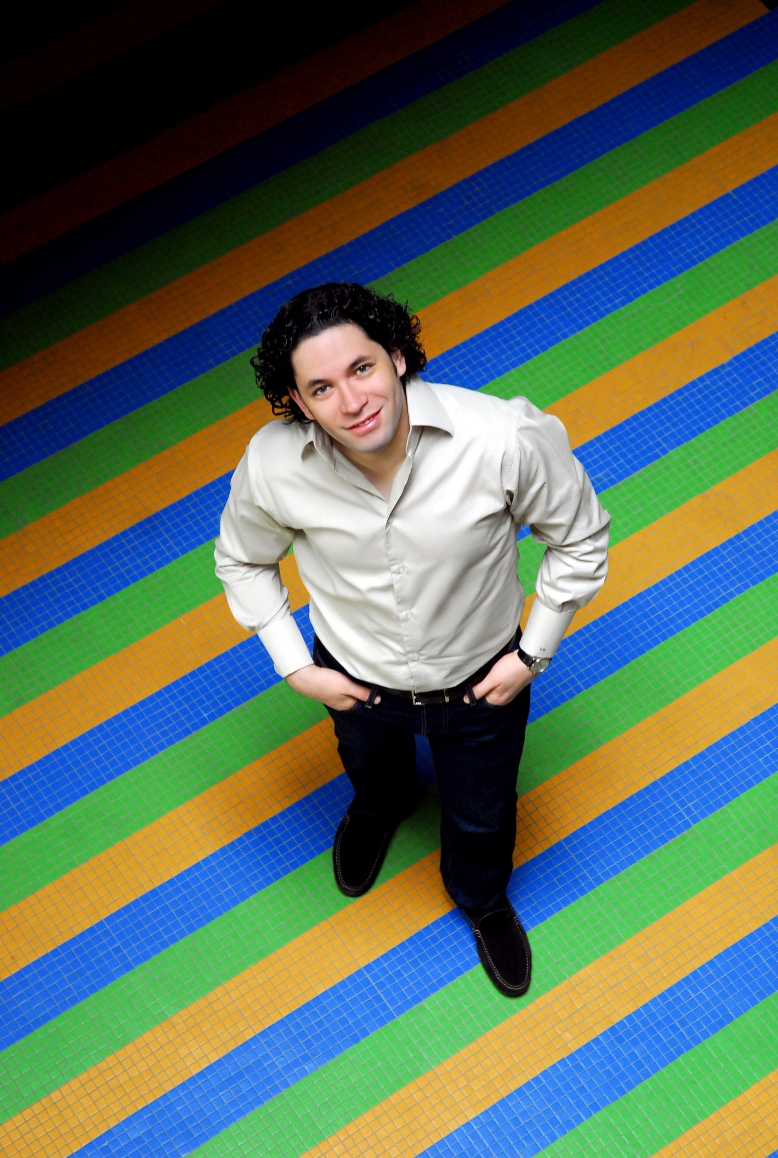 Portrait © Luis Cobelo
Why were you picked out at the age of 12 as a potential conductor? Why did it happen to you and not to someone else?
I don't know. We have to ask them to Maestro Abreu what he saw in me as a conductor. But at the same time it was like I was a little bit obsessed to arrive to my house after school, to put a recording in to conduct. This was like a very serious game. To stop the reading and to rehearse, to go back and then do to a concert.
Was this records or cassettes?
This was cassettes. Poor cassettes! I destroyed them to go back to go back. And the cassette player also. Oh my God, my family was so angry. Also the LPs at that time. I think I had a CD really really late, in 1992, 93. When everybody had.
How soon were you looking at the scores?
I received my first score, I remember. It was an uncle that travelled to the States and he brought me I remember Jupiter, 40 and 41, and Beethoven Fifth.
How old were you?
Nine? Quite young.
And you could already read a score?
I had with the solfa and all the studies at that time it was Ok to read. Of course with the notation, with the transposition of wind instruments and brass it was with the time that I started to understand how it works. But yes it was easy to follow the score.
You must have to study a huge number of pieces each year.
A lot.
And you must have arrived at a technique which enables you to do it quickly.
I think experience means a lot in the life of a conductor. And I have conducted a lot of music in Venezuela, here and also in Los Angeles, but I don't know, to study a piece, the process is easy at the beginning. You can see a score and you can understand how to phrase and put these things together, but then comes the part of going deeply inside the music. You cannot come immediately to a score and go deeply into what it's about. In the first read that would be not true. You go and you start to see things, and with the time of course that is faster.
How much time does it take you? For example, when you play with the Simón Bolívar in London?
We have the Alpine Symphony. For a full orchestra it's a perfect piece. Strauss is never easy to approach but I have conducted it a few times, maybe around 15 times, and it's a familiar piece.
Do you always find something new in it?
All the time this happens. It's nothing to show something different. It's really when you go to the score sometimes you think, "Wow why didn't see this before?" I'm reading scores all the time. Travelling especially. When I'm at home I'm checking new things. For example with Mahler, I have done now all the symphonies in the Mahler Project that we did [in Los Angeles]. It was so difficult to conduct all the symphonies and to remember everything. I was studying one day the first movement of the Fifth, the last movement of the Ninth and the third movement of the Sixth. And that was like going deeply but also testing how the brain can work not only in one line but also in different ways. And it was amazing. It helped a lot to me not to memorise but to practise. It's like when you want to run a marathon. You can do more time and more time. You cannot start the complete one. I wanted to do that but in different positions and that helped a lot. I was studying Mahler in that way for the Project. It's beautiful because how the memory works for me I have two kinds of memories. The visual one: it's really easy to see the score. And when you rehearse the sound stays also. It's simple. It's nothing like a ritual but it's true that the first time it's easy, the second time is really difficult and the next one is even more difficult. And I love that. If it's something interesting in my career that I can say that it's exciting, all the time the things became more difficult. Not to conduct but to see and to think.
Proms portrait © Chris Christodoulou

You are coming to the Southbank for the second time.
That was an amazing experience. We loved it. To stay in one place and to share not only the concerts which were completely sold out and also chamber music and everything. That was one of the most amazing moments of the orchestra. Our first Proms concert – I can't imagine – it was like for a sport player – I don't know how to say – to go to the Olympic Games. It was like wow. It's always wow, it's great, but the difficult thing is to feel comfortable in a place and we feel really comfortable there because you feel the audience really close, that they are really connected to what they are listening to and also to all of this – how do you say? – unique project that is Sistema that now is travelling around the world, not only as the Simón Bolívar Orchestra that plays a concert. It's the message also that music can change a life and can change the life of a community. I think it's great and when we go to England, now we will have the chance to go for example to Raploch where is the Big Noise project, and we will play free community concert together with the children and also our normal repertoire.
You are the visual symbol of this wonderful story about how music can change lives. It's being proved in Sweden, they are trying it in Scotland. All over the world. You as the conductor are the figurehead: do you sometimes feel there is too much weight on your shoulders?
No, because, look, it's not an individual responsibility in the end. You give the message and you show that it's possible but in the end it's a responsibility that you share with many people that have the same vision about that. In Venezuela for example of course you are a figure, you are - how to say? - a result of the project. But there are so many and I think the beautiful thing when you are in the Sistema is you feel responsible for El Sistema. When you talk to a musician the Simón Bolívar Orchestra that is travelling how, they feel that they are responsible for the message and also for the future, because this is not a project that works for two year and then dies in the third year. Maestro Abreu has been building this for 40 years, working slowly. But he's really a visionary. He's amazing. I always say that he's so close that you see him as a friend and as a father but the dimensions of what he has done is unbelievable. And how he started is even more crazy, because he started with few musicians and with everybody fighting and making a war to him, stopping him. That it was not possible. But in a very hard way and with a lot of inspiration he has done this and it's not me, I'm only a result of that.
How well embedded is El Sistema in your home town?
Barquisimeto has been many years a very musical city. Maestro Abreu studied there and it's called in Venezuela the musical city of Venezuela. The reason is because a lot of musicians – I don't know if it's true – in every house there was an instrument. When they did the census they found that in every house was a piano or a guitar or a cuatro. With my uncle I loved to play Venezuelan folk music. He played a typical instrument, a small guitar called a cuatro that has only four strings. We went to houses. I said, "Uncle, I want to go to do a serenade to these friends, so we went to the house."
When did you start growing your hair?
No my hair was very casual because I won the Mahler completion and I had really short hair at that time. And then I didn't get the chance to go to the hairdresser and I met my wife and she told me this looks good, stay like that.
So that explains the look. It's not a homage to Sir Simon Rattle?
No!! No no no. Well you know I love his hair and especially because it's really white. And it's a very personal signature of his personality. But not it's very simple. I was telling you Barquisimeto it was very natural to get an instrument and to play and to sing.
Where is home?
I live in Caracas and it's funny because we'll be almost proportionally my life. I was 17 years old living in Barquisimeto and now I have been living in Caracas for 13 as my home but of course Barquisimeto is my city. You know what I really love, when I'm in Barquisimeto? To drive on the streets, especially when it's really late. You have cars with air conditioning now and it's a very hot city but I love to put the window down and to go really slow. I got with my wife and go, "Look here was this, or here it's exactly the same." What memories you have. Memories are part of your musical life.
The compliment you paid to the London audience was to play the Nimrod. Which is such a memory piece.
It's an amazing piece. It's one of the most beautiful musical moments. We were really nervous. It's like to play Verdi in Italy. It's the music that you know really well. But we were so inspired. That interaction, that love that we were receiving from the audience was really so honest that it then became like a moment of real inspiration and love. It was an amazing atmosphere. I can still remember every moment of that residency that we had and we are so happy to go back.
Watch the finale of the Venezuelans' concert at the BBC Proms in 2007, including 'Mambo'
Do the musicians sometimes think, oh no we've got to play "Mambo" again?
We were last time in London and we didn't play. After Mahler's Second it's really difficult to play "Mambo". But no, it's wonderful to share. It's not a circus. It's really a moment of happiness.
You never do it because it's just expected?
No. Sometimes we don't do. Last two we didn't dock and it was successful. When you play an encore – "Mambo" or Nimrod – it's a gift that you want to share with people.
How much to you play with the orchestra a year?
Five months.
They are no longer a youth orchestra. When did the name change?
Last year. We have musicians that are 16 years old in the orchestra or 17, 18, 19, and at the same time we have some who are 28, 29.
Are there always new vacancies in the orchestra?
I think almost 98 per cent of the orchestra stays. Sometimes it's natural. You can have somebody that moves to another city. One of the musicians wanted to be a teacher and they move to another city so they go and they teach. They do that all the time. But normally the orchestra is really big. We are talking about 270 musicians in the orchestra. And it's always space.
The other famous thing in your country is the political situation. Do you stay away from politics?
No, the thing is we live in a really chaotic world where the political situation is chaotic really everywhere. When you talk about politics you need to have knowledge. Sometimes people speak without any reason for saying something. It's not that I don't say anything. Politics are so far from what I do. if I will talk about politics I will read and I will study and know better about it.
When people ask you about Chavez, do you say I prefer not to talk about him?
Why? President Chavez is the president of Venezuela. What you can say?
He's not very popular in America.
That is a political thing. It's politics, you know. And it's difficult because you don't know really sometimes what happen. But what I really know is that for example El Sistema is working on the States. That is a Venezuelan symbol. And we have youth orchestra, children's orchestra, In LA we have two. In LA we were with the Mahler Project there was a huge symposium with 400 people from all around the world, building El Sistema in their own communities. So it's a symbol of union. Always when you go to the politics, immediately it's coming something to the people that is division. Ah? You are on that side? No, I'm on this side. The most beautiful symbol of an orchestra is it's like a country where everybody have a different life. When a musician of an orchestra goes to his or her house, they are different people and they are thinking in a different way, even musically. Every musician has their own opinion, but you make harmony and you make connection and union, and that is the most beautiful thing. The politics are really killing, because the media also. Maybe years ago it was different, but now information arrives in one second. Before it took more time and people were living a more relaxing life. Now also with telephones. With mobiles you can find everybody in one second and have all the information of the world in one thing. So there are many elements now that are making the quality of life is not good because it's so stressful, and we have to avoid that kind of things. We have to create more bridges and less borders. That is the main thing.
Most people probably can't find Venezuela on the map, and yet it has spread this infectious message around the world. How far can the message spread?
When you are convinced that the world is missing sensibility, harmony in life in a community, the project is stronger. The dream of Maestro Abreu was to have an orchestra in every city of Venezuela. Even more, not only in the main cities, if not in the districts of every city in Venezuela. That is happening. Children and young people playing, singing, making instruments, teaching, everything. And the dream of Maestro Abreu in Venezuela in the beginning was a utopia. To have that starting with such a small group. The dream is the world. To spread that through the world that in every little place people get the chance to have culture, to have access to the arts, to have music as part. It looks crazy but it's simple. It's a right. This has to be right. Because it's quality of life, of soul., when you get the chance to enjoy and in many sense sit's something to believe and build. So if it's a dream about Sistema it's that this journey, this way in the years coming, this voyage has to go around the world.
Is it your job to spread the message?
It's the job of all these new generations coming. Everybody has in their blood this little visionary way that Maestro Abreu has: the hard work. And I think it's a responsibility that new generations also will have. I'm a servant of this amazing thing.
You will always work in Venezuela.
No doubt about that. I will be there. I will be there because I cannot be out of it. And it's because it's my place.
You give the message and you show that it's possible but in the end it's a responsibility that you share with many people
Explore topics
Share this article