Colin Currie, Pierre-Laurent Aimard, CBSO, BCMG, Oliver Knussen, Aldeburgh Festival |

reviews, news & interviews
Colin Currie, Pierre-Laurent Aimard, CBSO, BCMG, Oliver Knussen, Aldeburgh Festival
Colin Currie, Pierre-Laurent Aimard, CBSO, BCMG, Oliver Knussen, Aldeburgh Festival
New work by 102-year-old Elliott Carter dazzles Suffolk crowd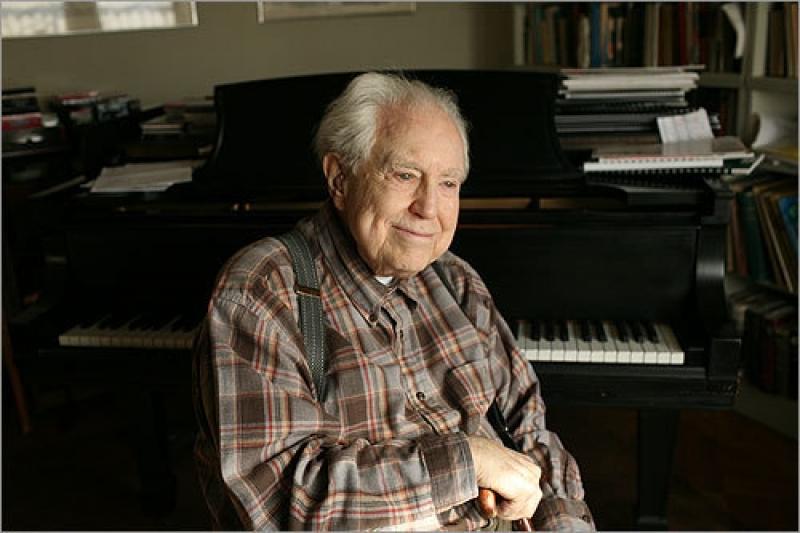 Legendary American Modernist, 102-year-old Elliott Carter still displaying an amazingly energetic bent
Yesterday afternoon's final concert at the Aldeburgh Festival saw an astonishing world premiere. A major new double concerto from a 102-year-old Elliott Carter. Imagine Schubert premiering a song cycle in 1900, or Van Gogh unveiling a self-portrait in 1956. Gob-smacking stuff.
So what sort of music does a man born before Benjamin Britten have to offer 2011? Music of an amazingly energetic bent, it transpires.
Conversations
for piano and percussion reveals a composer who, at least in musical thought, hasn't slowed down one bit. From the off, fantastically industrious ideas are summoned up (a tone row boogie-woogie from Pierre-Laurent Aimard's piano, syncopated responses from Colin Currie's marimba) and hurtle uncontainably around the stage like three-year-olds around a kitchen table.
What type of spirited conversation was this? It seemed to have the pacing of an interval natter, rushed gabby stories giving way to repartee. There is a brief mournful turn as Aimard lingered on sustained low chords and Currie splashed mysteriously on gongs. There is a short romantic thought. A commotion from the woodwinds of the Birmingham Contemporary Music Group breaks in. And, with a simultaneous ding of a crotale and dong of the piano (is that the interval bell?), the conversation comes to an abrupt end. What zip. What zest. What remarkable atmospheric range rushes past in just seven minutes.
Thanks to Stravinsky's Variations: Aldous Huxley in memoriam (1963-4), which the composer demanded be played twice, we received another chance to eavesdrop on Carter's fascinating back and forth. "I don't see why only Stravinsky should get a second go," Oliver Knussen announced. Hearing it second time round made me realise how rare it is to hear such translucent kineticism these days. Very few of his younger colleagues seem to be able to generate speed and energy with such economy, clarity or variety.
Partnering the 102-year-old was the work of two twentysomething British composers. Helen Grime's Everyone Sang (2010) showed up the technical disparity between the two generations. Taking Britten's Sea Interludes as a starting point, Grime flexes a lot of orchestral muscle without generating much heat. It felt like watching someone swim furiously against a tide. Moorings are found with the introduction of a beefy bass line but it's too little too late for any ideas to have time to lift themselves from the muddy floor and to lodge themselves in the memory.
Charlotte Bray's violin concerto, Caught in the Treetops (2010), was much more intriguing. An obsessive violin line attempts to bounce its way out of its predicament through arpeggio runs to the G string. When the orchestra joins the outstanding soloist Alexandra Wood, primitive, André Jolivet-like harmonies creep into earshot and drag the work into a sultry slow section. Her orchestration was rather tasty. Her shifting evocations were cleanly and interestingly explored. I'd be very interested to hear the work again.
The rest of the programme (all Stravinsky) allowed Oliver Knussen and the City of Birmingham Symphony Orchestra to show off a bit. The Scherzo à la Russe was tightly wound and bright, allowing our ears to adjust to the almost lurid acoustics of Snape Maltings Concert Hall. It was a joy to be able to chase the virtuosic Aldous Huxley variations around the orchestra twice. And to end we got a splendidly clear rendition of the 1947 Petrushka, Knussen assembling and disassembling the various rhythmic and melodic wheels of this wagon-train of a work in such a way as to reveal all the dynamic inner workings.
The orchestration of Charlotte Bray's violin concerto was rather tasty
Share this article