theartsdesk Q&A: Musician Esperanza Spalding |

reviews, news & interviews
theartsdesk Q&A: Musician Esperanza Spalding
theartsdesk Q&A: Musician Esperanza Spalding
The bass player and singer's artistic odyssey is winning new fans for jazz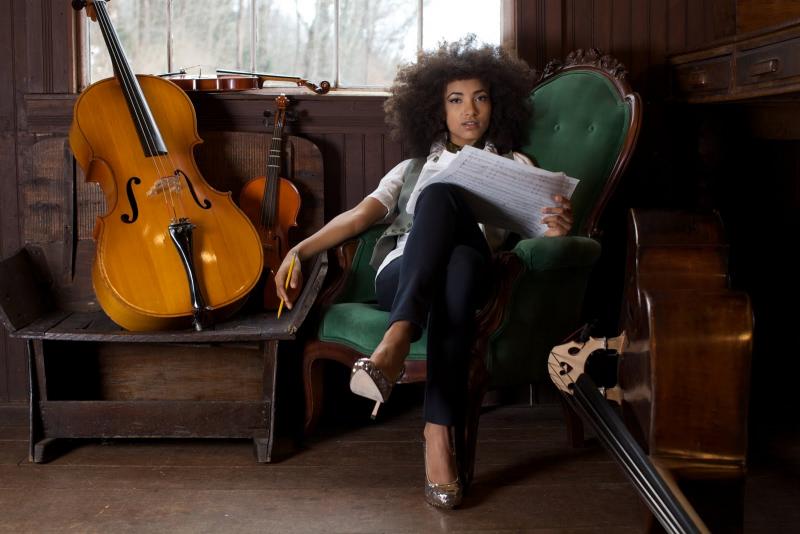 Funky bass lines, circuitous melodic lines, Grammy winner: Esperanza Spalding
Bassist, vocalist and composer, Esperanza Spalding is one of the most exciting things to happen to jazz in recent memory. Born and raised on what she has called "the other side of the tracks" in Portland, Oregon, Spalding grew up in a single-parent home.
Encouraged by her mother, she began playing violin at the age of five and gained a place in the Chamber Music Society of Oregon. By the time she left, 10 years later, she had risen to the position of concertmaster. By then, she had also discovered the bass, and all of the non-classical avenues that the instrument opened up for her: funk, hip-hop, jazz.
Following a challenging period of study at Portland State University – at 16 she was the youngest bass player in her year - it was at Boston's Berklee College of Music where she really found her feet. In 2005, aged just 20, she began teaching at Berklee, making her one of its youngest ever faculty members.
Spalding's 2006 debut album, Junjo, subtly interleaved influences from jazz, hip hop, folk, classical and Brazilian music. Her major label follow-up, Esperanza (2008), went to the top of Billboard's Contemporary Jazz chart. Inspired by the classical training of her younger years, last year's Chamber Music Society achieved a beautiful balance between the improvised and the through-composed.
The 26-year-old has already worked with some of the greatest names in jazz, including pianist Michel Camilo, guitarist Pat Metheny and sax player Joe Lovano. She has performed at the White House (twice) and the Nobel Prize Ceremony in Oslo, appeared in an ad campaign for Banana Republic and on the 'Late Show' with David Letterman. In 2009 she picked up the Jazz Journalists Association's award for Up and Coming Artist of the Year. Earlier this year she won the Grammy Award for Best New Artist – the first ever jazz musician to win this award. For her forthcoming album, Radio Music Society, she's been working with hip-hop artist/producer, Q-Tip. Esperanza Spalding talks to theartsdesk.
PETER QUINN: What's your earliest musical memory?
ESPERANZA SPALDING: There was always music at home. My mom liked listening to the radio and my brother would play his albums too, though the first major impact was seeing Yo Yo Ma on TV – I do remember watching the show. I guess I'd never seen anyone actually playing an instrument. I'd never heard music like that and, right away, I thought it was interesting and funny and I liked the sound. At that time, I guess it was like a basic attraction: "I like that sound. I don't know what it is, but I want to do that!"
Much of your early musical experience was spent playing chamber music on the violin. Which pieces have particularly stayed with you from this period, and why?
There are two themes that come to mind, the first from a piece I played when I was about seven entitled "On The Volga" (that's all I remember about it, I don't remember the composer!). But I remember loving the themes and thinking of them day and night. Other themes that really struck me as a child - and still move me whenever I think about it - are the themes from Scheherazade by Rimsky-Korsakov. Somehow my mother and I found an old record of the whole piece and I listened to it madly. Then, the next summer, the Chamber Orchestra in which I studied decided to start working on it. Playing that piece is the highlight from all the 10 years' playing violin.
You've integrated your bass playing and vocals from your 2006 debut album, Junjo. When did you first hit upon the idea of playing bass and singing at the same time?
I always have played and sung at the same time, since I started with the bass. And during the past couple of years I've been working on my singing more and more.
How did you start composing? Were you already writing music before you went to Berklee?
I would make up little tunes and things. I think the first thing I wrote was a string quartet thing, when I was about eight or 10. I heard this theme, and I didn't know what the theme was. I had my mom help me write it out, the parts, and we played it at a recital concert. We also had a piano and I would go the piano and write little songs, or recall things from the radio and come up with new arrangements of them.
How do you start a piece?
Each one is different. Sometimes it is just a little line buzzing in my head for a while and then – click – the lyrics just fall into place, or in this case the vocalese. Look at "Little Fly". I had the poem pinned up on my wall and one day whilst practising I looked up and the words just fitted naturally with what I was working on that moment.
Esperanza performs Little Fly (text: William Blake)
The very title of your most recent album – Chamber Music Society - suggests a desire to return to a more intimate, universal type of music-making. Was this idea central to your thinking when you were making it?
Exactly. I wanted to share music that I've enjoyed listening to and have happily played over the years.
Do you ever see yourself writing a larger scale for work for bass which similarly combines improv with fully notated music - a bass concerto, for example?
Who knows? That's the beauty of music, it is limitless.
I have to say that I was hooked from the first moment. Right away the resonance and sound of the instrument was just physically intriguing
You really make the bass "sing". Could you tell me a little bit about your relationship with the instrument?
I have to say that I was hooked from the first moment. Right away the resonance and sound of the instrument was just physically intriguing. The first time I picked one up at high school, I played notes just to hear it, just to feel that resonance. It was really an amazing experience if you'd never played bass, especially compared to a screechy violin.
Anyway, at the same time the music teacher at that school came in and gave me a very brief rundown of the fundamentals of improvised music, of playing a bass line, and of playing a walking bass line in jazz. He showed me the function of the blues: "Here are the scales, and if you can play them you can play whatever you want if it sounds good. And now we're playing jazz!" I remember at the time feeling, "Wow, I can really get into this." And it felt so, so accessible, and so natural for the way I hear music and play music. I was hooked from that moment on. It was from there that I began to play more jazz, more improvised music.
Esperanza performs at the White House Poetry Jam
Involving [musician and arranger] Gil Goldstein on Chamber Music Society was an absolute masterstroke. How did you first come across his work?
The first time I heard him, I didn't even know it was him, but I loved his accordion playing. Then I heard the Michael Brecker album Wide Angles and really dug the arranging. I met Gil coincidentally in New York through a mutual friend, and asked if he might be into helping me with a project. The rest is history.
Literature is clearly a strong source of inspiration. What are you reading at the moment?
Right now I am reading Staying Alive by Vandana Shiva. Of course we all find inspiration from literature for vocabulary and poetic syntax. And the ideas of great thinkers can often be applied to many different forms of creative expression. So, I also enjoy practising a concept I'm reading about when I play or practise. Like, right now, one thing that Ms Shiva is speaking about (in the chapters I've read so far) is the feminine as a divine and omnipresent force of creativity. Well, in music, that is a mind state or approach that I can ruminate on, or play from, or emote from. Applications like that can sometimes spawn new ideas in music.
You introduced an element of theatricality at your last Barbican concert. Do you think that, in terms of stagecraft, jazz musicians could do a little more work in this area?
Each musician is free to do what they want.
My band has been together for a long time, so the communication between us and the joy of making music is something that we transmit to the audience
Your music features soloing, improv, risk-taking, yet attracts an audience that goes beyond the usual jazz initiates. What do you think people respond to when they hear your music?
I am trying to get in touch with the audience and their hearts, paying close attention to the melodies and the groove. My band has been together for a long time, so the communication between us and the joy of making music is something that we transmit to the audience. Their response is what you see in the concerts – they keep coming back to see us playing so that means something!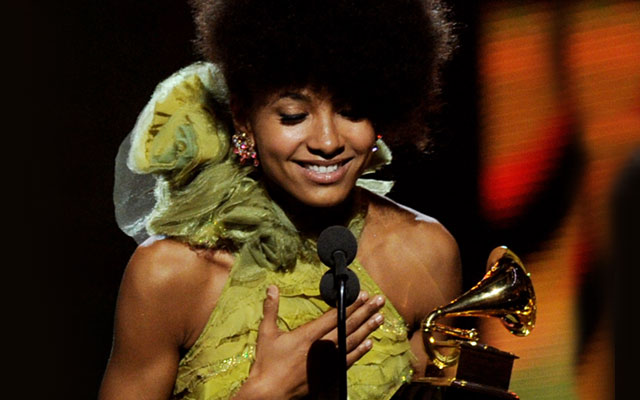 You've already worked with some of the greatest names in jazz: pianist Michel Camilo, guitarist Pat Metheny, sax player Joe Lovano. Are there any artists from outside jazz that you'd like to collaborate with?
Wow, that's a really tough question. I'm surrounded by so many incredible people. It is always nice to collaborate with other musicians, there is always something to learn from it, whether they are from jazz or from other styles.
The Roots' drummer-bandleader Questlove called your Grammy win "the greatest moment ever", a sentiment shared by jazz lovers the world over. What was it like to be in the room and hear that collective gasp when your name was announced?
It was incredible. It was a huge surprise. I do hope that it will bring to people's attention all the fantastic music that is happening in jazz. There is such variety, and if it encourages people to go and see live music, it is even better.
And the Grammy for Best New Artist goes to...
Do you think the win will give you more leverage in terms of your educational projects?
At the moment I'm not working on educational projects, unfortunately. There isn't enough time with recording the new album and touring.
What did you learn from teaching at Berklee?
I enjoyed teaching, I had a really good time. It was a little challenging to find the time to do my preparation and be the teacher I wanted to be in the midst of commuting. I was living in New York the last two years I was teaching, so it was little tricky. But it's incredible. I love the process of analyzing what I know and what I do and thinking, "Yeah, why do I do this?" and "How do I know that?" and "How can I break this down in steps so that someone else who wants to learn how to do this can understand it and make it part of their ability?" It's a fun process, and it's really satisfying and encouraging when you watch someone grow and evolve and blossom.
Do you still find the time to practise as much as you'd like to?
Well, I've been recording Radio Music Society [her next album], and I'm now on tour here in Europe. When I'm on tour, I always have a bass in my hotel room.
Are there any of your contemporaries whose music you follow with particular interest?
Here's a couple from my iPod: Becca Stevens, she's one of the best songwriters out there, her voice is rich and magical, and Bilal, now his voice is one of my favourites out there today. And Little Dragon, they're cool.
What can you reveal about your next record, Radio Music Society?
The songs are bombastic and fun – funkier and more upbeat. It's not finished yet, I'm back in the studio as soon as this tour ends.
Esperanza Spalding appears at the Barbican on 11 July as part of its Blaze series
Find out more about the Barbican's Blaze series
Esperanza talks about the making of Chamber Music Society
I think the first thing I wrote was a string quartet thing, when I was about eight or 10
Explore topics
Share this article