Exclusive First Listen: Mala In Cuba |

reviews, news & interviews
Exclusive First Listen: Mala In Cuba
Exclusive First Listen: Mala In Cuba
Can dubstep's expansion into global fusion live up to its promise?
Gilles Peterson and Mala, with records
It's a nervous beginning. This is the first ever presentation of the first proper album by one of the lynchpins of British underground music, and the soundsystem isn't right. Record label personnel and friends are flung across Paris to requisition new loudspeakers, while the invited audience drinks mojitos. After all this, it would be deeply embarrassing if the record turned out to be bad.
Spoiler warning: once the right speakers turn up, the record proves not to be bad. In fact it is stupendous. It was never guaranteed, but the project did have promise. The idea of one of the founding fathers of dubstep (though he has never accepted the term) collaborating with Cuba's finest always suggested the possibility of the dodgiest of "ethno-dub" fusions – but on the other hand, the methodology and execution of Mala's activities in the music world to date showed he has never done things by halves. The mentorship of record label boss and popular DJ Gilles Peterson and co-producer Simbad were unlikely to harm things either.
It's starting to feel like there's a narrative going on, each track bringing elements in from the one before
So – Peterson gives a short speech in English and French; Mala himself gives an even shorter introduction, and then the music comes on.
1. "Introduction": The first track begins with nothing but percussion, then come fragments of voices, then the swung boom-crack of dubstep. Roberto Fonseca's rippling piano seems to be taking it into traditional musical territory, but then abruptly gets dubbed out and the vast bass notes enter the mix without warning or ceremony. After all too short a time time the beats and bass drop out out, leaving echoing piano chords dying away...
2. "Mulata": More obviously Cuban (Salsa?) piano chords go straight in to an echo-driven rhythm, each drum sound chasing the after-images of the one before. What sound like choral vocals lurk on the edge of hearing, and Fonseca's jazz influence is clearer here as the chords uneasily move around the rhythmic core.
3. "Tribal": The piano chords here sound Gothic, classical, with filtered and echoed vocals floating in amongst them them. The rhythm track is edgier; like "Mulata" it's clearly influenced by drum'n'bass, its frenetic forward momentum aided by harsher timbales and cowbells even as the bottom end is stately and rooted.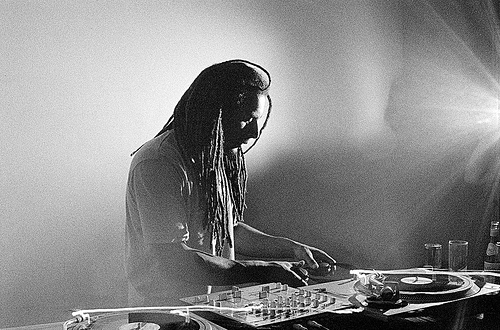 4. "Changuito": The manic metal percussion is brought right to the front in the introduction. It's starting to feel like there's a narrative going on, each track bringing elements in from the one before. Then the beat and bass come in with full industrial brutality; this is shark-eyed south London club music without any mistake. We get a breakdown that is pure techno spaceflight, the "real" percussion just embellishment to the high-tech chords – then a swarm of horns rises up out of it creating evolving interference patterns between drones before the beat comes back in.
5. "Revolution": Again the jungle/drum'n'bass influence is clear early on, the beat and hand percussion dancing around one another, one particular conga fill repeated again and again at the beginning of phrases in just the way breakbeat snippets used to be used in early/mid-1990s jungle. The rolling polyrhythm is a relief from the crashing martial patterns of "Changuito", but once again there are buzzing horn chords giving a dark and sinister feel. Just as these start to feel oppressive, though, they merge with synthetic pads drawing together threat and euphoria; it's the real rave moment of the record so far.
6. "Como Como ft. Dreiser & Sexto Sentido": The intro consists of a repeated processed vocal, alien enough to make it unclear whether it's Middle Eastern, African, Spanish or Caribbean – but either way it's a call to action... then the beat comes in showing the first change of tempo from the dubstep 140bpm to a lazy, swinging 100 or so. Two piano chords see-saw through it; the air is thoughtful, meditative, sultry, hot... and the vocal emerging extended from the intro snippet is completely Afro-Cuban, the alienness no longer vague but rooted in time and place.
continued...
7. "Cuba Electronic": Leaps up from the relaxed moment of "Como Como" with a scampering clatter and hiss of percussion and cymbals, immense single note bass, and what sound like Hammond organ chords. When the rhythm breaks down it goes a little Gothic again, harking back to "Tribal" but then the conga solo brings warmth and humanity into the cold dark open space before it all thrusts back in.
Hear "Cuba Electronic"
8. "The Tunnel": The most obviously Mala and most obviously dubstep track yet: the first where the bass is given some mid range snarl rather than just being a underlying heft. It ebbs and flows, and the percussion is pushed back in the mix. There are no dramatic events and not a lot of darkness, this one is pure groove, only flute-like chords reminiscent of deep house music adding conventional musicality to the rhythm track.
9. "Ghost": Again a sense of continuing narrative as those house music-influenced chords underpin the kind of unison percussion rhythm you might expect to come from a clapping game. Then a triplet bass rhythm emerges sending the whole rolling along easily. This one is total bliss, a warm embrace of a track with a swinging trip-hop feel to the main beat plus the kind of rising and falling synth leads that you'd hear in the kind of rave tune DJs would play at sunrise circa 1990.
10. "Curfew": Simple piano chords become steadily more complex and expand into a real exotica experience – then a relentless 1-2 beat pushes forward and forward with the piano runs and top-note riffs echoing out into trails of sparkle. This one is all about harmony: thick, rich, evolving chords, heavy sweetness.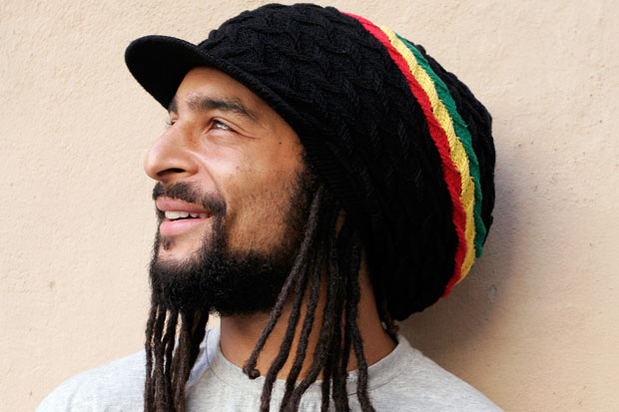 11. "The Tourist": The most trad Cuban sounds yet, the intro sounding like an actual band with bass, drums, guitar, and possibly an accordion. Each time we expecting the dubstep/electronic drop it doesn't come, instead this is a total dub track, feeling like a live groove given a live mix.
12. "Changes": Starting with a bling-bling-bling-bling piano alarm, this one – like "The Tourist" – sounds like it's got a double bass being played, and a real drumkit. It drifts and sways, with piano part sporadically picked out over the groove, a mist of strings rising up occasionally – then afer a few minutes a cowbell line takes the lead, bringing a vivid sense of contrast into to the dreaminess, while the strings rise up from beneath and the double bass morphs into something more electronic. This one really feels like a film theme.
13. "Calle F": The only other track apart from "Como Como" to shift from dubstep tempo – a rolling, self-tangled shuffled jazz rhythm, wooshes of Hammond, sharp trumpet interjections. This rhythm never sits still, the trumpet solo creeps in then launches itself with a series of pronouncements. Not a player showing off, but saying something.
14. "Noches Sueños" Ft. Danay Suarez: A grand finish. Starts, like "El Túnel", as a straight-up Mala rhythm with just a snippet of voice, then the first actual song of the record launches. It's like a Latino Erykah Badu making her statement from deep space, ghostly reggae chords ringing and sonar bleeps leaving echo trails behind them, a lot of Blue Lines era Massive Attack about this one – but as it goes on the raw bass control of dubstep comes in, then the steadiest groove of the whole album builds up, does its thing, then dies away. It's mightily impressive to have waited to the end to drop a conventional song structure, and doubly so to have made it work. But it works - it really, really works. This record, as the initial drama showed, is clearly designed for decent reproduction equipment; how it will work as it is picked up by individual listeners and played in different contexts remains to be seen - but on tonight's evidence, it is a monumental achievement, and perhaps a classic in the making.