Bamboo Blues, Tanztheater Wuppertal Pina Bausch, Barbican Theatre |

reviews, news & interviews
Bamboo Blues, Tanztheater Wuppertal Pina Bausch, Barbican Theatre
Bamboo Blues, Tanztheater Wuppertal Pina Bausch, Barbican Theatre
The World Cities series continues with a magical trip to Kolkata
Thusnelda Mercy in 'Bamboo Blues': 'fluid, spiralling movements and a series of frenetic sequences'
Premiered in 2007, Bamboo Blues was generated by a visit to Kolkata; and with the simplest of means, designer Peter Pabst conjures the vast landscapes of India.
The first half unfolds against a backdrop of white muslin curtains rippling in the wind; the long hair and flowing dresses of the dancers are similarly activated by this elemental force, whose energy creates an ongoing sense of excitement and expectation (even though we know the air currents are generated by a wind machine).
Later the curtains become a screen for footage of palm trees and dense forest; for scenes from the Mahabharata (a sacred Hindu text featuring the epic conflict between good and evil) performed by actors in grotesque masks; and a giant poster of Bollywood stars locked in emotional conflict. Meanwhile on stage, the tension is ramped up by the violent gusts of wind engulfing the doomed lovers, which are produced by two men flapping bits of card out of shot, as it were. The humour of this absurdist scene comes from the contrast between romance and bathos; and the dénouement features the glamorous heroine twirling round the space, looking gorgeous in a green gown, while declaiming: "I had a dream I was flying. I was cooking and flying... I was cleaning the floor and flying... I was ironing and flying...."
It is one of a series of delightful vignettes that conjure the sights, sounds and even smells of the vast continent. A group of reclining women chewing betelnut form an exquisite tableau; a sadhu walks around balancing branches on his head, arms and shoulders; a smiling contortionist arches her back to rest her toes beside her ears (or so it seems, until the owner of the legs reveals herself).
A man in a call-centre takes orders for pizzas to be delivered in Brooklyn 15 minutes later; two men share a makeshift shower – a fine mist emanating from a crop sprayer – while a woman washes her hair in a bucket and a man vigorously lathers his chest with copious amounts of soap. The elephant-headed god Ganesha is paraded abroad and a young woman demonstrates classical Indian dancing and shows us how to pleat a sari.
These exotic snapshots are interspersed with languid solos by women whose long dresses and flowing hair augment their fluid, spiralling movements and a series of frenetic sequences danced with exquisite clarity by young men to the syncopated beat of the tabla.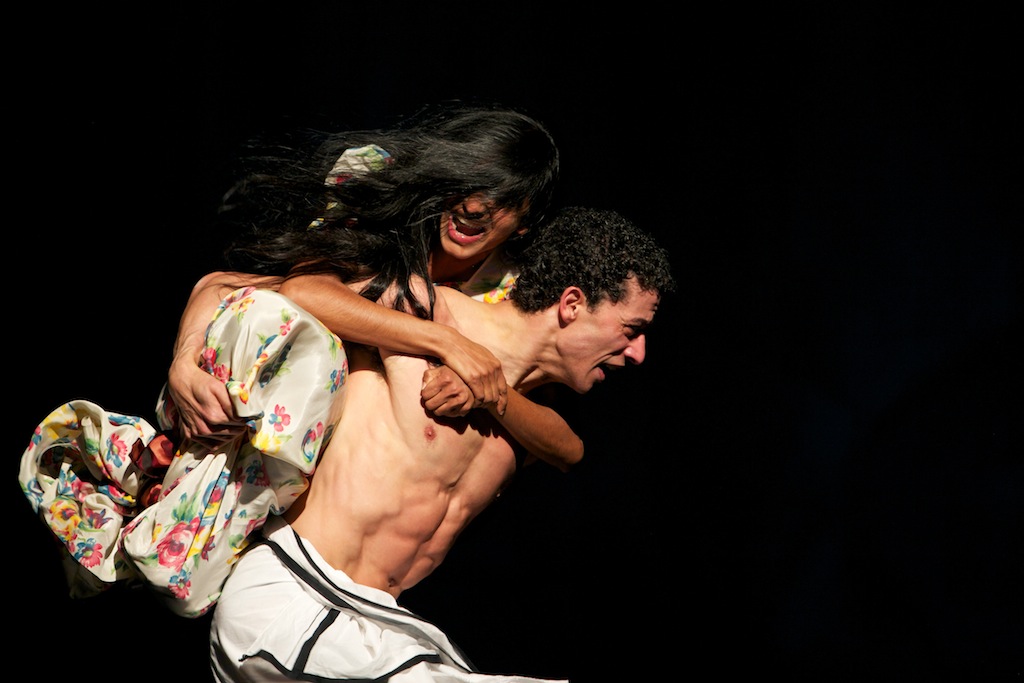 There are moments of pure dance magic. A couple runs in a circle round the stage; they part and, jumping onto a chair, she leaps headlong into his waiting arms. This breathtaking manoeuvre happens incredibly fast, requires perfect timing and implies absolute harmony. Another couple blissfully shares a bed and, later on, her long dress provides a scarlet cocoon for their happy union; but other relationships appear more fraught. A dancer walks all over her partner – in a vertical march up his body helped by a collaborator – and assaulting a young woman, a man leaves her with violent red slashes right across her chest.
Many of the sequences are revisited in the second half, and the piece ends as it began, with the betelnut-chewing tableau and a solo whose fluent motion has a timeless circularity implying continuity rather than change. The structure – of solos, duets and ensemble sequences interspersed with gorgeous visual tableaux and moments of comedy – may be familiar from other pieces in Pina Bausch's hugely ambitious "World Cities" cycle. But when things cohere this effectively, who cares if they rely on a formula? With its superb dancing and evocative glimpses of another place and culture, Bamboo Blues is a magical piece.
There are moments of pure dance magic
Explore topics
Share this article