First Night of the 2011 Proms |

reviews, news & interviews
First Night of the 2011 Proms
First Night of the 2011 Proms
A muted start, but the curtainraiser brightens towards a Janáček stunner
Jiři Bĕlohlávek: Iron fist in velvet glove for Janáček's blazingly original Glagolitic Mass
Here we are again. Marvel as you enter at the aptly gaudy lighting of Albert's colosseum, but know that unless your place is with the Prommers towards the front of the arena, the musicians will often sound as if they're in another galaxy - maybe one hinted at in the George Herbert words, if hardly the Judith Weir music, of the opening BBC commission, Stars, Night, Music and Light.
Though spattered with Messiaenic orchestral paint - not to mention the
obbligato
sniffalong from my annoying neighbour - it felt like a very tame, rather olde-British gambit. Not so the great blazes and catastrophes of the far fresher-sounding 1927 masterpiece in the second half, by a Czech composer BBCSO chief conductor Jiři Bĕlohlávek knows a thing or two about.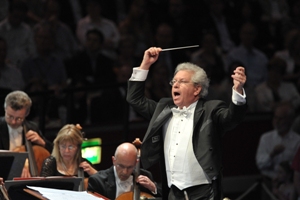 Bĕlohlávek (pictured right on the night) was also perfectly placed to switch on the ideal romantic colour and mobility he now knows how to get from his players in Brahms, an asset in training and shaping the collective sound which may turn out to be his finest legacy when he leaves the BBC Symphony Orchestra next year to return to his beloved Czech Philharmonic. At any rate, despite the choral forces and David Goode at the now-resplendent Albert Hall organ for the Weir fanfare, the Academic Festival Overture was where the concert truly began, with pawky character from the bassoons headed by the excellent Julie Price leading the way and Bĕlohlávek doing his best to negotiate Brahms's sleek craft through the reefs of the Albert Hall.
Unless we'd looked at our programmes we weren't expecting the BBC Symphony Chorus and BBC Singers to spring to their feet again for Brahms's treatment of the "Gaudeamus igitur" at the end; nor, I suspect, was the estimable programme-note writer Calum MacDonald, though heading and footnote told us that the interpolation was made by vintage Prom maestro Malcolm Sargent, with an extra line declaring - in Latin, of course - "Long live music colleges!"
Amen, naturally, to that - especially if they continue to nurture and raise the game of such wunderkinder as Benjamin Grosvenor. The light grew brighter still with the advent of Youth - a canny Prom theme this year - in the shape of the 19-year-old pianist. It was a bit of a shame, perhaps, that he was playing Liszt's over-extended, if originally structured, Second Piano Concerto rather than one of the rarer fireworks he says he wants to feature in his repertoire (the Britten Concerto, for instance, would have gone down a treat with its naughtiness on the first night). But it's Liszt's anniversary year, and Grosvenor had very different things to say about this mostly dreamy romantic warhorse than Daniel Barenboim had with Boulez a month ago. Here was a capricious lamb compared to Barenboim's thickset roaring tiger.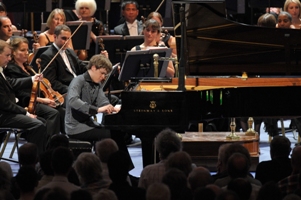 Grosvenor's crystalline clarity projected nearly every note effortlessly into the vast auditorium's spaces. He doesn't ever have to force for effect, so it was perhaps a pity that in his encore he didn't heed Barenboim's observation - as conductor rather than pianist - that one of the Albert Hall's most surprising assets is how you can draw the audience in rather than have to reach out for its approval. The poetry of which we know already Grosvenor's more than capable would have worked more magic solo-wise than the flashy transcription in which the bold outlines of the most famous Brahms Hungarian Dance (No 5) get lost in the transcendental filigree of that maverick pianist-arranger Georges Cziffra (the pianist going through his paces to an admiring orchestra pictured above left). Never mind; this was consummate, too, after its fashion, and a long way from the horror of James Rhodes's Mozart encore massacre at Cheltenham last week.
Still, the grown-up stuff was yet to come. Bĕlohlávek's way with Janáček, in this case the open-air cathedral service of the Glagolitic Mass in its rarely heard pre-premiere form, is rarely as rough-and-tumble as the composer's extreme textures would seem to merit. Instead he lights this singular music from within, an approach which clearly leaves lovers of flash very cold. Again the Albert Hall often helped rather than hindered, much to my surprise, leaving the BBCSO's consummate timpanists, risk-taking trumpets and shatteringly effective trombones led by the fabulous Helen Vollam to tear through the velvet. With Bĕlohlávek, every one of Janáček's extraordinary and never over-exploited ideas - young composers, take note - had its gravity or its weightlessness. And he knew where truly to let rip, above all in the mini-opera-for-orchestra that is Janáček's unique depiction of the crucifixion, terrifying and timeless - a cry for the violence around our troubled world, too.
'Thanks to Bĕlohlávek's inscaping of Janáček, you come away thinking, what a work, rather than, what a performance'
At first it seemed as if the choruses would be too polite, too English, to hurl around the exultations - that didn't quite happen in the abrupt "Amens" of the Creed - but they soon came into their own, most impressive in terracing the urgency of the old Church Slavonic "have mercy"s of the Agnus Dei. The four soloists were in their way as uneven a bunch as the much more unfortunate line-up of last year's opening Mahler Eighth Symphony, but the slightly acidic tone of Hibla Gerzmava's urgent pleading was useful for cutting through the hall.
Heldentenor Stefan Vinke could cut, too, and his part is hideously high-lying, but you didn't want to hear it quite as herniated as that. Odd that his biography didn't mention how he stepped in to the much more extended tenor role for that Mahler Eight here in 2010 - and then we gave him the benefit of the doubt. But I fear for London's next Ring if he sings Siegfried as advertised. There was a bass, Jan Martiník, who ought to make a lot more noise for his size, and a mezzo, the admirable Dagmar Pecková, cruelly under-employed by Janáček.
But the star soloist in what is otherwise a fervent communal experience is the organist, and although Goode somehow managed to make the turbulent solo which falls where we least expect it seem a little reserved even on the Albert Hall organ, the final chord resounded as it could never hope to do in Catherine Edwards's more consummately handled Barbican contribution for Sir Colin Davis last year. The string hurly-burly around the ensuing final trumpet cavalcade is over in little more than a minute, but it's still ringing in my ears at midnight. And thanks to Bĕlohlávek's inscaping, you come away thinking, what a work, rather than, what a performance. I've heard other Glagolitics which hit greater adrenalin highs, but none which moved me more deeply.
Share this article