Mutter, LSO, Sir Colin Davis, Barbican |

reviews, news & interviews
Mutter, LSO, Sir Colin Davis, Barbican
Mutter, LSO, Sir Colin Davis, Barbican
London's loudest hall constricts the fervour of Janáček's Glagolitic Mass
In his Glagolitic Mass, Janáček envisions an orthodox service al fresco
It didn't help that the London Symphony Chorus sounded rough and hectoring rather than earthily ecstatic - and I'm not sure how well they had been coached in the Czech-language mass settings. Heroic tenor Simon O'Neill, Sir Colin's last-minute Otello in the LSO's 2009-10 season, slipped in a couple of bizarre "Svats", too, between the "Svets" of his colleagues, but his anguished trumpeting - strikingly complemented at one point by a shrill, muted equivalent in the orchestra - suited his role as urgent celebrant. There were angelic sounds from soprano Krassimira Stoyanova, and Catherine Edwards, usually the LSO's orchestral pianist, did an amazing job with the limitations of her amplified organ solo - but this is, after all, one of several giddying climaxes to the piece and deserved the real thing.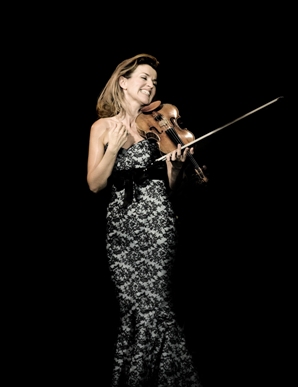 Davis did an excellent job on the abrupt cut-offs in the orthodox amens of Gloria and Credo, and there was the right sort of rough-edged agony in the vivid orchestral interlude depicting the Crucifixion; but the perspectived clouds of glory were missing and the few more reflective moments oddly lacking in atmosphere, despite striking blends of cellos with the three trombones. Perhaps when the production team comes to deal with the LSO Live release I presume is in the offing, it can put a bit of a halo around the sound.
Janáček's great Czech predecessor Dvořák hardly fared better, but then the Violin Concerto is not among his masterpieces. The protagonist comes across at best as the Bohemian equivalent of a jolie laide, not really cut out for the first movement's high-toned postures, hardly singing a memorable song at the concerto's heart, but good enough at dancing when it comes to the finale. Anne-Sophie Mutter (pictured right by Harald Hoffmann for DG), though she looked the fashion-plate goddess as ever, had applied too much make-up to her role.
The lipstick sometimes smeared in overdone portamenti, and the notes occasionally slid off-piste. The best you could say was that Mutter's febrile character kept the work from falling into anonymity. But it wasn't the most co-ordinated of partnerships with a once again too loud LSO, and though I don't want to hear the work again in a hurry, I much preferred BBC New Generation Artist Veronika Eberle's Maida Vale performance with Jiří Bělohlávek conducting a couple of weeks back - once past a sticky opening, a more sincere approach to easy Bohemianism.
Anne-Sophie Mutter, though she looked the fashion-plate goddess as ever, had applied too much make-up to the Dvořák Violin Concerto
Share this article