Água, Tanztheater Wuppertal Pina Bausch, Barbican Theatre |

reviews, news & interviews
Água, Tanztheater Wuppertal Pina Bausch, Barbican Theatre
Água, Tanztheater Wuppertal Pina Bausch, Barbican Theatre
Wuppertalian capers with a Brazilian twist don't amount to a masterpiece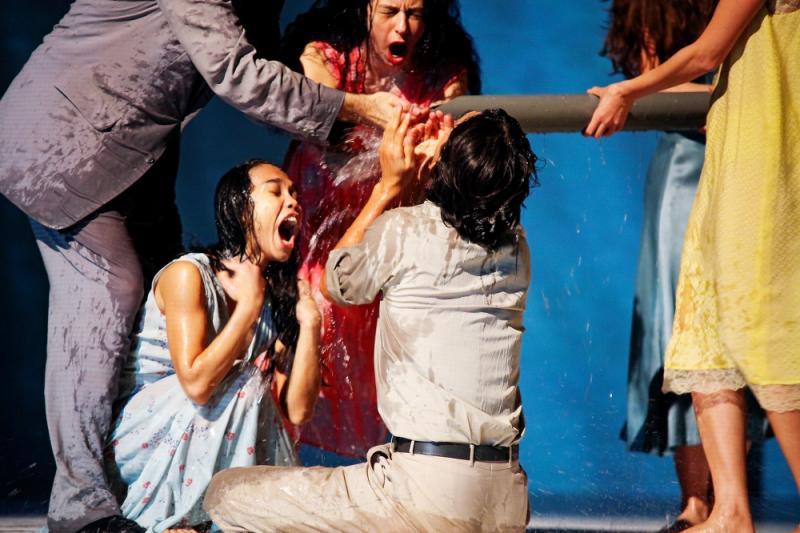 Bausch's cast enjoy a watery moment towards the end of Água—but are the audience still with them? (Photo: Oliver Look)
It opens with a siren saying she's got cramp. She's glad she's got cramp because she can stay outside and enjoy the sky. It closes with people blowing water at each other, glugged from plastic bottles. In between nothing happens.
Well, that's not quite true. One woman strokes her beautiful brown legs with a brush. Another lies down and says - as, so often in Bausch, in irritating English - "Don't pass the line" (actually it should be "cross"). Two men chuck a spear between them. The cast loll around in beach gear with cocktail languor. There are dozens of other moments of utter inconsequence. Lots of people speak, throughout, but it's all childish. Lots of people also tumble and cavort, and lots of them do solos which some might call dance; others, versions of a shimmy you've worked out in your bedroom.
The Pina Bausch season at Sadler's Wells and the Barbican, two shows short of the 10 programmed, is now at considerable risk of exposing the late German choreographer's thematic inanity. Água isn't a bad show. Any sequence of episodes featuring high-flying performers who've drunk in the Bausch elixir - do your own thing, self-express, dig into your traumas - is more or less guaranteed to entrance.
Doing so to bags of pretty Brazilian pop tunes is, moreover, surely a shoo-in. Água ("water" in Portuguese) was created 11 years ago with help from the Goethe-Institut in São Paulo. It visited Edinburgh in 2010. It addresses nothing that matters about Brazil - its inequalities, its intricate cultural self-examination, its sense of removal from the global mainstream - but Bausch was not a sociologist. Drumming and percussion, however, are plentiful; palm trees quiver on a backscreen projection, along with at one point, bizarrely, orangutans in a rain forest (apes native only to Asia, I thought).
Maybe it's harsh to claim that Tanztheater Wuppertal's most interesting posthumous challenge (Bausch died in 2009), to change, reduce, refine and shake up her over-long entertainments, is not being met by her successor artistic director, Dominique Mercy, now 61; but Água looks little different from its seven London-showcased predecessors. Sanctity surrounding this adventure (and the acolytes are legion) should be tempered - by those who worked for her, and why not? - by affectionate sabotage: a concept Bausch herself understood well.
If anything shines through here, it's Julie Shanahan's perfomance (pictured above): moments of burbling neurosis crossed with a dance passage of elegant, sensual invention. Shanahan's been a Bausch stalwart for a quarter-century and alone in this show seems to carry the Wuppertal spirit of comic misberalism. Many of her younger colleagues are tremendousy lithe, but then so are gymnasts limbering up for the Olympics. Água is great fun but, frankly, neither troubling nor troubled enough.
The Pina Bausch World Cities season continues until 9 July
Água isn't a bad show. Episodes featuring high-flying performers drunk on the Bausch elixir—do your own thing, self-express—are guaranteed to entrance
rating
Explore topics
Share this article