Marina Abramovic: The Artist is Present |

reviews, news & interviews
Marina Abramovic: The Artist is Present
Marina Abramovic: The Artist is Present
The grandmother of performance art wows New York in this life-affirming documentary
Every day for three months Marina Abramovic performed 'The Artist is Present'
For three months in the spring of 2010, New Yorkers were gripped by Abramovic fever. The mania owed its origins to a somewhat unlikely source – a retrospective at the Museum of Modern Art (MoMA) of a 63-year-old Serbian performance artist.
Performance art is not exactly mainstream entertainment and Marina Abramovic is scarcely a household name, yet such was the enthusiasm generated by her exhibition that 750,000 people visited it in three months; many of whom queued all night for an audience with the artist.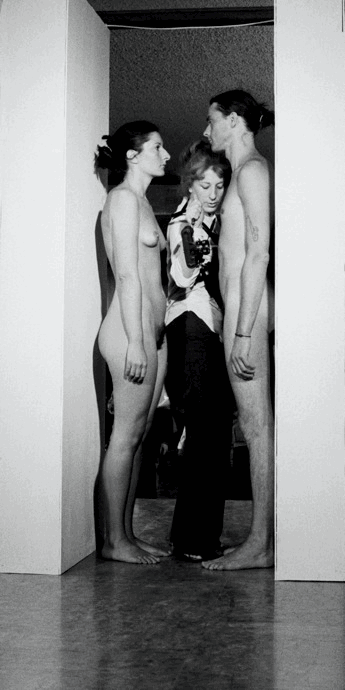 The hysteria was stoked up by shock/horror media coverage of nudity and stories about performers being groped by members of the public. The work that caused the uproar was Imponderabilia, restaged for MoMA along with four other early Abramovic pieces by young artists of both sexes.
I experienced the piece when it was first shown in 1977 at Documenta, an international art fair held every four years in the German town of Kassel. Abramovic and her partner Ulay (pictured right) stood in a doorway facing one another; the opening was so narrow you had to squeeze through sideways, which meant looking at him or her, a choice complicated by the fact that both were stark naked.
But in those days, the punters were far too embarrassed by the proximity of exposed flesh to dream of violating it.
Matthew Akers' film Marina Abramovic: the Artist is Present follows the artist during preparations for the New York show and the exhibition itself. His sympathetic and hugely watchable documentary is as much about the artist as her work and she comes across as warm, generous, considerate, vulnerable and deeply thoughtful – something you couldn't say of many mortals let alone a grande dame of the international art scene.
The artist's somewhat aloof demeanour turns out to be a technique for stealing herself for the task she has set herself. "Performance is all about your state of mind", she explains. "The public is like a dog; they can feel fear, they can feel insecurity, and they can feel if you are not there." She adds, in her oddly phrased English, "Artists have to be warriors. He has to conquer himself and his weaknesses."
Her propensity for testing her limits in performances that involve whipping, cutting and burning herself stems, we learn, from a childhood bereft of love. Her mother, who was a major in Tito's army, ran the household with military precision, training her daughter to be a soldier – even waking her at night if her bed was deemed too untidy.
Her need for love was answered in the form of Dutch artist, Ulay. The couple were inseparable and for five years they lived in a Citroen van touring Europe and showering in petrol stations. They devised performances that explored male/female interdependence but also tested their relationship to its limits. In A.A.A they screamed at each other until their vocal chords gave out; in Relation in Time they sat for 17 hours with their hair knotted together (pictured above) – literally tied to one another – and in Breathing in and out with Ulay (1977) (pictured below) they breathed the contents of each others lungs until lack of oxygen made them pass out.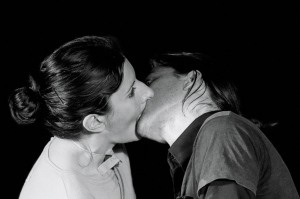 Starting 5,000 kilometres apart, in 1988 they spent three months walking towards one another along the great wall of China. The Great Wall Walk (pictured below) was supposed to culminate in their wedding, but Ulay had begun an affair with their Chinese translator and, when she became pregnant, their fruitful collaboration came to an end.
"I was 40, fat, ugly and unwanted," recalls Abramovic. "I'd lost my love and I'd lost my work." So she went shopping: "I had a pedicure, a manicure and bought my first designer clothes. Since then, I love fashion!" She also relaunched her career as a solo artist, continuing to test her capacity for endurance in ever more theatrical performances that gained her an international reputation and the epithet "grandmother of performance art".
The film achieves a major coup in bringing the couple together once again. "Our 12 years together was as intense as most people's whole lives," recalls Abramovic. "Now after 24 years, we are able to be under the same roof again and the third act is to get close and forgive each other."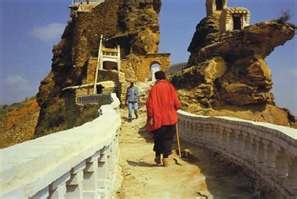 The phenomenon that prompted people to queue around the block, though, was The Artist is Present, a mammoth performance staged by Abramovic all day, every day for the duration of the show (see main picture). Like the pope, she gave an audience to anyone who cared to sit opposite her. Wearing a long, priest-like robe and sitting in silence before a throng of onlookers, she welcomed each person by gazing into their eyes for as long as they chose to remain. '"The hardest thing", she explains, "is to do something which is close to nothing" and, judging by the effect on those witnessing the event as well as on those taking part – tears flowed copiously – many of the encounters were extremely intense.
"There is pain", she says of her appearances, which involved sitting in the same chair for seven and a half hours a day without eating or drinking, "but as soon as you go through the door you enter another state of mind – a feeling of lightness, a state of holiness – and the public feels that something is different." And sure enough, as the days passed, an atmosphere of anticipation and reverence, verging on hysteria, built up. When the museum doors opened each morning, the waiting throng ran in to grab a good spot to witness the day's encounters. The fervour had a quasi-religious flavour and I was reminded of believers praying in front of statues of the Virgin and other saints. Abramovic had temporarily been allocated the role of high priestess, it seems, rather than of artist.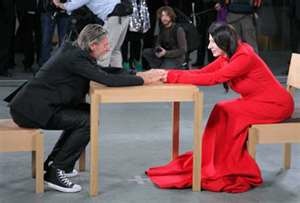 When she opened her eyes to find Ulay sitting opposite her (pictured right), she smiled and reached out to take his hand; the audience cheered. They cheered again at the end of the three month performance which few people, including the artist, believed she would be able to complete. She was clearly exhausted, but also deeply moved and I challenge anyone not to be affected by this life-affirming film, which records her courage with such warmth and sensitivity.
Watch the trailer to Marina Abramovic: the Artist is Present

The fervour had a quasi-religious flavour; Abramovic had temporarily been allocated the role of high priestess rather than of artist
rating
Explore topics
Share this article