The Taming of the Shrew, Shakespeare's Globe |

reviews, news & interviews
The Taming of the Shrew, Shakespeare's Globe
The Taming of the Shrew, Shakespeare's Globe
Shakespeare's vexed comedy comes to rude, raucous, and vibrant life
Dream team: Samantha Spiro and Simon Paisley Day wage merry war
The Taming of the Shrew celebrates its own rumbustious, raucous (mis)behaviour, so why shouldn't Shakespeare's comedy be granted a production that follows suit? From an opening gambit involving bodily fluids sprayed in the direction of the groundlings to a food fight later that would put the bad boys of Posh to shame, Toby Frow's directorial debut at Shakespeare's Globe turns up the volume to consistently giddy effect.
That the staging also finds uncommon delicacy in a play that can seem as "cursed" as its eponymous heroine speaks to the dream team of Samantha Spiro (pictured below, mid-taming) and Simon Paisley Day as the shrewish Katherina, or Kate, and Petruchio, the swaggerer who manages to tame her. A piquant match who throw themselves (sometimes literally) into roles that can look like dry runs for Beatrice and Benedick in Much Ado, these performers look to do for the current Globe repertoire what Eve Best and Charles Edwards accomplished at the same address last year in Shakespeare's later, more mature comedy. When it comes to astute couplings, this is becoming one of the savviest addresses in town.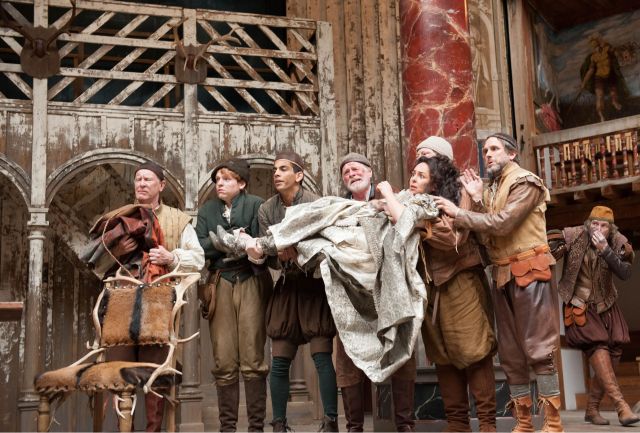 Frow's conceptual achievement lies, in fact, in the very lack of the sort of arch, hyper-ironic concept to which Shrew has long been subjected, not least by those determined to make sense of a climactic capitulation from Kate that can be hard going these days. (A darker interpretation has certainly borne fruit: Edward Hall's Propeller company in 2007 turned the play into a sobering study in domestic abuse.) But taking the boisterous high spirits very much on their own terms, Frow and his cast chart the softening of a rebellious presence who might be happier in herself if she would only learn to calm down. For once, Kate's 11th-hour "surrender" reads as a genuine sweetening of the soul, not as some Bardic lesson in how to fashion an Elizabethan-era Stepford Wife.
A combatant in life as well as love who isn't above throwing random punches at the groundlings, Spiro's galvanic Kate points up the undoubted psychological effects of forever being found wanting by comparison with a beauteous younger sister, Bianca (Sarah MacRae, very good in a throwaway role), a scenario that is none too likely to find so vilified a sibling scurrying to the altar. Taking in Petruchio at a protracted first glance as if to suggest against the odds that she might actually like what she sees, Kate can no more easily subdue her naturally barbed ways than she can submit to a kiss in public. Affection, one feels, has not often come her way.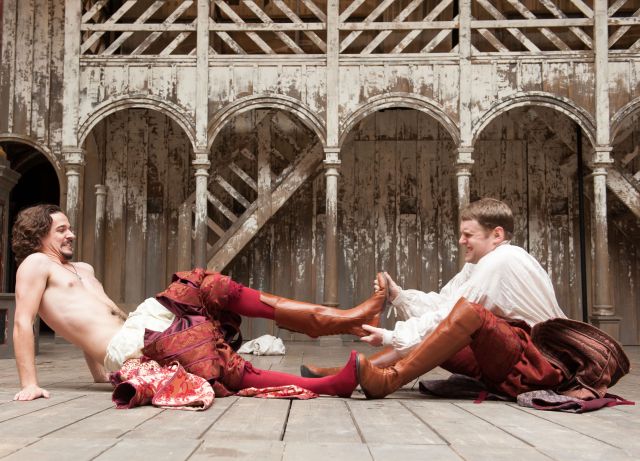 So it emerges as something of a triumph when Kate is able to shed all sense of shame and submit to the longings that have been there from the start. (Among various textual emendations, Frow supplies a voluble if unseen moment of coital excitation.) Somewhat resembling a more compact version of Elizabeth Taylor in the 1967 film of Shrew, Spiro lets you feel the degree to which her gathering peace with herself only amplifies her passion for Petruchio, whom the ever-wonderful Day (a onetime Timon of Athens on this stage) plays like a strict if smitten teacher saddled with an unduly recalcitrant student. Small wonder after the interval that his retinue look eagerly on, keen to see whether the woman whom Petruchio talks of loving is quick enough on the uptake to learn how to respond in keen-wittedly amorous kind. (Short answer: she is.)
The staging is rife with business, ranging from Day's willingness to bare (almost) all to an extended aural joke accompanying the oft-repeated reports of Petruchio's dead father. The machinations of the pursuit for Bianca's hand in marriage go on too long as usual, though her suitors are at least enlivened by adroit supporting turns from Joseph Timms (pictured above left, with Jamie Beamish as Tranio) as an amusingly wet Lucentio and Michael Bertenshaw as a fruity, and fun, Gremio; meanwhile, playing Petruchio's lackey, Grumio, a hangdog Pearce Quigley is a dead ringer for Nigel Planer. There will undoubtedly be those for whom the pile-up of antics reaps diminishing returns, but any excesses pale next to the achievement of a production that has accomplished a taming of its own. Not in some while has so potentially sour a play seemed this sweet.
It charts the softening of a rebellious presence who might be happier in herself if she would only learn to calm down
rating
Explore topics
Share this article