Wallander, BBC One/ Sinbad, Sky 1 |

reviews, news & interviews
Wallander, BBC One/ Sinbad, Sky 1
Wallander, BBC One/ Sinbad, Sky 1
Can the Swedish detective find true happiness with Sir Kenneth Branagh?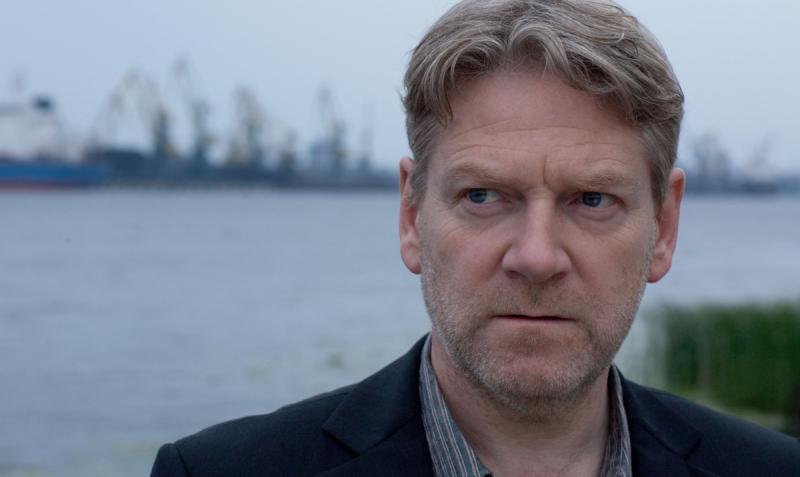 Sir Ken: gruff, grim and grizzly as the careworn Swedish sleuth
Every leading thespian needs a depressive Swedish detective in his repertoire, and Kenneth Branagh has the knighthood to prove it. He may also face a little extra critical scrutiny this time around, since the return of his Anglicised Wallander comes in the wake of the recent Scandi invasion, courtesy of The Bridge, Borgen and The Killing II.
We've even had a little dose of
Sebastian Bergman
, starring Rolf Lassgard, famous in Sweden for his portrayal of Kurt Wallander. And we've had the Swedish
Wallander
itself.
How do Branagh and co measure up? Pretty well I guess, though it's always going to be a bit weird watching a bunch of actors talking in English while reading Swedish newspapers, while the UK edition likes to pamper itself with lusher production values than the grittier Nordic originals. It even seems to be blessed with slightly better weather than the home-grown versions.
Much of this first episode was set in picturesque (though of course melancholy) open countryside, rather than the dingy urban gloom we've grown accustomed to. This was because Wallander has bought himself a new house in the country, where he's been having a go at being in a relationship with Vanja (Saskia Reeves). His efforts to drag himself away from the grim obsessiveness of police work and develop his inner emotional landscape were going swimmingly for the first seven or eight minutes, until Wallander's dog dug up a corpse in the back garden (Wallander back at work, pictured above).
The piece was constructed around the investigation of this murder in parallel with Wallander's efforts to piece together the final hours of Marinka Novak, a Polish woman working as a prostitute in Sweden who had fallen from, or been thrown off, a ferry. Wallander is fond of saying that there's no such thing as coincidence, but I don't know what word he'd use to describe the fact that the twin killings eventually led right back to his own doorstep.
It was all smoothly shot and constructed and skilfully played, yet I found myself a little less than enthralled. Perhaps it was the knowledge that this Wallander, in fine BBC style, is only an unsatisyfingly brief three-part series. Also I've grown rather fond of listening to my Swedish detectives speaking Swedish while I read the subtitles.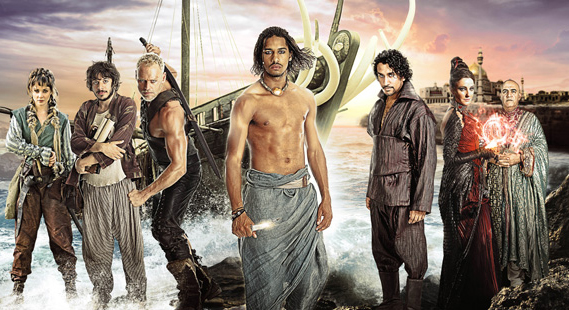 Sky 1's new Sinbad (cast pictured left) is trying to reproduce the thrills and mysteries of old Hollywood adventure movies by ladling on the high-definition digital technology, but they'd have been better advised to spend more money on the cast and the script. True, there is a rare glimpse of Janet Suzman, who plays Sinbad's grandmother as an eye-rolling pantomime crone, while Orla Brady is disastrously cast as a sorceress who's been hosed down with ludicrous eye make-up and sewn into a set of curtains. In the lead, meanwhile, is newcomer Elliot Knight, a cheeky ducker-and-diver who looks and sounds as if he's just come in from a night of manning the turntables in some groovy basement in Hackney.
Sinbad is a thief and a con-man in eighth-century Basra (it was actually shot in Malta), but his hustler's life goes bad when he kills the son of Lord Akbari (Naveen Andrews from Lost) in a bout of bare-knuckle fighting. Ms Suzman, deploring his wicked ways, sentences him to sail the oceans perpetually, never spending more than 24 hours on land. She enforces her sentence by placing a magic bracelet around his neck, which starts to strangle him whenever he spends too long ashore. To sum up, it's dreadful, though I can reveal that there is a rather excellent animated gryphon in episode two, which has more personality than the rest of the cast put together.