Otello, Royal Opera House |

reviews, news & interviews
Otello, Royal Opera House
Otello, Royal Opera House
This Moor and his unfortunate wife are well up to the high standards of conductor Antonio Pappano's vintage Verdi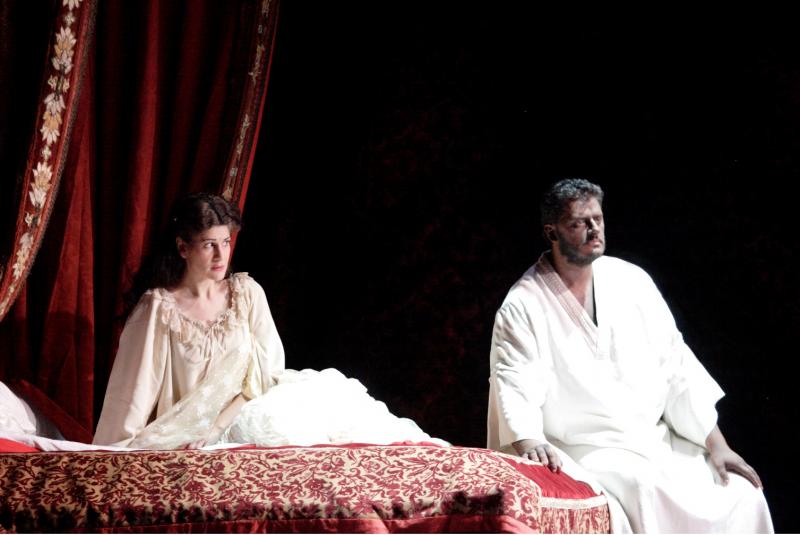 Have you said your prayers tonight, Desdemona? Anja Harteros and Aleksandrs Antonenko in Otello
Pardon the anomaly of a lightly browned-up Latvian Moor married to a German-Greek beauty. This, after all, is not Shakespeare's play but Verdi's opera, for which all too few are born to sing heroic tenor Otello and lyric-dramatic soprano Desdemona.
Great singing from Aleksandrs Antonenko and great everything from Anja Harteros vindicate Royal Opera music director Antonio Pappano's decision to give Elijah Moshinsky's 25-year-old production a proud place in the World Shakespeare Festival and to mix finesse with power in realizing every facet of this astonishing score.
The framework still holds it all together thanks more to designer Timothy O'Brien's well wearing columned Cyprus, handsomely allied to Renaissance Venice, than to much of what happens within it. The gulf between a hard-working movement group and the block semaphoring of the chorus, free at least to chart the progress of the opening storm without any vocal smudges towards a terrific climax, feels very 1980s.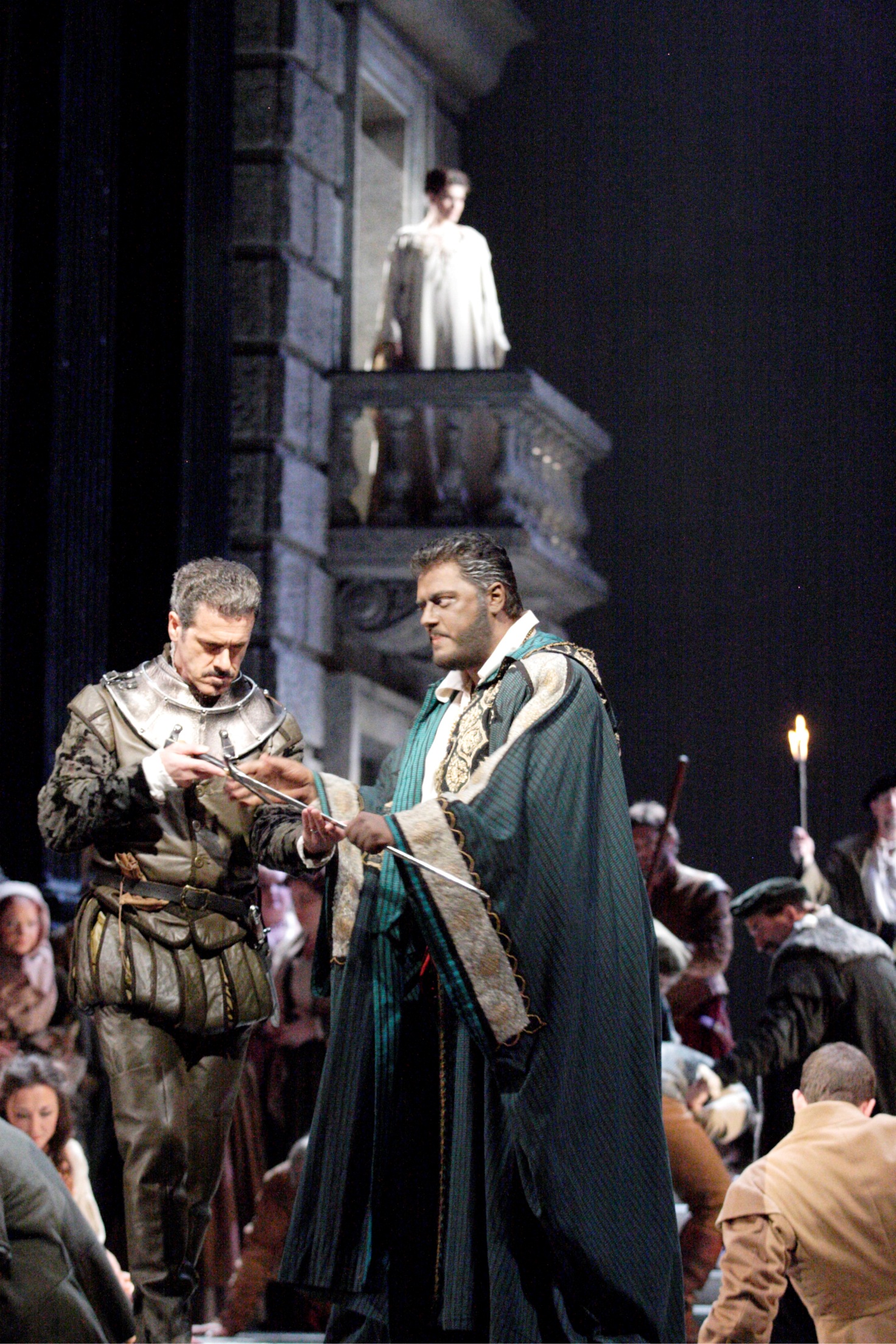 Antonenko's Otello (pictured right, with Lucio Gallo's Iago) is gestural but dignified, perhaps a little too much so as jealousy racks his pride – though as he falls to his knees to swear vengeance on his wife's supposed betrayal, music and drama certainly become one. As they do in his rock-bottom Act Three soliloquy and the anguished cries of "Desdemona" after the murder: Domingo, after all these years still the Royal Opera's benchmark Otello, would surely doff his cap to those. And the security of Antonenko's beaten-bronze tenor is never in doubt.
Proof that it's possible to have both the voice and the physical ease is incarnated in Harteros's lovely lady. Her intentions are clearly etched in the early stages of an ineffable love duet: enfolding Otello with natural tenderness, soon to have him enfold her, and phrasing with incandescent distinctiveness; her responsive "Amen" is a moment to savour, and Pappano supportively does just that. The Act Two Quartet showcases a soprano of flawless assurance from well-projected chest voice to seraphic heights, and the big indignant blazes against Antonenko's well-inflected ironies have her powerfully pulling out Verdi's bigger stops - a warrior to match her consort, if only it weren't for his tragic flaw. She has the careful measure, too, of the anguish barely contained by the plangency of the Willow Song. It's a mark of her believable goodness that you hope this Otello might change his mind about the killing.
So much for the tragedy. The villainy is rather less convincingly mastered by Lucio Gallo's Iago. You feel the powerful evil inflected chameleon-like by Pappano's orchestra for his Credo is bigger than the baritone who senses it around rather than within him, and who tensely strains to match his master down in the pit. Gallo is better at the quiet intensity in "beware, my lord of jealousy" and in his nasty insinuation of Cassio's talking in his sleep; there's just enough here to send this Otello hurtling towards the abyss.
Otherwise, the confidence of this revival is reflected in the smaller roles, including a far from lightweight Cassio, Antonio Poli, who relishes his brief moment in the sun, and Brindley Sherratt as a stalwart Venetian ambassador. Pappano makes sure there's no question of instrumental pallor even in the usually throwaway moments of narrative business, and his orchestra brings down the tragic curtain with chords of the utmost gravity. What golden times these are for Verdi at Covent Garden – and the Shakespearean breadth of the composer's imagination continues in anniversary year, when the conductor and Harteros are to be re-united in Don Carlo.
It's a mark of Harteros's believable goodness as Desdemona that you hope this Otello might change his mind about the killing
Share this article