First Night of the 2012 Proms
First Night of the 2012 Proms
An all-British start to the Proms with four conductors, not much flag waving, and limited joy
Going for Gold: Martyn Brabbins, Edward Gardner, Mark Elder, Roger Norrington
Two weeks to go to the Olympics, of course, but the Proms Olympics – 84 concerts in 60 days – have already taken off, with Britain placed first, second, third and fourth. For last night's First Night concert was one where everything except Canadian singer Gerald Finley was British: the composers, the conductors (all four of them), the orchestra, certainly the weather.
There was also something distinctly British about the concert's failure to be unquenchably festive. The best of the BBC Symphony Orchestra's playing, and some of the BBC Symphony Chorus's most ravishing sounds, went into Delius's Sea Drift, a piece that spins the deepest melancholy from contemplating a pair of seagulls, one possibly dead, the other bereft over his absent mate. Lovely stuff mostly, particularly with Sir Mark Elder's caressing conducting, and Bryn Terfel's vibrato under decent control as the narrator voice of Walt Whitman's poem (pictured below), casting his mind back to childhood sorrows.
The musical equivalent of those nasty sofas covered in red plastic
Not a barrel of laughs, though; nor, for different reasons, was Mark-Anthony Turnage's Canon Fever, commissioned by BBC Music Magazine to celebrate its 20th birthday and the one piece in the programme that reminded us that living British composers actually exist. Three minutes of squiggly, smudgy brass writing, accompanied by jazzy shivers and thumps from the percussion, it was raucous and tasteless, the musical equivalent of those nasty sofas covered in red plastic, always on sale. Edward Gardner was the assigned conductor, poor chap; he didn't persuade the orchestra to excel.
Still, if that opening piece got the teeth grinding, there was always the birth of Prince Charles to look forward to. Michael Tippett, not a composer who usually wrote to order, was commissioned by the BBC to celebrate that momentous event of 1948 with a Suite for the Birthday of Prince Charles. Alternately muscular and tender in a folksy-but-modern New Elizabethan way, it's not music that a baby could do much with; but it's pleasing enough for adults if conducted sharply. I'd expected Martyn Brabbins to handle this well, and he did in the second movement's lilting Berceuse and the third's medieval carol. But elsewhere, we should have had tighter rhythms, more cut and thrust; more secure pitch from woodwinds and brass too.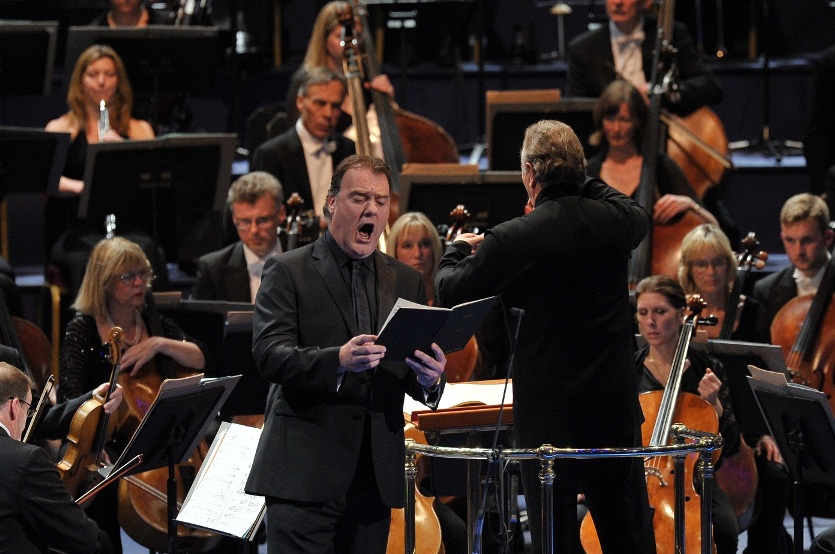 The other featured composer was Elgar: what would the Albert Hall do without him? We had two dollops, and Sir Roger Norrington took him on first with the overture Cockaigne: Edwardian London set to music. It bustled along; it throbbed, nobilmente. Even so, a vital spark seemed missing; the performance came and went. So did Elgar's Coronation Ode, but not without making some of us turn queasy over AC Benson's often simpering text and the worshipful music created to honour Edward VI's coronation in 1911.
Reclaiming the baton, Gardner did the only decent thing with this faded gargoyle: he treated it seriously and soberly, refusing to wave the flag too much in the final setting of Land of Hope and Glory, but still letting emotion come through. Sarah Connolly, Susan Gritton, and Gerald Finley proved expert soloists, with only Robert Murray panting to keep up; while the BBC Symphony Chorus, rigorously trained as always by Stephen Jackson, was mellifluous times ten.
After it was over, with the concert done, just one Union Jack went up in the arena. That seemed about right for this gimmicky but rather tepid First Night. Don't want to overdo things, do we? I mean, we are British.
If the opening piece got the teeth grinding, there was always the birth of Prince Charles to look forward to
Share this article