Tom Daley: Diving for Britain /Absolutely Fabulous, BBC One |

reviews, news & interviews
Tom Daley: Diving for Britain /Absolutely Fabulous, BBC One
Tom Daley: Diving for Britain /Absolutely Fabulous, BBC One
A difficult year for Britain's diving prodigy, and Eddie and Patsy's last stand
In-flight entertainment from Team GB's boy wonder
Jane Treays's previous film about diver Tom Daley was 2010's The Diver and His Dad, which followed the amphibious teenager as he sat his GCSEs and defended various titles. Ominously, it also charted the progress of his father Rob's struggle against a brain tumour.
This sequel picked up the story in 2011, as the London Olympics loomed over the horizon and became the focus of Daley's ambitions. In July last year, he made the inaugural dive into the brand new Aquatics Centre pool in Stratford, a few days after he'd qualified for the 2012 Olympics at the World Championships in Shanghai. Daley only came fifth in the latter, and was comfortably outperformed by his nemesis, the Chinese phenomenon Qui Bo, but since his father had died just a few weeks earlier, it was amazing he performed as well as he did.
Watching this film, it was difficult not to be impressed by Daley in almost every respect. He's still only 18, but he talked about his father with a mixture of objectivity and emotion that most adults would struggle to match. "I don't really know how I should feel," he said. "Some people just sit in the the corner crying and I feel bad for carrying on, but I think that's what dad would have wanted." Given the footage we saw of his father's obsessive and almost embarrassing devotion to his son and his career, this was undoubtedly true (Daley celebrates with GB teammates, pictured above).
Despite her obvious sympathy for Daley and his family, Treays nonetheless managed to shine a light on the elephant in the room, which was the knotty question of whether Tom Daley, teen pinup and media darling, was damaging the chances of Tom Daley, professional sportsman. He's been doing an awesome job of juggling competitive training with fast-tracking himself through his A levels to get them over before the Olympics, but he also seems to devote substantial chunks of time to interviews and promotional work.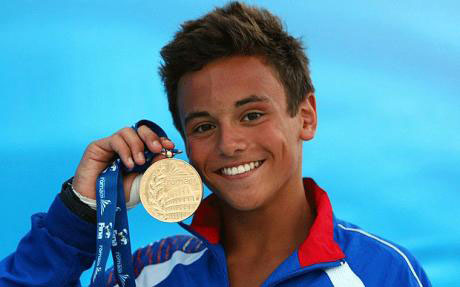 This has earned him a scathing broadside from Alexei Evangulov, the hard-boiled performance director of British diving, who pointed out that the Chinese divers put in substantially more hours of training and very few being filmed for commercials. This is why they score perfect 10s in diving competitions. Tom's agent, Jamie Cunningham, who says things like "Tom the brand is in a great position commercially," was scornful of Evangulov's concerns, for reasons presumably involving geese and golden eggs. Tellingly, one of Daley's excitable young Chinese fans asked him if he was the new David Beckham. Olympic zero-hour is almost upon us, and we shall see.
There was Olympic-sized idiocy from what may have been the last ever Absolutely Fabulous, though apparently there's talk of a movie version. The concept has now advanced to the stage where, if you hadn't seen it in the fairly distant past, it would be entirely meaningless, and would feel like being locked in a lunatic asylum littered with painfully passé designer objects after being fed extremely bad acid. Sticking out a half-hour episode at six-monthly intervals doesn't help.
"Acid" was also the word for a Jennifer Saunders script caustic enough to skin a crocodile. The plot, if you could call it that, was loosely affiliated to the idea that Edina (Saunders) was going to let her house to Michael Douglas during the Olympics. However, she hadn't realised that the Olympics was beginning in four days' time, and had left it too late either to renovate the property or to put herself through a diet-and-surgery regime stringent enough to make her competitive with actresses and models thirty years younger. Nonetheless she was determined to party like it was 1969. Meanwhile Bubble (Jane Horrocks) enacted a baffling Olympics dumb show, from cycling to gymnastics (Eddie and Patsy go for gold, pictured above).
AbFab has evolved into a sort of situation tragedy, in which Edina and Joanna Lumley's Patsy are sucked ever deeper into hysterical self-loathing and demented attempts to obliterate the ravages of the past 40 years. June Whitfield, as batty old Mother, is now the only rational one. There were lots of gross-out gags about age and unsightly bodily functions. "It comes to us all you know darling, the swinging saloon doors," shrieked Edina at her whiny daughter Saffy (Julia Sawalha). "I'm not completely secure when I sneeze," confessed Patsy, searching for some incontinence pants. Then she sneezed, and the look of perplexed anticipation on Lumley's face was the show's standout moment. But, y'know, enough already.
Is Tom Daley, teen pinup and media darling, damaging the chances of Tom Daley, professional sportsman?
Share this article