The Churchills, Channel 4 |

reviews, news & interviews
The Churchills, Channel 4
The Churchills, Channel 4
Committed Winstonian David Starkey embarks on the history of an English aristocratic line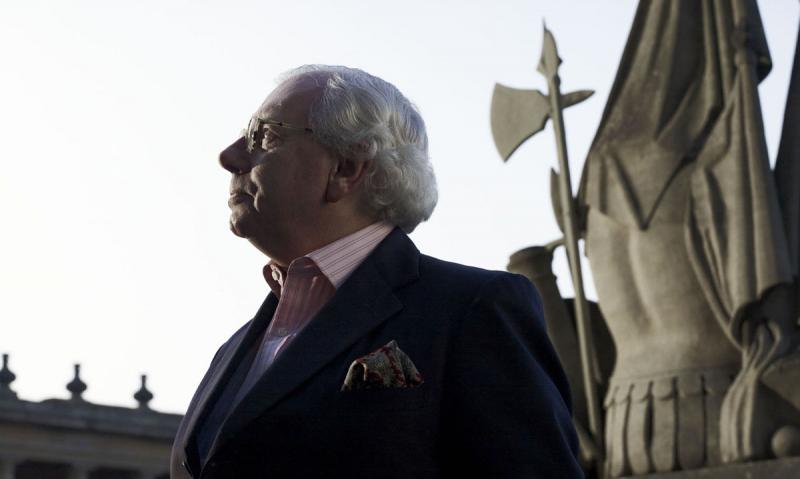 David Starkey turns a blind eye to the Twittersphere
So, how are we all feeling about David Starkey? The historian's reputation has taken a battering lately, since he was seen last year taunting overweight schoolchildren on Jamie's Dream School and more recently causing Twitter to combust after criticising black culture on Newsnight. But if Channel 4 is to be believed, such displays of bullying and bigotry haven't dented his authority as a historian.
While the viewing figures will likely be the judge of that, what is immediately clear in his first proper outing since the Newsnight furore is that, to Starkey, such controversies are but minor hiccups in a much bigger narrative. As he endeavours to illustrate in The Churchills, the act of studying history is greater and wields more power than any of us can imagine.
Starkey now clearly sees himself as the Churchillian voice of reason
The first episode focused on Winston Churchill's expansive biography of his ancestor John Churchill, Duke of Marlborough. Though largely forgotten today, the Duke was a renowned leader whose lasting achievement was to protect England against the hegemonic, increasingly totalitarian France, then led by the warmongering Louis XVI. Writing Marlborough's biography was clearly no small task for Churchill, who spread it across four volumes and researched and wrote it during the early Thirties when he was out of political favour and languishing on the backbenches. His investigations, aided by a small army of lackeys paid for out of his humungous advance, also coincided with the rise of Hitler in Germany. Starkey argues that the writing of the book became a psychological preparation for Churchill's later war against the Nazis, and helped transform him from a "rackety" politician into the godlike statesman that history since cast him as (Starkey feels the hand of history, pictured below).
It's a bold claim, as are the parallels between Louis XVI and his hounding of Protestants and Hitler's persecution of the Jews. Starkey is rarely one for hagiography but he made no attempt to disguise his admiration for Churchill. Praising his intellect and fearlessness, the presenter tried to imagine contemporary politicians tackling a similar project. "They lack the ancestry," he said, his nose twitching with disdain. "They lack the experience, they lack the appetite and they lack the talent. The most they can do is have their memoirs ghosted."
While it's hard not to bristle at Starkey's arrogance – hasn't he heard of the great Jeffrey Archer? – it would be churlish not to concede that he has a point. There's also no denying his talents as an orator who manages to make history soar without recourse to am-dram re-enactments. Even so, it's worth contemplating Starkey's enduring view of things being not what they used to be, whether assessing the mettle of today's politicians or condemning the contemporary exchange between black and white cultures. As for his championing of history, Starkey now clearly sees himself as the Churchillian voice of reason. History can be a solution to society's ills, he seems to be telling us, and can teach us how to conduct ourselves in the present. So who better to consult in times of strife than a great TV historian with an eye on the bigger picture?