5 Broken Cameras |

reviews, news & interviews
5 Broken Cameras
5 Broken Cameras
Palestinian community fights Israeli land seizure in thoughtful document of conflict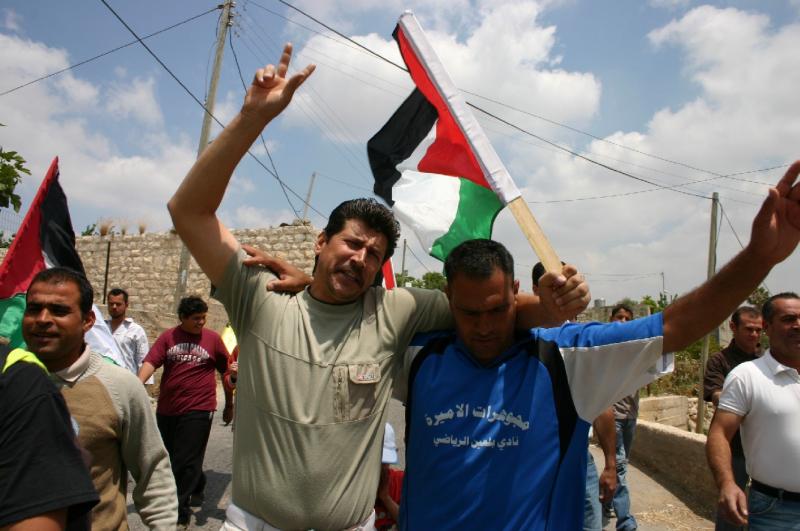 Fighting for the flag: director Emad Burnat's two best friends, the confrontational Adeeb (left), and the ever-optimistic Phil
A story of six years of conflict in the West Bank set against more timeless details of life in the Palestinian town of Bil'in, 5 Broken Cameras brings the reality of resistance to the expansion of Israeli settlements – a conflict between unarmed locals and the Israeli army with its modern armaments - to the viewer in a far fuller way than we see in news reports.
Palestinian co-director Emad Burnat shot hundreds of hours of footage in and around his home community, his only "weapon" his video cameras (which, as the title suggests, fell victim to bullets and violence in just the same way as did his compatriots). Israeli co-director Guy Davidi brought the material together, and wrote the script that Burnat recounts in voice-over. It's a collaboration across the conflict's dividing line that scores highly indeed in its pensive power.
Burnat was given his first camera in February 2005 and began his filming with the birth of his fourth son Gibreel; such scenes, within both family and community, of everyday life - if that's the right word when hanging out the washing can be accompanied by nearby gunfire - structure the film. Each of Gibreel's birthdays becomes a reflection on the present, on uncles and family friends arrested, injured or killed. The child's first utterance is "the wall", the barbed wire boundary behind which traditional Palestinian family land, with the olive trees that are a centre of the community's life, has been expropriated by Israelis building new breeze-block settlements (in partial contravention, it is established in the end, of Israeli law). Family and nation are inseparable: the births of Gibreel's elder brothers, too, are dated by wider landmarks in Palestine's ongoing destiny - the Oslo accords, growing uncertainty, then the intifada.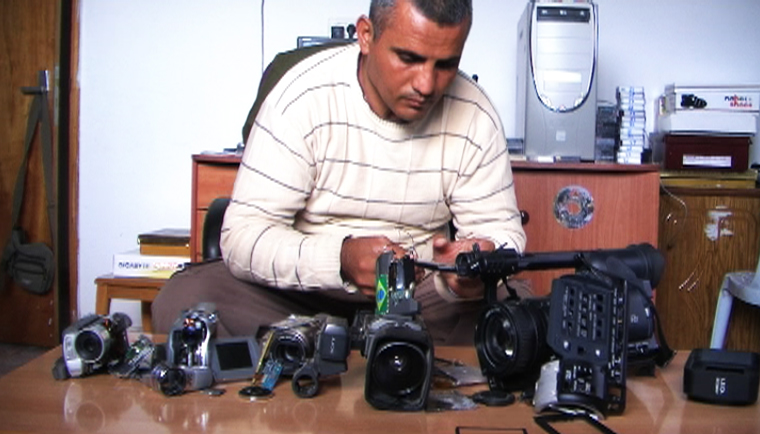 We see Burnat as a farmer, stressing his attachment to the land; it's not revealed that he has also worked as a Reuters cameraman, which explains the high quality of images (except when cameras are thrown around or destroyed in chaos). Footage by others is seamlessly interwoven when Emad himself becomes the subject, as when he is badly injured in a van crashing into the barbed wire, or when his third camera takes a bullet which might otherwise have killed the director. (Pictured above right, Burnat with his wrecked gear). As Bil'in became a symbol of resistance, it also attracted Israeli peace activists, protestors and politicians from around the world, and attendant international press.
Burnat's journalist pass clearly had some effect on Israeli soldiers - that we never see behind their vizors or dark glasses somehow doesn't make this a one-sided film, its intertions being so clearly otherwise - but it was the presence of the camera itself that speaks most strongly ("capturing images will have some meaning" for Emad). Occasionally there's an almost ethnographic feel as the community celebrates, or grieves. It's that accretion of detail, from the everyday - clowns performing in the square, or kids watching the World Cup - to the tragic that speaks so strongly.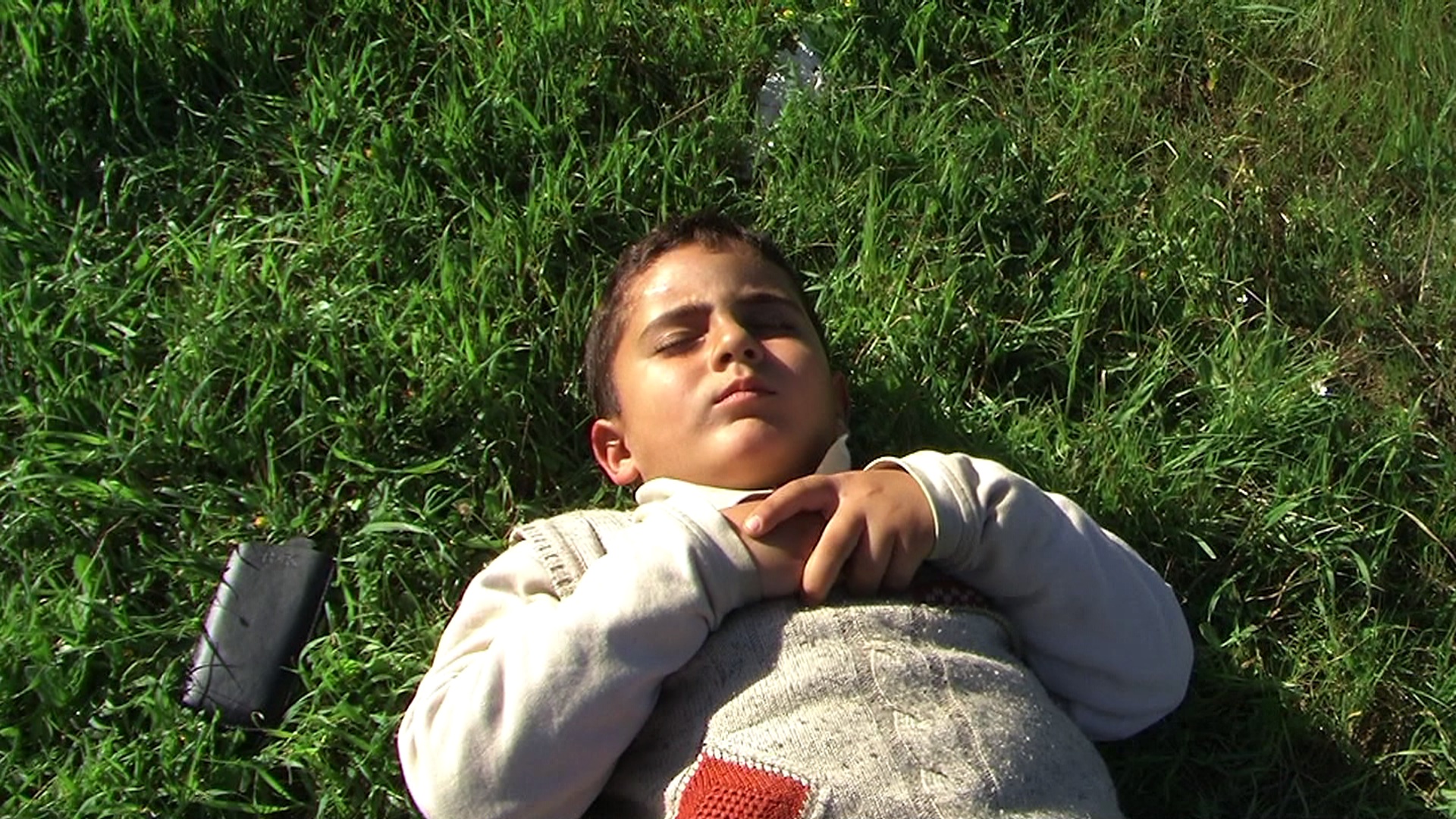 "Healing is the victim's sole obligation... forgotten wounds can't be healed. By healing you can resist oppression... I film to heal," Burnat muses towards the film's end, which shows him returning to the Tel Aviv hospital that had saved his life (and left him with a huge bill.) With him come his wife Soraya (her frequent refrain, "why do you go on filming, when you know you'll be arrested?") and Gibreel. It's the child's first view of the sea. Gibreel (pictured at the age of five) seems miraculously well-adjusted considering what he has already seen in this "land [that] bears scars". Emad may have wished his son a "thick skin", but we can't help feeling that the endless cycle of destruction will continue, most of all, in the psyches of the new generation.
5 Broken Cameras opens on limited release on Friday